iBioMed students win national design award for accessibility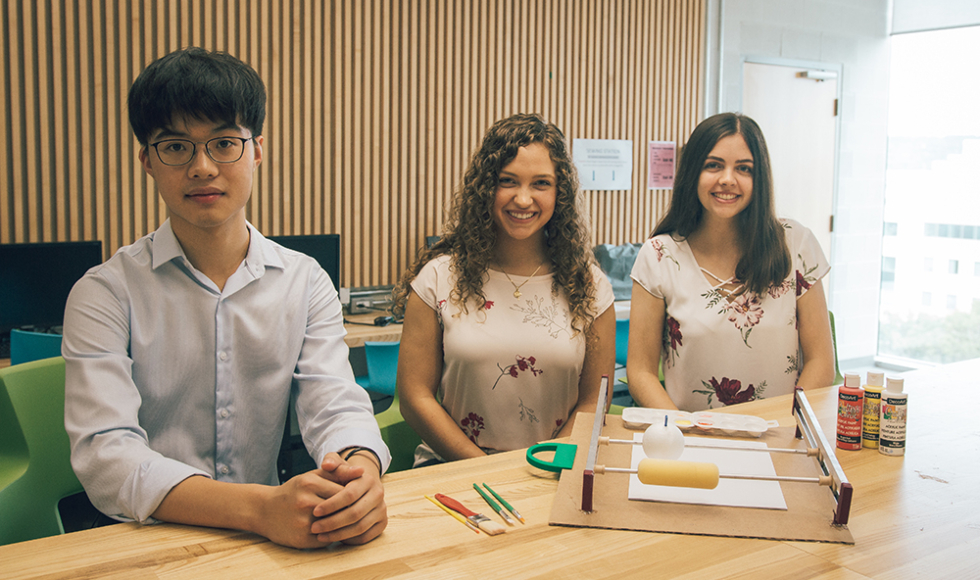 Alex Yeh (left), Lianna Genovese and Laura Carter with their assistive tool, The Painter's Guide
---
Three students in McMaster's Integrated Biomedical Engineering & Health Sciences (iBioMed) program are taking a first-year class project to patent as first place winners of Universities Canada's Innovative Design for Accessibility (IDeA) student competition.
Fifteen students or teams won the competition for 2018 and iBioMed students, Lianna Genovese, Laura Carter and Alex Yeh, were among five that took the top prize. A committee of accessibility experts chose the winners after evaluating 51 submissions.
The team received $2000 for their project, The Painter's Guide, an assistive tool that makes painting easier for people living with dystonia. Dystonia is a neurological movement disorder that causes muscle contractions. The group hopes to use their winnings to create a patented version of their design.
The tool was developed in the group's first year Health Solutions Design Projects I class in which students were challenged to solve an open-ended, real-world problem with a design solution. Solutions were created for their fellow colleagues registered with McMaster's Student Accessibility Services.
Genovese, Carter and Yeh were assigned to help Elissa James, a second year political science student who has dystonia.
"Our main concern was to make her condition liveable and to help her do what she loves. We just wanted to make everything easier for her," explains Genovese.
Painting is a passion for James, but her forefinger and thumb tend to curl due to her condition, making the activity difficult. To assist her with this problem, The Painter's Guide consists of sliding bars on the rails, a spherical shaped gripping piece, and a wrist rest that minimizes James' contractions and the stress in her hand and forearm while she paints. The tool also made it possible for her to use a paint palette without having to take her hand off a paintbrush.
"This was certainly one of my favourite designs. I love that it enables me to paint without tiring my arm," says James. "This will make paint nights way more fun."
Mentors including Colin McDonald, co-instructor of the iBioMed course, provided feedback to students throughout the design process.
"The really neat thing about this competition is that it really demonstrates what students can do when faced with a real-world problem," McDonald explains.
"We brought them into an environment where they first need to understand the problem at hand, and this is done by meeting directly with the client.  By giving them opportunities to explore their own creativity and bounce ideas off both faculty and upper-year students, they are able to develop a solution that meets the needs of a client. That in itself is very rewarding, and it's great to see them being recognized for their work."
As the iBioMed program continues into its second year, student projects like this one will continue to have an immediate impact on people who need it, at McMaster and beyond.
"A large part of why I was so excited to be part of the iBioMed project was that a device made for myself could be helpful to many others who have issues with hand and arm movements like I do," adds James. "To see that come to fruition is fantastic."
"Our program created opportunities for us right at the beginning. I couldn't imagine being in any other program and having this amazing opportunity," says Genovese. "Once this program grows, more opportunities will be created for many students."
"Congratulations to the winners of the 2018 IDeA Program competition, and to all the students who participated," says The Honourable Carla Qualtrough, Minister of Public Services and Procurement and Accessibility.
"Our Government is proud to support Universities Canada in this meaningful initiative. It is a great opportunity for students to be creative and practice their academic skills, and it shows how working together with people with disabilities can lead to a change in the way Canadians think about accessibility. Addressing physical, systemic, and attitudinal barriers is important as we move toward a truly accessible Canada."
The iDeA competition aims to inspire students across Canada in all programs to use their creativity to develop innovative, cost-effective and practical solutions to accessibility barriers for people with disabilities. Students take an inclusive design approach to create solutions that make communities more accessible. Collaborating with industry, government, and community partners, students develop valuable skills placing them in a position to excel in a prosperous, inclusive and innovative Canadian economy.
As part of the award, Genovese, Carter and Yeh will present their project at the Canadian Innovation Exchange Conference on October 22.