McMaster signs charter to combat racism and foster Black inclusion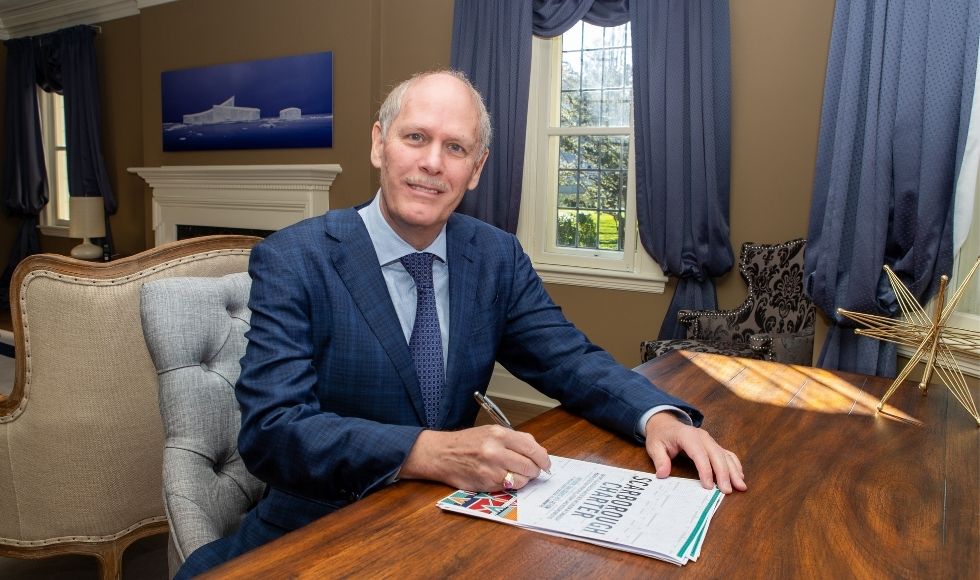 McMaster President David Farrar joined the leaders from nearly 50 Canadian universities and colleges in signing a historic charter committing to redressing anti-Black racism, and to fostering Black inclusion in higher education across the country. (Photo by Georgia Kirkos)
---
McMaster President David Farrar joined the leaders from nearly 50 Canadian universities and colleges in signing a historic charter committing to redressing anti-Black racism, and to fostering Black inclusion in higher education across the country.
The Scarborough Charter on Anti-Black Racism and Black Inclusion in Canadian Higher Education: Principles, Actions and Accountability identifies key barriers to inclusion, recommends concrete actions that will address systemic racism and includes accountability measures for institutions.
"I'm delighted to be signing the Scarborough Charter on behalf of McMaster," Farrar says.

"McMaster's priorities for recruiting and supporting Black scholars and students are fully aligned with the priorities recommended in the charter."
Farrar notes the leadership, advocacy and many contributions of the African and Caribbean Faculty Association of McMaster, "whose advocacy has shaped our progress in supporting Black scholarship."
---
Read more: Supporting Black Excellence at McMaster
---
Signatories to the charter pledge will be guided by four overarching principles:
Black flourishing: Enabling potential and removing barriers to equity, inclusion and social justice.
Inclusive Excellence: The recognition that equitable inclusion is critical to excellence in education.
Mutuality: Acknowledging and fostering equitable, positive relationships that benefit institutions and communities.
Accountability: Delivering on commitments to take courageous action and to continually improve, moving beyond mere representation to take responsibility for supporting robust, transformative inclusion.
The charter was launched at a virtual signing event Thursday that featured a panel discussion and statements from Black academics and scholars who spoke of their experiences, as well as the need for action to make higher education more accessible and inclusive.
"[The charter] offers at once an acknowledgment of how much academic excellence has historically been lost through exclusion and silencing, and a reclaiming of presence of belonging grounded in purposeful centring of the experiences, contributions and aspirations of people of African descent in higher education in Canada," said Adelle Blackett, McGill University professor and renowned international law expert who led the drafting of the Scarborough Charter.
The agreement is precise, detailed and comprehensive enough to allow partners to build their own action plans while respecting institutional and regional diversity, Blackett said.
The Scarborough Charter, created over months of collaboration, feedback from students, faculty, staff, senior leadership, and community organizations and leaders, follows through on a promise Canadian postsecondary leaders made in 2020, "to move from rhetoric to meaningful action in addressing anti-Black racism and to promote Black inclusion," said Wisdom Tettey, University of Toronto Vice-President and Principal of U of T Scarborough.
"The work is just beginning."