McMaster PhD student writes children's book exploring the mind-body connection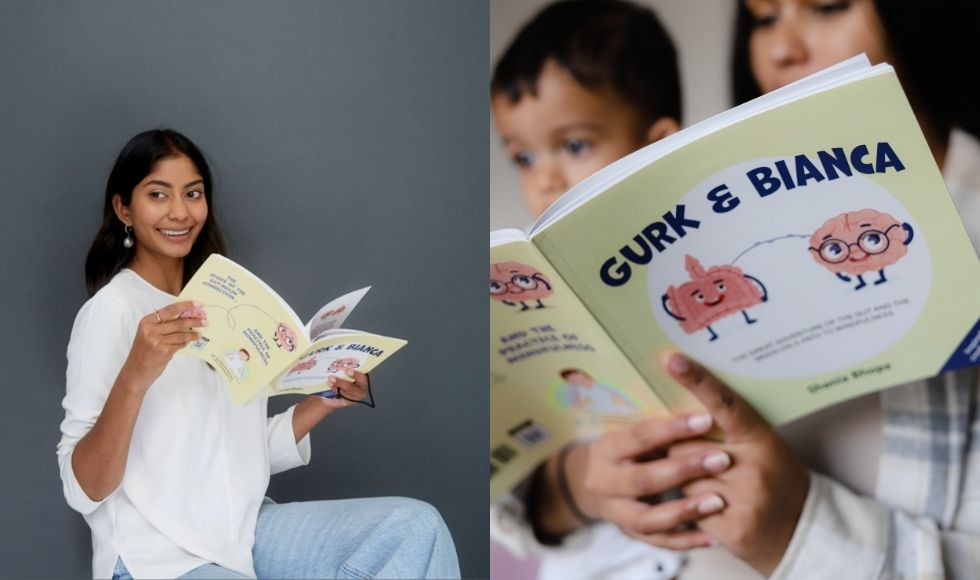 Shania Bhopa is the author of 'Gurk and Bianca: The great adventure of the gut and the brain on a path to mindfulness.'
---
A McMaster PhD student's book is helping children learn how our emotions affect us physically.
Shania Bhopa, who is working towards her PhD in Health Evidence & Impact and Global Health, is the author of the children's book Gurk and Bianca: The great adventure of the gut and the brain on a path to mindfulness.
For Bhopa, a two-time McMaster grad who was the Faculty of Health Sciences Valedictorian last fall, the drive to write the book was intensely personal.
"I grew up with a number of health concerns, and it wasn't until I improved my health literacy as a child that I ultimately improved my well-being. Now looking back, I wish I had the tools to teach me about my health growing up," says Bhopa.
The book focuses on Gurk and Bianca, two "body buddies" who learn how to incorporate mindful practices throughout their day and take care of their health.
Through a series of obstacles, the pair find a solution to the "Human" character's discomfort, and his physician mother shares with him the importance of mindfulness.
"This book is not only for our young ones, it includes informational text and journal prompts for both a parent and toddler," says Bhopa.
The "Human" character is inspired by Bhopa's young nephew Ayan. Bhopa says she recognized there was a gap in the children's book market that she could fill when she was out shopping for a health-based children's book for him.
The physician mother in the book is inspired by Bhopa's sister, Anaar, a graduate from the McMaster Family Medicine Residency Program.
Now that she has fulfilled her dream of becoming an author, Bhopa says she is looking for other ways to use the book to continue to help children learn about the interconnected nature of their bodies.
Bhopa plans to use the book as a tool during her teaching sessions in a McMaster Intersession course this May, and is running workshops and book readings at elementary schools and afterschool programs.
The book will also reach a wider audience via a non-profit Bhopa and her younger sister Anya founded called the Canadian Courage Project.
"We created a campaign to ensure for every two books purchased one was donated to a community centre, public library or youth housing services," says Bhopa. "We have had over 500 books donated across the Greater Toronto Area."
Bhopa, who wants to be sure no child's health is left up to chance, says the positive response the book has received makes her excited about a new generation learning about the benefits of mindfulness practice and our mental health.