Fall 2021 Convocation: Meet Faculty of Health Sciences valedictorian Shania Bhopa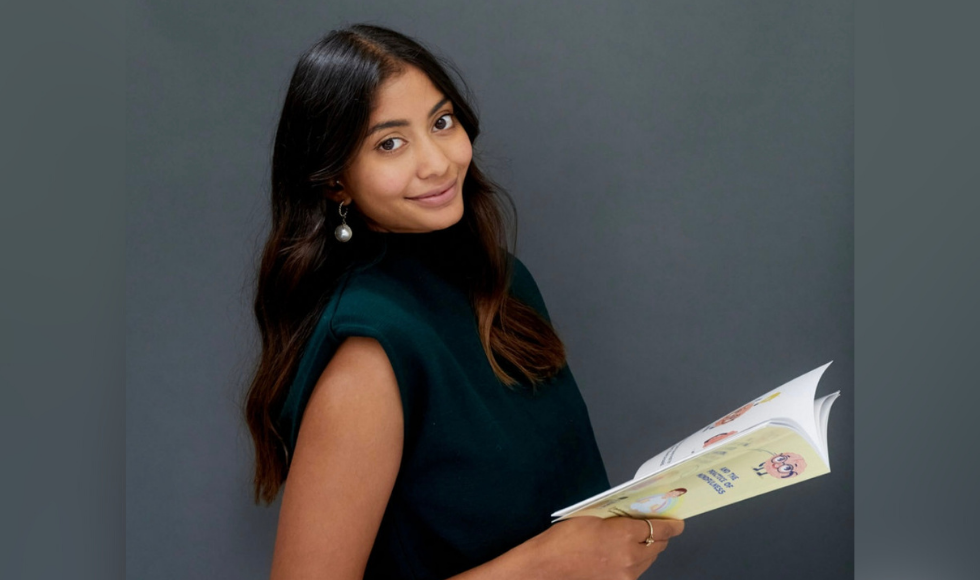 Shania Bhopa is graduating with her Master's in global health and is the Fall 2021 valedictorian for the Faculty of Health Sciences. (Image courtesy Shania Bhopa).
---
Shania Bhopa is the Fall 2021 valedictorian for the Faculty of Health Sciences. We asked her a few questions to get to know her. Here is what the author, non-profit founder and blogger had to say. 
Name
Shania Shannon Bhopa (yes, named after Shania Twain)
Hometown
As a second generation Canadian and daughter of immigrants from Trinidad and Tobago, I have had the privilege to grow up in Stouffville, Ontario. (A small town north of Markham).
What is the degree and subject you pursued?
I completed my undergraduate communication and health studies degree in the Faculty of Humanities, followed by my Master of Science in global health in the Faculty of Health Sciences.
Why did you choose to attend McMaster?
McMaster has felt like home from the moment I walked on campus during welcome week. McMaster's focus on problem-based learning and its well-known research intensivity was a distinguishing factor for me when selecting the institution to complete my post-secondary education. I wanted to attend a university that made me feel like I could become the person I have always dreamt to be. The perfect combination of extracurricular activities and academics is what I feel McMaster evokes. McMaster offered me the opportunity to study abroad, engage in experiential education, and enhance my understanding of the UN Sustainable Development Goals (SDG).
What do you plan to do/see yourself doing in the future?
I hope to utilize my research and strive towards digital innovation and social change through health leadership. I will ground all of my activities in knowledge translation, communication and health promotion. My dream job includes becoming a professor, director of a non-profit organization and author of a series of children's health books. Most recently, I applied my knowledge translation skills and published the world's first gut-brain connection children's book titled, "Gurk the Gut and Bianca the Brain: the story of the gut-brain connection on a path to mindfulness."
Given my goal to have my PhD research inform the creation of a series of children's health books to fill the gap that exists, I will work to continue enhancing health literacy. Additionally, improving equity, diversity and inclusion in clinical communications and in our health systems is one avenue which I hope to pursue as a future professor. Moreover, I hope to see my non-profit organization "The Canadian Courage Project" work towards equity-based strategies supporting youth facing structural vulnerabilities in the community. I hope to continue integrating the SDGs into my daily life and in my work while promoting wellness to all. I absolutely love teaching and community collaboration and can't wait to see where life takes me!
Any advice to your first-year self?
Surround yourself with people who would mention your name in a room full of opportunities. Choose friends who believe in you more than you believe in yourself. Take the limits of what you think is possible and dream as big as you can. Your support system, your community are going to get you where you need to be, choose who you spend your time with wisely.
Any advice for current or future students?
Find your passion. Make connections. Prioritize your wellness. Talk to professors, email people you aspire to be like. Networking is the single most important tool, and it's never too late to work on your communication skills. To all students, pride yourself in being a life-long learner, understand that the world is your classroom, utilize the experiences around you to cultivate your future career.
How has McMaster shaped the person you are today?
McMaster has made it possible for me to understand how important community is, and offered me the skills to foster the interpersonal relationships that have gotten me to where I am today. McMasters faculty and peers allowed me to develop my personal "Why." Find the gaps in the system and fill them. One of the key skills McMaster's community has taught me is the importance of human connection, and how essential it is for our educational and professional journey. There is no "one spot at the top."
Success means to work in a team. It means to collaborate with your peers and strive for a brighter world. It means to bring a positive attitude with you and show up as a team player. Fostering human connection means cheering for those around you … always. Work with your peers to understand their personal "why," what is their internal driving force and how to become the best versions of themselves. While grades may define our academic success, they most definitely do not define our worth. We are more than the titles, the numbers on the scale or on the mosaic portal. We are humans that can and will change the world without society's instruments telling us otherwise.
What events did you enjoy the most at McMaster or in Hamilton?
To name a few, the welcome week activities, McMaster Global Week, Light Up the Night and the daily gym session at the Pulse. One pivotal experience in my career was working with the Socrates Project to organize events for the Hamilton community.
What is your definition of success?
Happiness and fulfillment. Success is not determined by your job title, or status within our ecosystem, rather the way in which you feel fulfilled and ultimately joyous on a daily basis. The way in which we feel well, and feel like we are working towards a greater purpose aiding the health of our community.
How has McMaster helped you to create a brighter world?
McMaster's faculty and staff have supported me in (1) enhancing my confidence and (2) accessing supportive resources. During my time at McMaster I was able to launch two non-profit organizations, write a children's book, curate a wellness social media blog utilizing knowledge translation – and I ground myself in optimism every step of the way. The positivity and ambition evoked by the McMaster community helped me find my purpose in working towards a brighter world. McMaster truly allowed me to become the woman I am today. I owe my successes, and my learnings to the McMaster community.
What motivates you to work hard?
I believe that motivation is a temporary sensation, whereas discipline is what is going to take you the extra mile. I am motivated by the fact that there are inequities flooding my community, that there are children facing barriers prohibiting them from living a healthy life. What truly motivates me is collaborating with my community to support the community. The way we judge the health of a community is by how it treats its children.
Who is your favourite professor?
There are a number of professors and faculty members that have shaped me into being the person that I am today. One person in particular, Dr. Philip Savage, has been one of my greatest mentors and supporters over the last five years. Dr. Savage evokes kindness, determination and is the best teacher. I was a student of Dr. Savage every semester of my four-year undergrad. A pivotal moment in my career was participating in an internship at the Department of Family Medicine in my third year. Dr. Savage was the one who supported me in securing this internship. At the time, I honestly wasn't confident in my abilities as a knowledge translator, and was still battling with the idea that I wouldn't succeed. Nonetheless, Dr. Savage's advice allowed me to work on my confidence and interpersonal communication skills throughout the internship. Ever since this experience I have grounded all of my work in knowledge translation and health communications. That internship truly changed my life trajectory, and it would not have been possible without Dr. Savage's belief in me. One of the greatest qualities a teacher can have is belief in their students.
If you could live anywhere in the world for a year, where would it be and why?
New South Wales, Australia. I participated in a semester abroad in my third year of undergrad at the University of Newcastle (two hours away from Sydney) and wow is it my favourite place. The energy in Australia is so positive, and bright.
What have you been doing for self-care during the pandemic?
"Wellness is balance and balance is wellness" is a common quote listed on my social media blog (@wellbyshaniabhopa) and is included in my published children's book "Gurk and Bianca: The story of the Gut-brain connection on a path to mindfulness." Self-care, as described in my children's book, is grounded in mindfulness. Mindfulness in your everyday activities, in your work and in your social life. Self-care isn't the typical bubble baths, or long walks in the park, but rather the conscious efforts to enhance your quality of life. Taking actionable steps towards fulfillment and peace, such as learning strategies to cope better with everyday stressors. My typical self-care activities are meal prepping, exercise and reading. These activities allow me to work towards being the woman I have always dreamt to be.
While at Mac, did you receive donor-funded financial assistance (e.g., a scholarship, award, bursary)? Any thoughts on the importance of giving back to your alma mater to support future generations?
My graduate studies were funded by two scholarships to support both my living expenses and research outputs. The first was the Tri-council Social Sciences and Humanities Research Council – Canadian Graduate Scholarship. Supplemented by the Canadian Trust Scholarship, it is awarded to 20 students nationwide for excellence in academics and community service.
There are two ways I believe giving back to my alma mater is essential. (1) mentorship and free advice, as I would not be here today without the mentorship I have received throughout my career. (2) Financial support and opportunities. When I will be afforded the opportunity, I would also enthusiastically give back to the institution that has given me so much!