McMaster one of the world's Top 75 universities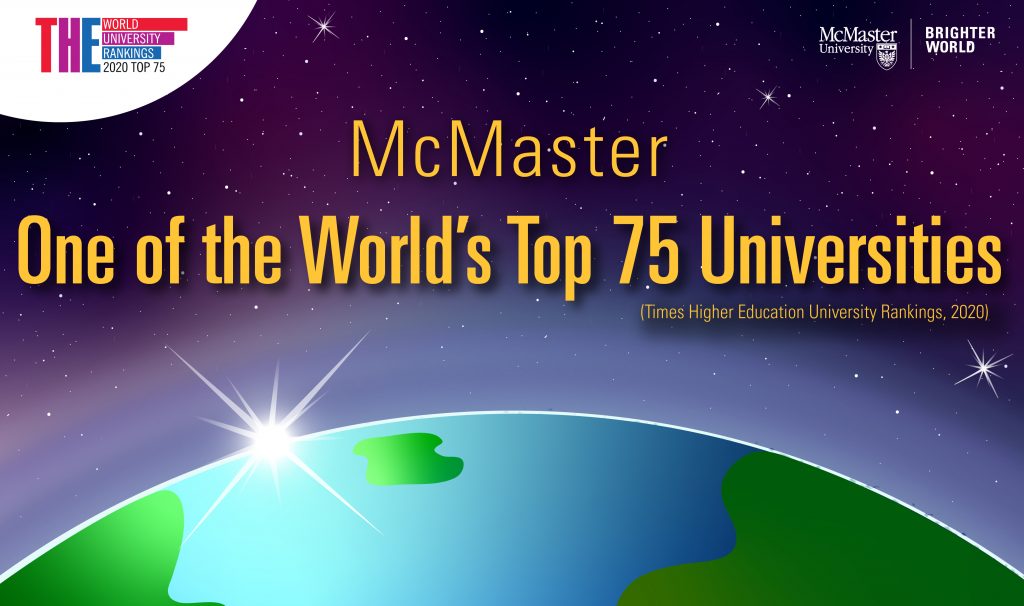 ---
For the first time since 2012, McMaster is ranked among the top 75 universities in the world.
The university is ranked 72 in the internationally respected 2020 Times Higher Education rankings released today in Switzerland, advancing five spots over last year and one of only four Canadian universities in the world's top 75. It's the first time McMaster has cracked the top 75 since the change in rankings methodology in the early part of this decade.
"To be among the world's top 75 universities is a significant achievement for our faculty and students," says David Farrar, McMaster's acting president.
"While rankings are snapshots in time, today's result is part of a compelling and growing trendline as McMaster continues to rise globally."
The world ranking success is just the latest in a steady cadence of global recognition for McMaster.
Earlier this year, Times Higher Education ranked McMaster as second in the world for its impact at home and globally.
In 2018, THE awarded the university its Global Teaching Excellence Award.
In the 2019 Academic Rankings of World Universities, McMaster was one of only four Canadian universities in the top 100.
For the past two years, McMaster has been named Canada's most research-intensive university by Research InfoSource.
In the world rankings released today, McMaster's rise is the most significant of the four Canadian universities in the top 75 and its success is fuelled by the university's impactful research, teaching performance, growth in research citations and stronger partnerships with industry.
In fact, McMaster earned the highest scores in Canada for research citations and industry support and is among the world's leaders in reputation.
"Our world-class team of researchers work together to advance health and well-being and are making an everyday difference in the lives of Canadians and people around the world," says Karen Mossman, acting vice-president of research at McMaster.
This year's Times Higher Education World Ranking is the biggest ever, measuring the performance of 1,396 universities from 92 countries using a number of data points.
The annual rankings are widely regarded around the world as a barometer of excellence in higher education.
Farrar says McMaster is well positioned to continue to advance internationally, with continued prioritization of global research and student opportunities.
"As one of the world's Top 75, there are new opportunities for McMaster to have even greater global impact with its research and by welcoming to Hamilton students and researchers from every part of the world."