McMaster Kinesiology: Celebrating 50 years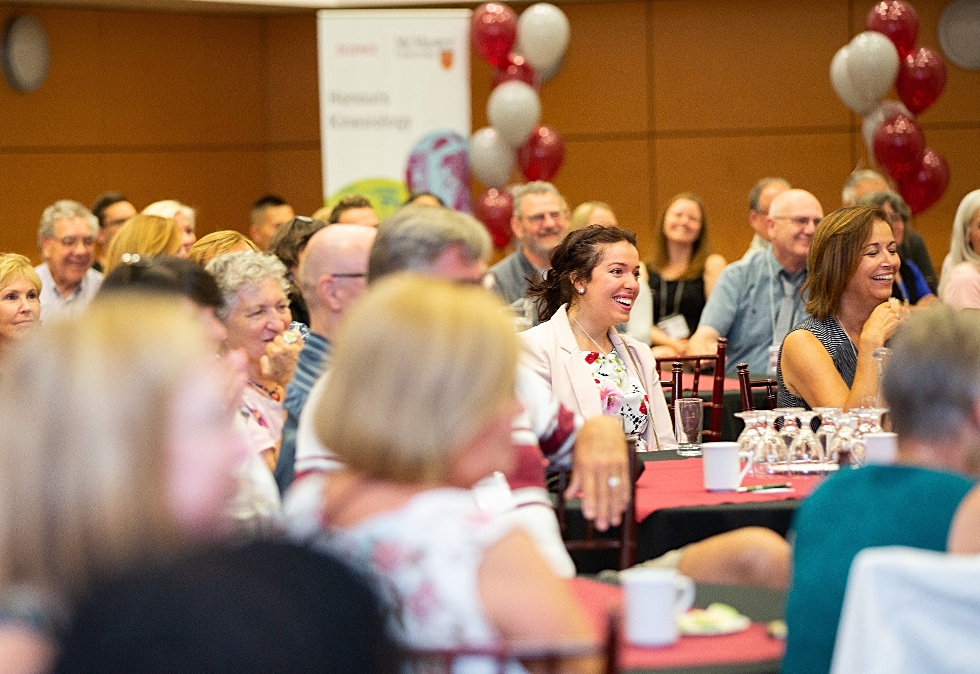 More that 250 alumni, administrators, faculty and staff – both past and present – recently returned to campus for a special celebration marking the 50th anniversary of McMaster's Kinesiology program.  Photo by Paulina Rzeczkowska.
---
In 1969, the first cohort of 29 students graduated from McMaster's newly established four-year Kinesiology program – then known as "Combined Arts and Physical Education."
It wasn't the first physical education program to be offered at McMaster – it had been built on the success of the one- year Bachelor of Physical Education program first established in 1956 by McMaster legends Ivor Wynne and Les Prince who, in 1963, also spearheaded the creation of the School of Physical Education.
But in 1966, with the completion of the Physical Education Complex – eventually re-named the Ivor Wynne Centre – the vision of a full-degree program became a reality, evolving over the years under the leadership of figures like Mary Keyes and Frank Hayden, the founder of the Special Olympics, and many other dedicated administrators, faculty and staff.
The program has since grown to include 850 undergraduate students and 50 graduate students, and has become an academic powerhouse, consistently ranked among the top 30 sports science programs in the world.
Recently, more than 250 alumni, administrators, faculty and staff – both past and present –returned to campus for a special celebration to mark the 50thanniversary of McMaster's Kinesiology program, and to pay tribute to all those who helped shape the program throughout its history.
"We are all part of the Kin family," said Maureen MacDonald, dean of the Faculty of Science and a professor in the Kinesiology Department who gave remarks at the event. "We are all connected by a tradition of excellence which began in the early days of our program and which continues today in our globally recognized teaching and research, and in the extraordinary calibre of our students, faculty and staff. So, to all of you who have contributed to this incredible success over the past 50 years, thank you."
During the day-long event, which was hosted by the Department of Kinesiology in partnership with McMaster's Alumni Office, guests took part in a number of activities that included a poster session as well as tours of McMaster's world class sports science and athletic facilities – the Physical Activity Centre of Excellence (PACE), the David Braley Athletic Centre (DBAC) and the Ivor Wynne Centre.
The event also featured "lightning talks" on the past, present and future of the program by current faculty members Jennifer Heisz, Stuart Phillips and Dylan Kobsar, as well as by distinguished alumni including, Adam Van Koeverden, world and Olympic kayak champion, Jennifer Bennett, rear-admiral in the Canadian Forces Naval Reserve, and Mark Tarnopolsky, a professor in McMaster's Department of Medicine.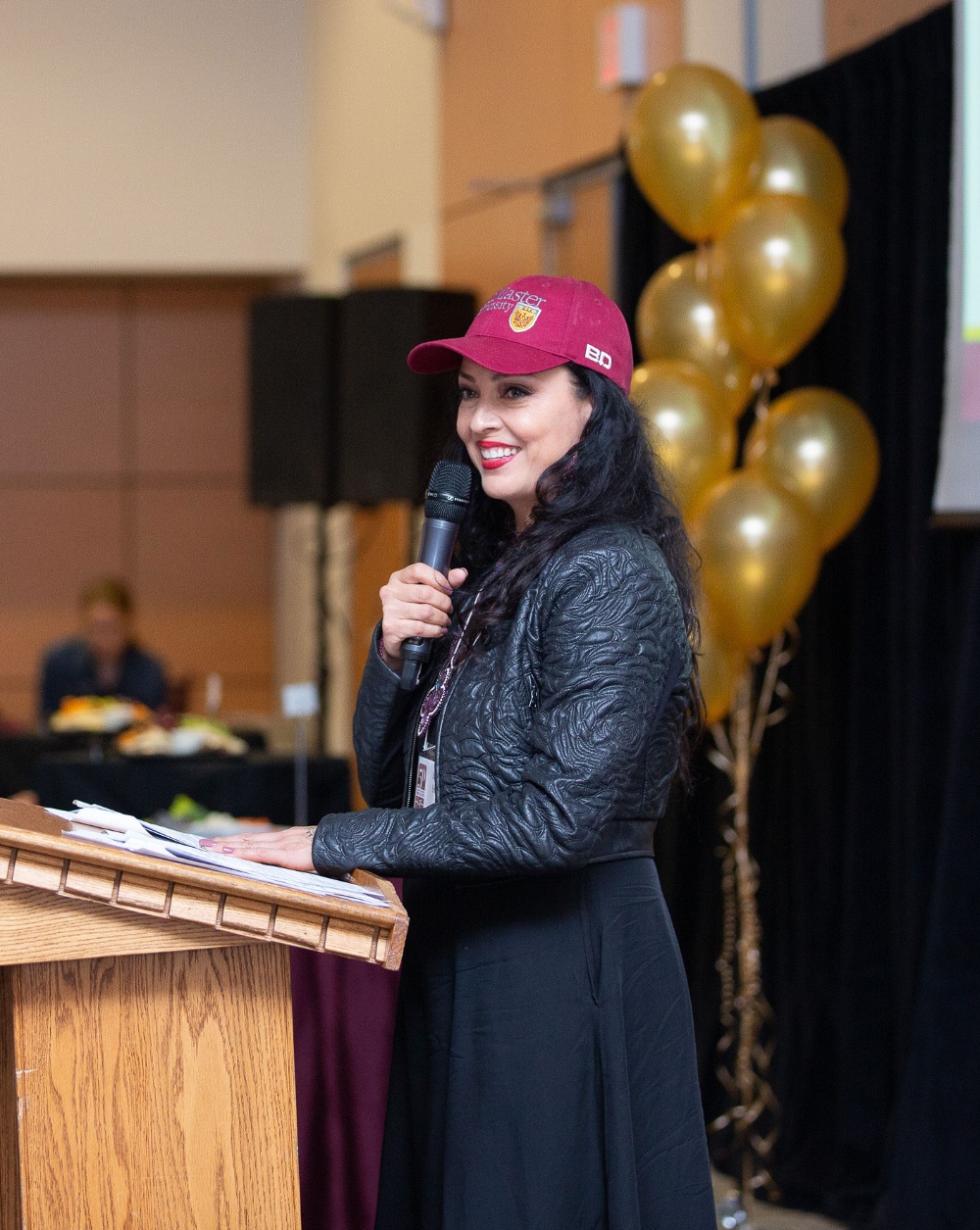 Alumni, staff and faculty also had the opportunity to share memories of their experiences in the program, and to hear from a number of speakers including Martin Gibala, chair of the Department of Kinesiology, Audrey Hicks, professor and director of the MacWheelers program, and Colleen Cupido, director of experiential learning and business development.
Santee Smith, McMaster Chancellor who graduated from the Bachelor of Physical Education program in 1994, also gave remarks, recalling her time in the program and acknowledging the important contributions of alumni, faculty, and staff over the years.
"Over the course of our first 50 years, the people in this room gave legitimacy to a program that was just getting started when some of you arrived," said Smith. "You brought accomplishment and acclaim to a program that has become an academic and research leader. You made this program one of the most sought after on campus. All of us – our students, staff, and faculty – have made this program what it is, which is a cornerstone of a university that is now one of the top 75 in the world."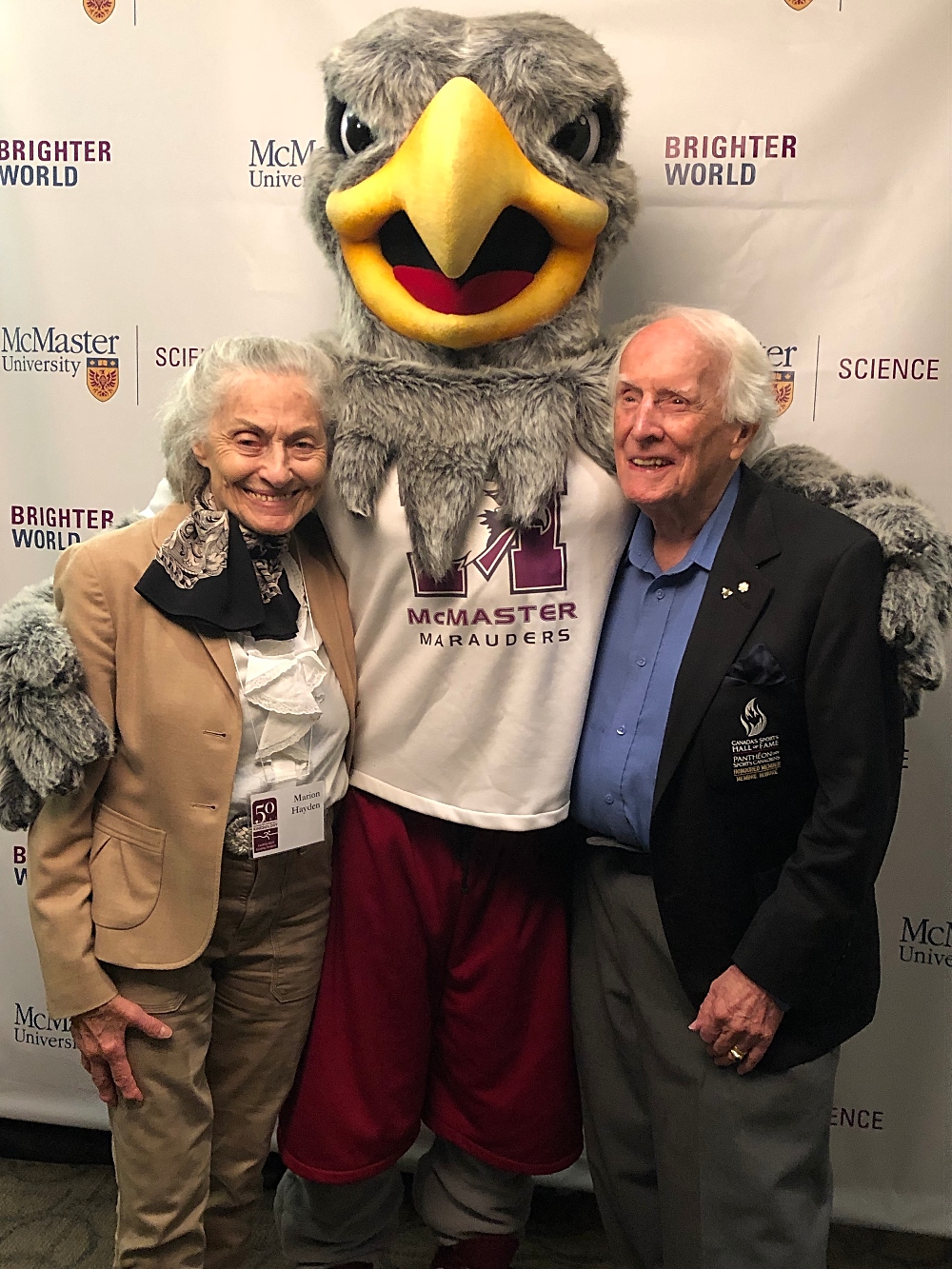 Physical education as an academic pursuit was first introduced at McMaster in 1956 as a one-year intense post-graduate program designed to provide teacher candidates with an additional "teachable" area.
It was Ivor Wynne, along with Les Prince, then director of athletics, and Alan Smith, the first director of the School of Physical Education and Athletics, who led the development of a four- year comprehensive program – known as the Physical Education program – which, at the time, was housed in the Faculty of Social Science.
In 1994, the program was re-named Kinesiology and, in 2009, it was brought under the umbrella of the Faculty of Science.
Under successive leaders including Frank Hayden, Mary Keyes, William (Bill) Fowler, Digby Sale, Janet Starks and Neil McCartney, the Kinesiology program has undergone a significant evolution over time. Supported by McMaster's world-class sports science and athletic facilities, the program links McMaster faculty-led research to the classroom and provides students with valuable experiential learning opportunities, including the chance to work hands-on with healthy seniors, as well as cardiac, spinal cord, Multiple Sclerosis and cancer rehabilitation patients.
"The Kinesiology program, as we know it today, is the product of visionary leadership over many decades," says Gibala. "Whether its classroom learning, our research initiatives, or our community programs and engagement, we've continued to grow and evolve. I look forward to seeing this evolution continue as we begin the next 50 years."