McMaster hosts Ontario internationalization meeting with focus on equity and inclusion, sustainability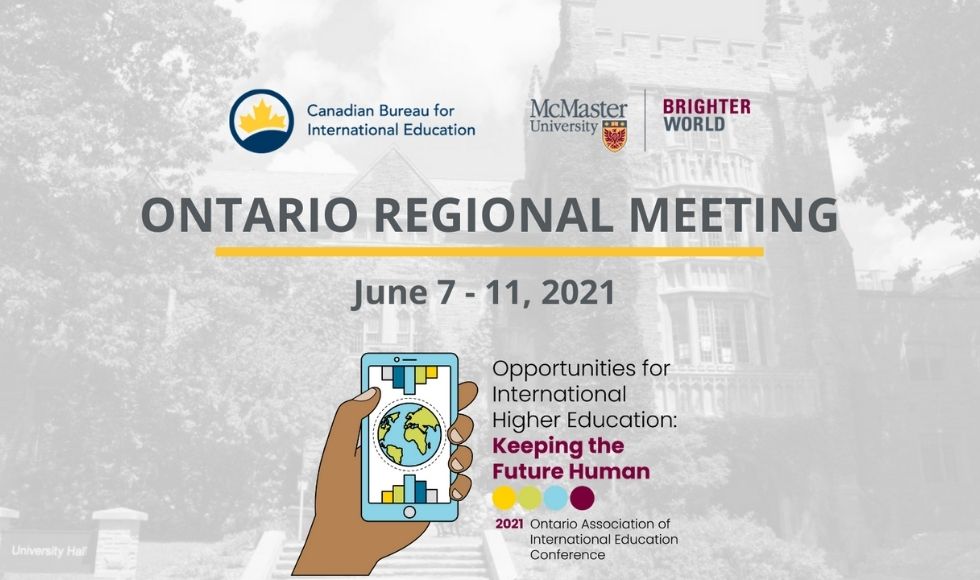 The Canadian Bureau of international Education's 2021 Ontario conference focuses on current challenges and future opportunities for internationalization in higher education.
---
Building on its strengths as one of the world's most international universities, McMaster is partnering with the Canadian Bureau of International Education (CBIE) to host the week-long regional meeting that will explore current challenges and future opportunities for internationalization in Ontario and across Canada.
This year's conference, "Opportunities for International Higher Education: Keeping the Future Human," kicks off Monday, June 7, with a keynote on the future of internationalization and global engagement in light of COVID-19, followed by panel discussions, presentations and networking opportunities for higher education staff, faculty and leadership from across Ontario.
The virtual conference will run midday sessions each day from 11:30 a.m. through 2:30 p.m.
McMaster President David Farrar, Provost Susan Tighe and Associate Vice-President of Equity and Inclusion Arig al Shaibah will provide opening remarks for three feature panel presentations, on topics that include equity and inclusion in internationalization, the future of international engagement and the role of the United Nations Sustainable Development Goals in global engagement.
There will also be presentations from Immigration, Refugees and Citizenship Canada, and CBIE professional learning communities, as well as wellness and networking activities.
McMaster ranked 38th among the world's most international universities, one of only four Canadian institutions on a global list compiled by Times Higher Education, based on the proportion of international students, staff and faculty, publications with international co-authors and worldwide reputation scores.
The ranking reflects McMaster's commitment to welcoming students and scholars from all over the world, Farrar says.
"Diverse perspectives enable us to work together to solve the world's problems in ways that are creative, collaborative and far-reaching."
Here's more information on feature panel presentations on topics of high interest. The full schedule is available at the conference website.
---
June 7, 11:30 a.m.
Keynote and discussion: Future Directions of Internationalization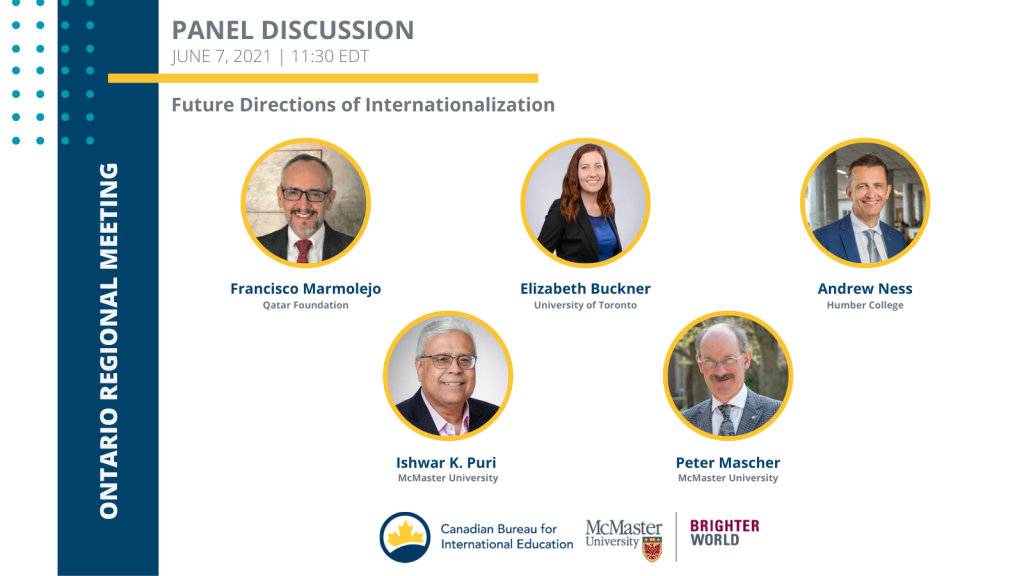 What are the short and long-term impacts of the COVID-19 pandemic on internationalization for higher education institutions? What current and emergent challenges and opportunities will shape the evolution of global engagement in these institutions? Keynote speaker Francisco Marmolejo, President of Higher Education, Qatar Foundation joins expert panellists for a discussion of the current and future state of internationalization.
Panellists
---
June 9, 11:30 a.m.
Internationalization and the SDGs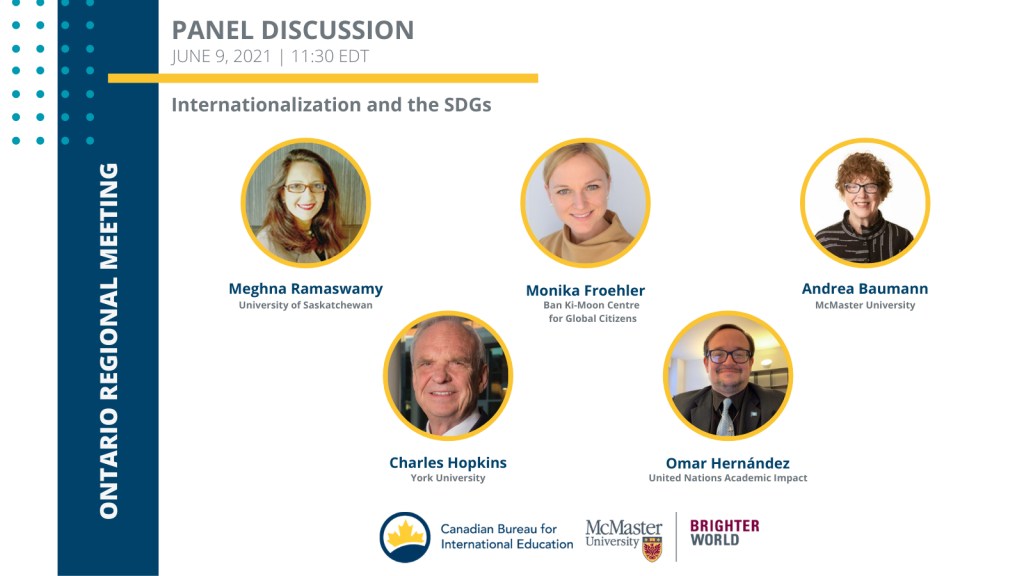 The UN SDGs are a call to action to end poverty, protect the planet and ensure that all people enjoy peace and prosperity by 2030. They're also a framework that inform the mission of higher education institutions and transform aspirational goals into measurable and sustainable impacts.
McMaster's commitment to these values, which underpin much of its research, teaching and community engagement, has earned the university the rank of 14th in the world in The Times Higher Education (THE) 2021 Impact Rankings, based on the SDGs.
This discussion will explore the role of higher education in advancing the UN 2030 agenda, as well as ways in which universities and colleges are adopting and mobilizing the SDGs as part of their strategies.
Panellists
Monika Froehler, Chief Executive Officer, Ban Ki-Moon Centre for Global Citizens, Vienna, Austria.
Andrea Baumann, Associate Vice-President, Global Health, Faculty of Health Sciences, McMaster University
Meghna Ramaswamy, Director of International Office, University of Saskatchewan
Charles Hopkins, UNESCO Chair, York University
Omar Hernández, Public Information Officer, United Nations Academic Impact (UNAI)
---
June 10, 11:30 a.m.
Equity and Inclusion in Internationalization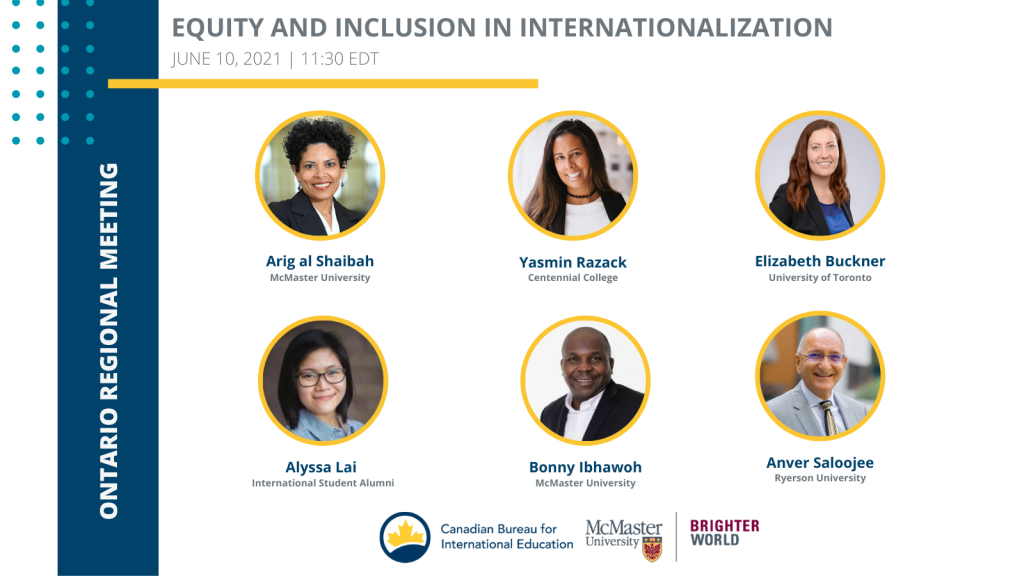 This discussion will explore how new and emerging leaders in international education can enhance equity, diversity and inclusion goals, bring greater acknowledgement to the experience of Indigenous students and racialized international students, and ensure a welcoming and supportive environment amidst the challenges amplified by COVID-19, including the increase of anti-Asian racism. Panellists will also discuss creating more inclusive access and exchange experiences for student groups underrepresented in international mobility programs.
Panellists
Visit the conference website for a detailed schedule and to register.