McMaster chef heats up experience at Nobel Banquet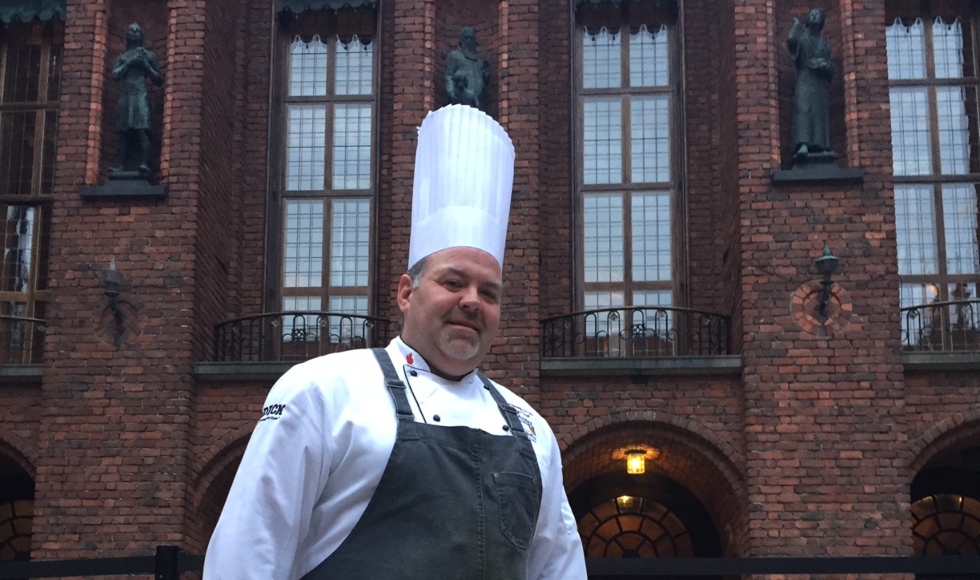 McMaster Executive Chef Paul Hoag, pictured at Stockholm City Hall where tonight's awards ceremony will be held, is the only Canadian helping to prepare dinner at the Nobel Banquet.
---
On December 10, 2018, McMaster graduate Donna Strickland received her Nobel Prize in physics at the annual awards ceremony in Sweden. This year, McMaster will be represented again – this time by Executive Chef Paul Hoag, who is not receiving an award, but rather is part of the supporting cast in the kitchen, helping to create the evening of a lifetime for 1350 guests, including the Swedish royal family.
So how exactly does a Canadian university chef end up across the ocean cooking for prize winners, royalty and celebrities at the Nobel Banquet? It took a heaping cup of long-term goals, a generous helping of industry networking, and a pinch of light-up salt and pepper shakers.
Hoag says it all started when he first met Swedish chef and top international culinary judge Gert Klötzke at the 2016 IKA World Culinary Olympics and started to imagine what it might be like to be part of the Nobel event.
Fast forward to 2018, where Klötzke came to Niagara for a Canadian judging seminar and competition. Hoag, co-chair of the event and judge-in-training, mentioned how much he would like to contribute to the Nobel event one day. During the competition, he also overheard Klötzke admiring some unique salt and pepper shakers used by the Mexican team.
"I looked them up on my phone right away," said Hoag. "And I ordered some. We met up, I put the box in front of him and said, 'A gift from me to you. You don't know me that well, but this is how I do things.' He could see I was very eager, just from the time I spent with him."
At the end of the week-long conference, Hoag ran into Klötzke in the hotel lobby.
"He says to me, 'By the way, it's done.' He had talked to the Nobel team and recommended me," said Hoag. "I keep driving to do something like this in my career and I represent McMaster wherever I go."
It's not the first time Hoag will cook for royalty. In 1991, he was an apprentice at the Royal York Hotel when Princess Diana and Prince Charles visited Toronto. As he recalls, that was a dinner for 800 with incredibly high security – which is also part of the protocol for the Nobel event.
Hoag says he brings something back from each international competition and special event to integrate into his work at Mac. When Governor General Julie Payette and global university dignitaries visited McMaster for the Magna Charta conference earlier this year, Hoag and his team were able to pull out all the stops to impress.
"We were able to serve unique Canadian foods, teach our own apprentices about them and make an impression," he said. "The competitions allow me to bring new knowledge back here about products and techniques, preparations or a system for plating or sauce-making, it could be little things or big things. It's all about making McMaster look amazing at home and to a global audience."
The top-secret menu will be revealed when the dinner is served, at 7 p.m. (1 p.m. Eastern) December 10.