Student-led tree projects win sustainability award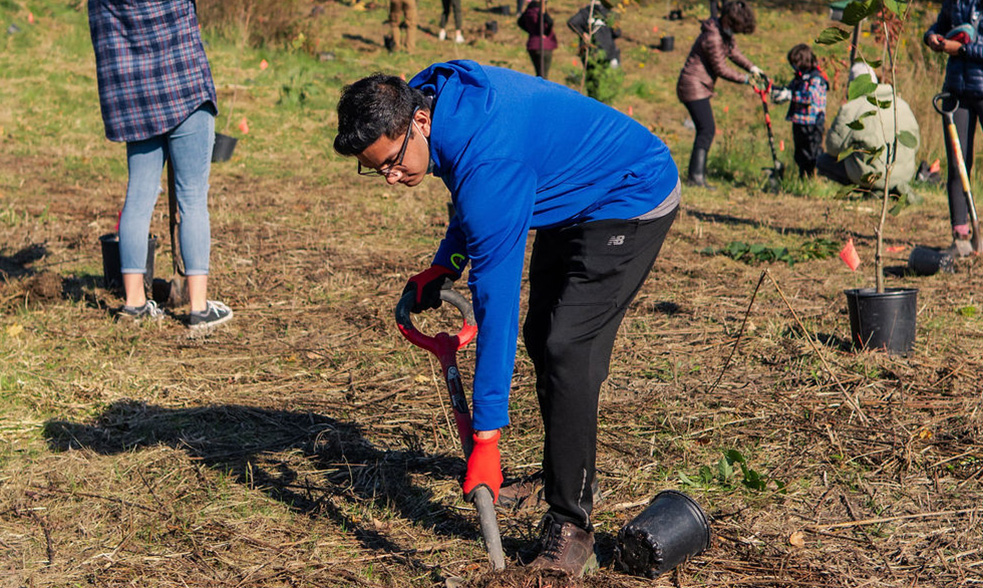 Projects on educating the community about tree equity and getting people involved in planting trees to combat climate change have won the 2022 Climate Change and Health Innovation Awards at McMaster.
---
Two student-led projects, both focused on trees, have won 2022 Climate Change and Health Innovation Awards at McMaster.
The award, which was established in 2017 by two McMaster medical school graduates and their family, provides $5,000 annually to McMaster students who achieve excellence in creating innovative solutions with positive impacts on climate change and health.
The award is open to students who have completed an experiential learning project within a program offered through McMaster's Academic Sustainability Programs Office.
---
You're invited: Join a tree-planting on Saturday Nov. 5 to help build the McMaster Carbon Sink Forest.
---
"This award encourages students from diverse backgrounds to collaborate and address complex sustainability challenges," said Abbie Little, community engagement coordinator for the Academic Sustainability Programs Office, which is organizing a tree planting even in the carbon sink forest on Saturday, Nov. 5.
"We thank the donors for supporting student needs and fostering the next generation of leaders who are determined to improve the health of people and the planet."
These are the award-winning projects:
1st Place |  Tree Equity: Engaging and Educating the Community Through the Hamilton Tree Equity Project
Trees are vital for communities, combating climate change, providing shade and improving air quality. Studies have shown canopy coverage is significantly greater in communities with higher incomes, and people living in lower socioeconomic neighbourhoods have fewer opportunities to reap the physical and mental-health benefits that trees provide.
"The Hamilton area is so rich in terms of nature and conservation areas, and we really wanted to bring to light the importance of equitable access to trees," said fourth-year life sciences student Jasmin Dhanoa.
"The main goals of our project were to educate the Hamilton community, increase awareness of tree equity, and provide local residents with resources to identify common trees species and their benefits," added David Pajtondziev, a recent graduate of the Integrated Business and Humanities program with a minor in sustainability.
To increase tree equity in Hamilton, students collaborated with community champions at Green Venture to support its mission of creating equity-focused plans and policies for urban forests on properties operated by CityHousing Hamilton, the largest social housing provider in the city.
As part of the awareness project, students created a "Tree Tuesday" campaign for Green Venture on Instagram. Topics included the environmental and health benefits of trees, green infrastructure and the importance of protecting Hamilton's urban forest.
The students also developed an accessible survey for residents living in properties owned by CityHousing Hamilton to determine recommendations for tree care and potential tree-planting sites.
The students also collaborated with Nature @ McMaster to create "tree cards," physical and digital information cards that provide facts about various tree species in Hamilton neighbourhoods.
Green Venture plans to distribute the Tree Cards to CityHousing Hamilton residents and other community members to inform them about the importance of tree equity.
"Youth engagement and consultation in community projects is important," said Heather Govender, the program manager of environmental education at Green Venture.
"We thoroughly enjoyed working with McMaster students. They were friendly and professional, and the quality of work was fantastic."
Other students who worked on the project include Emily Gracie and Madison Hough.
2nd place | Cultivating a Sustainable Future: Educating Youth and Planting Trees 
To reduce atmospheric carbon and combat climate change, students in this project worked with the McMaster Centre for Climate Change to host a tree-planting event at McMaster's Carbon Sink Forest. In addition to capturing carbon in the atmosphere, carbon sink forests enhance ecosystems by providing wildlife shelter and shade.
"As climate change becomes an ever-pressing issue in today's world, we wanted to contribute to a community project that could cultivate sustainability for both now and the future," said Kleiton Strobl, a student in the master of global health program who graduated this year from the life sciences program with an interdisciplinary minor in sustainability.
"Bringing people together from the Hamilton and McMaster community to help achieve this was our biggest inspiration."
The first phase of the project involved working with Trees for Hamilton and the McMaster Children and Youth University to develop and facilitate educational workshops for 20 youth between the ages of seven and 13. Participants learned about the importance of trees and how they benefit human health.
"With human activities contributing to the majority of rising carbon emissions, global temperatures are increasing significantly, resulting in disastrous effects such as extreme weather," explained Areeb Iqbal, a fourth-year commerce student pursuing an interdisciplinary minor in sustainability. "Through this project, we introduced the youth to the benefit of trees and have started to create a carbon sink, allowing for increased carbon sequestration."
For the final phase of the project, the students organized the first tree-planting event at the McMaster Carbon Sink Forest in November 2021 in collaboration with the McMaster Centre for Climate Change, Trees for Hamilton and the Academic Sustainability Programs Office. More than 70 staff, students and community members planted 250 trees from 11 species.
"This was the first of four tree planting events," said Lejla Latifovic, a graduate student in the School of Earth, Environment & Society who helps champion the forest. "Students will continue to collaborate over the next year through the careful and thoughtful planting of 1,000 native, climate-adapted trees.
Once complete, the McMaster Carbon Sink Forest will serve as a model for how to build a carbon sink forest in Ontario, setting a blueprint that can be scaled to any size by other groups and organizations with similar ambitions, she said.
"Students are playing a major role in the establishment of the McMaster Carbon Sink Forest," said Altaf Arain, director of the McMaster Centre for Climate Change. "The forest will provide numerous learning, community engagement and leadership opportunities for students over the years. By working together, SUSTAIN and Climate Centre students are creating a lasting legacy and they should be proud of it."
"The project was a great way to step outside of my personal comfort zone and take part in an initiative that benefits the community from a local and educational perspective," said Massimo Iacobucci, a fourth-year commerce student. "I really enjoyed being part of this as it was far out of my program background and allowed me to work with teammates from different majors."
The project created an opportunity for the community to get involved firsthand, said Alison Laurie, a fourth-year environment and society program student with interdisciplinary minors in sustainability and community engagement. "This project aimed to act as an inspiration to the communities around us and create action in combating climate change through education and engagement."
The Academic Sustainability Programs Office invites the community to its next sustainability event, which is a tree-planting on November 5 to help build the McMaster Carbon Sink Forest. Learn more here.
About the SUSTAIN courses
The Academic Sustainability Programs Office houses the Sustainable Future Program consisting of nine SUSTAIN courses. Courses are open to undergraduate students from all Faculties and departments and aim to spark interdisciplinary collaboration to address complex sustainability challenges on campus and in the community.
Projects born out of these courses have created lasting change, including 75 solitary bee homes across campus, implementing McMaster's Community Fridge, public-facing composting on campus, and a program to collect and donate unused university technology to communities in need.
Learn more about these and other projects in the Academic Sustainability Programs Office annual report.