Fireside chat with activist, educator and researcher Gary Warner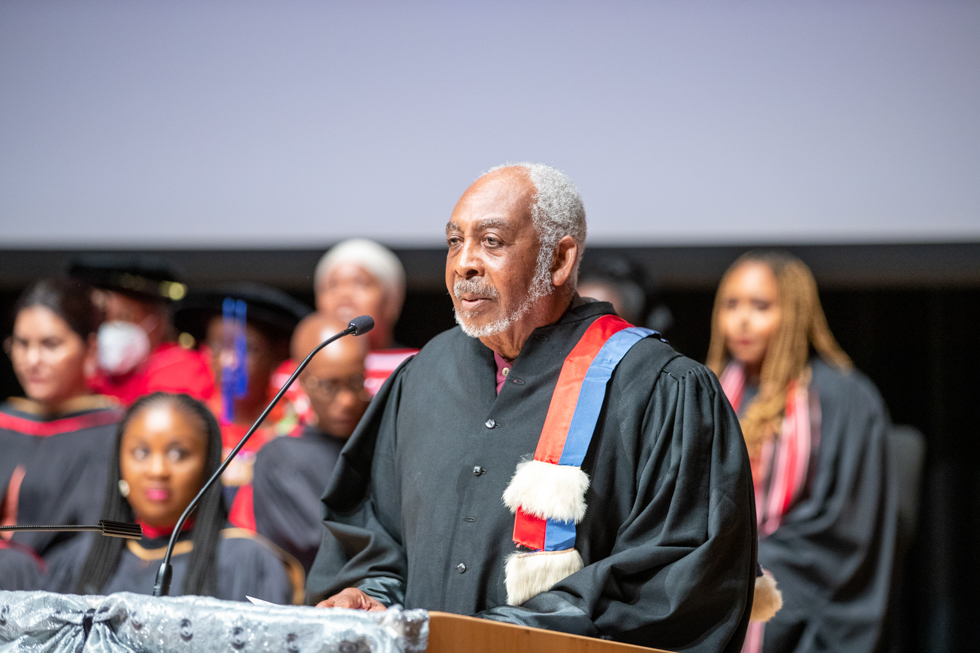 Gary Warner speaks at McMaster's Inaugural Black Graduation Celebration in June 2022. (Georgia Kirkos/McMaster University).
---
McMaster students, staff and faculty, and community members are invited to a fireside chat with Professor Emeritus and Hamiltonian Gary Warner this week, organized by the African-Caribbean Faculty Association of McMaster (ACFAM).
Warner, a renowned scholar and lifelong advocate for social justice, will reflect on the past 50-plus years at McMaster and in the community.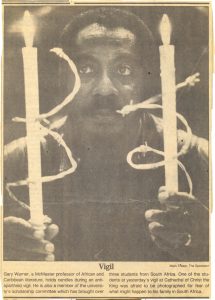 Cancer biologist Juliet Daniel, Associate Dean of research and international relations in the Faculty of Science, will speak as well. Engineering professor Keena Trowell will moderate the event.
More than five decades separate Warner's arrival at McMaster from her own, notes Trowell.
"Because of his work, notably his contributions to founding ACFAM, our early experiences have been very different. I arrived with a ready-made community and people I could call upon for support, guidance, and advice," she says.
"I'm most looking forward to hearing Dr. Warner's thoughts on what comes next. As a new faculty member, I'm keenly aware that I stand on the shoulders of giants but there remains work to be done."
Becoming McMaster: A Fireside Chat with Dr. Gary Warner kicks off the ACFAM seminar series, which will focus on different faculty members and their experiences.
The series will also act as a way to invite the community to learn about the courses that are part of the interdisciplinary minor in African and Black Disapora studies, whose creation was spearheaded by ACFAM.
Future sessions will include some newer hires who joined McMaster as part of the Black Excellence cohort hiring initiative that sought out and recruited exceptional Black scholars.
"Dr. Gary Warner is one of the longest-standing profs," says ACFAM project coordinator Alexandria Montague. "He started here in 1967 and he is still very active in the community. If anyone understands what this institution is, it's him, and he has a unique perspective on the university's history and growth."
---
Click here to learn more or register for Becoming McMaster: A fireside chat with Dr. Gary Warner
Wednesday March 15 
3 p.m. to 5 p.m.
L.R. Wilson Concert Hall
---
About Gary Warner 
Gary Warner served as chair of the Department of Romance Languages, associate dean of Humanities, director of the Arts and Science Program, founding director of McMaster International and founding co-chair of the Theme School on International Justice and Human Rights. He received an honorary doctorate from McMaster in 2020.
Warner was director of CUSO's (Canadian University Service Overseas) Sierra Leone program and chair of the CUSO board of directors. Closer to home, he worked with the Hamilton-Wentworth District School Board on the Race Relations Inservice Program Development Committee and the Bullying Prevention and Intervention Review Panel. He was a founding member and co-chair of the Hamilton Committee Against Racial Discrimination (CARD) and chair of the Settlement and Integration Services Organization (SISO).
He was co-chair of the advisory committee for the creation of the organization that became the Hamilton Council for Civic Inclusion and he chaired the Hamilton Community Foundation. He also chaired the working committee of the roundtable on the Strengthening Hamilton's Community Initiative in the aftermath of 9/11.