Feast your eyes, hold your nose: Arthur the corpse flower is ready to bloom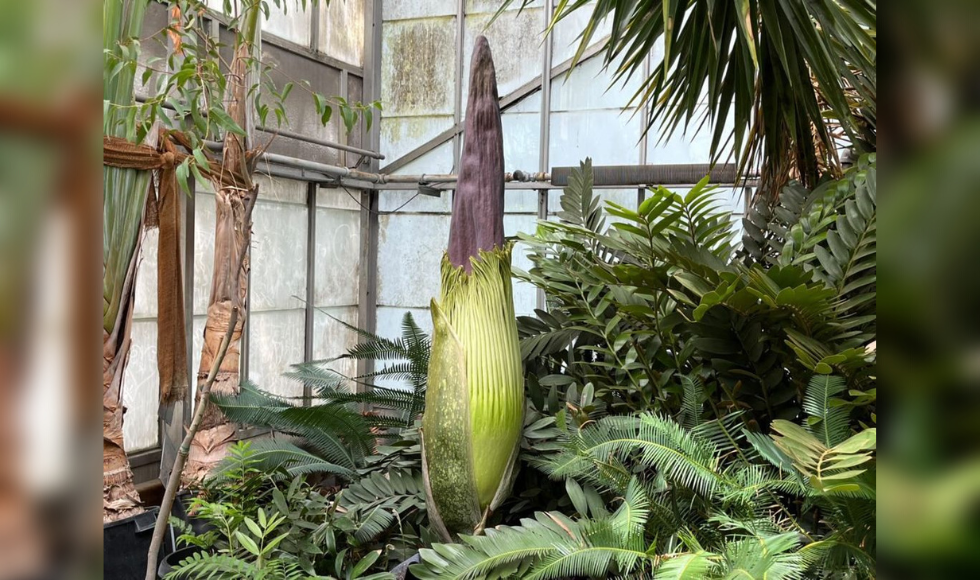 Arthur, one of the three mature corpse flowers at the McMaster Biology Greenhouse, is set to unfurl and bloom any day now. The enormous, rare plants take years to bloom, and their name comes from their signature stench of rotting flesh. (Image courtesy McMaster Biology Greenhouse volunteer Jackie Osmond Patrick)
---
Have you ever heard of a corpse flower? If not, look no further because one of McMaster's very own is ready to bloom. Proceed with caution, though: Its smell is the reason for its name!
The amorphophallus titanum, also known as the corpse flower or titan arum, doesn't bloom often. It can take between seven and 10 years to produce its first bloom, after which it can potentially take years to bloom again.
It also blooms at a height of six to eight feet tall.
Another cool fact about the corpse flower is that it is extremely rare. There are only about 100 cultivated ones around the world, and the plant is endangered in the wild.
But what really makes the amorphophallus titanum a spectacle is the smell it gives off when it blooms. The chemical compounds it creates give off a smell similar to garlic, rotting flesh and cheese.
The extremely stinky smell is integral to the plant's life, as it attracts flies and beetles for pollination.
McMaster's Biology Greenhouse is the home of three mature corpse flowers — Phoebe, Arthur, and Magnus — along with several others that are still growing.
Arthur is about to bloom. It's been three years since the last time a corpse flower bloomed on campus — it was  Magnus in 2019 — so you do not want to miss out on Arthur.
Arthur is set to open anytime over the next seven to 10 days, so head over to the Mac Biology Greenhouse to get a look at it through its various stages.
The greenhouse will be open:
Thursday June 30 from 2 p.m. to 6 p.m.
Friday July 1, 10 a.m. to 4 p.m.
Saturday July 2, 10 a.m. to 4 p.m.
Sunday July 3, 10 a.m. to 4 p.m.
The night that the flower blooms, the greenhouse will host extended hours. For updates and the announcement, visit the McMaster Biology Greenhouse Instagram or McMaster Faculty of Science Twitter.
---
More: Here's some stuff you might not know about McMaster's stinkiest plant