Falling in love with teaching, learning and being a TA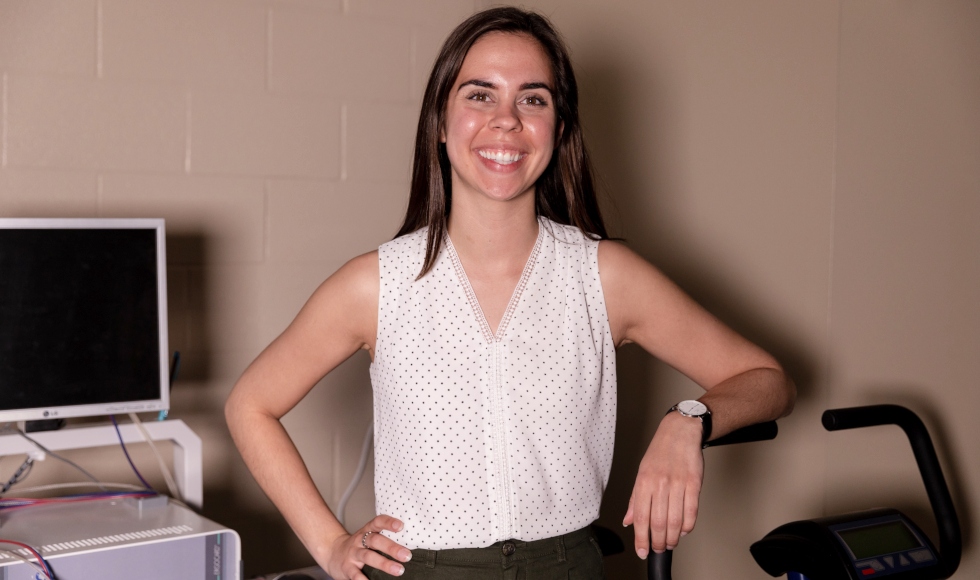 Kinesiology PhD student Michelle Ogrodnik discovered her love of teaching through her job as a teaching assistant. Photo by Sarah Janes.
---
Michelle Ogrodnik is a winner of the 2019 McMaster Students Union teaching assistant merit award for her work on KIN4Y03 – Cognitive Neuroscience of Exercise
When Michelle Ogrodnik came to McMaster as an undergraduate life sciences student, she imagined her future would include medical school. But when she took an Introduction to Psychology course in her first year, her plans took a sharp turn towards teaching and learning.
In fact, Ogrodnik loved teaching so much, she specialized in Psychology, Neuroscience and Behaviour to focus on research in applied cognition and education.
"I ended up really falling in love with this idea of psych and learning," she says. "And from there, that's how I went on to do TA work. Teaching at the undergrad level was my first taste that I liked teaching and then I just continued from there. Without that opportunity, it wouldn't have even been on my radar."
Ogrodnik was a teaching assistant for that same Introduction to Psychology course when she was in third and fourth year and continued to teach while completing her master's degree – this time in kinesiology. She is now working towards her PhD in kinesiology, studying how exercise affects the brain's capacity to learn.
And she's still working as a teaching assistant. She manages to balance working and studying at the same time by having a strict commitment to living by her calendar and because, she says, teaching doesn't feel like work.
"I'm really into what I do. When you're passionate about your extra-curriculars and working, I think it's a privilege because not everyone gets to feel that way. It really helps with the time management because it's something you look forward to, rather than a burden."
Ogrodnik is one of four teaching assistants recognized this year with a McMaster Students Union Teaching Award. She won the award not only for her ability to help students with course content, including a particularly tricky section about statistics, but also for the way she treats students and truly cares about them.
"My favourite part is getting to know students on that one-to-one level," she says. "The award just comes down to students thanking me for being a human being. It's so nice to hear and it just makes me remember being a student, and all the important mentors I had along the way. To be a great teacher, you don't have to be the smartest person in the room, but you have to work the hardest and care about translating that knowledge. And there's something to be said for remembering where you started. We get through it together."
Ogrodnik says she's gotten a lot out of being a TA as well. She highlights transferable skills in communication and leadership as well as networking opportunities with faculty as benefits to her own career.
"It's a privilege to teach," she says. "If it's even a spark that someone's into, then I'm like, 'Yes. Try it out. Go. Let's chat about it.' Because it's been by far my favourite experience throughout all of my undergrad and grad school.
"When I grow up as an adult," she laughs, "teaching in some capacity would be the dream. Either teaching-stream faculty, faculty, working as an educational developer, something related to teaching and helping teaching is absolutely the goal. It's intimately tied to this TA work."