MSU celebrates teaching excellence with 2019 Teaching Awards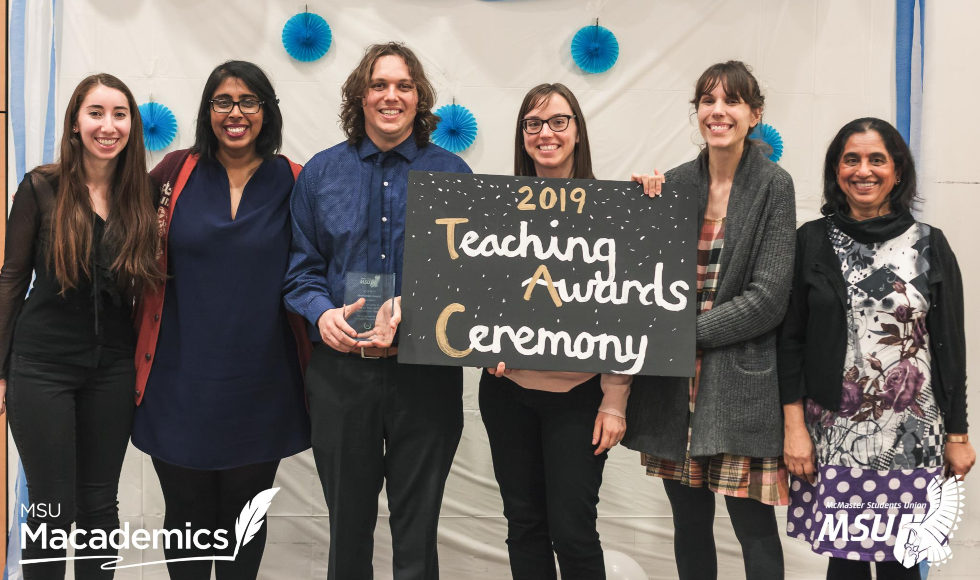 Award recipients from the MSU Teaching Awards. From left to right: Shira Weiss, Abeer Siddiqui, Ryan Belowitz, Nikol Piskuric, Katie Moisse and Sunita Nadella. Photo by Chris Simon.
---
Twenty people in the McMaster community received recognition for their dedication to teaching at the annual McMaster Student Union (MSU) Teaching Awards ceremony held earlier this week.
The awards, which were established in 1978, recognize outstanding teaching performance, including the ability to communicate, approachability and enthusiasm of the instructor. Recipients are determined by the number of nominations as well as class evaluations.
"The Teaching Awards ceremony gathers outstanding educators who, through their teaching excellence, have and will continue to impact the lives of many students," says Casey Li, the coordinator for the MSU Teaching Awards committee. "Through this ceremony, we want to celebrate the life-changing work that is done every day by leaders in education…and thank them for their commitment to education and creativity, and for their often contagious positive energy. As students, we don't always tell our educators that we appreciate them, and through this ceremony, we hope they recognize that their students value what they have been doing."
Drawn from a pool of 35 nominees, the student-nominated faculty award winners were:
Arts & Science: David Penner
DeGroote School of Business: Teal McAteer
Department of Kinesiology: Krista Howarth
Faculty of Engineering: Mostafa Soliman
Faculty of Health Sciences: Margaret Secord-Gilbert
Faculty of Humanities: Tracy Wong
School of Nursing: Jillian Halladay
Faculty of Science: Felicia Vulcu
Faculty of Social Sciences: Jessica Braimoh
Student-nominated teaching assistant merit award winners were:
Brent Urbanski
Abdullah Haroon
Allen Li
Michelle Ogrodnik
As well, several others won application-based awards:
MSU Merit Award: Katie Moisse (Faculty of Science)
MSU Merit Award (Sessional faculty): Nadine Ijaz (Arts & Science)
MSU Lifetime Achievement Award: Judy Major-Girardin (Faculty of Humanities)
MSU Community Engagement Award: Dawn Bowdish (Faculty of Health Sciences)
Ontario Undergraduate Student Alliance (OUSA) Award: Nikol Piskuric (Faculty of Science)
MSU Innovation Award: Ryan Belowitz and LIFESCI 2L03 team
TA of the Year: Brent Urbanski (Faculty of Science)
"I am passionate about and committed to arts education because I believe in the value of this holistic approach to learning that develops the intellect but also fosters sense-based and bodily-based learning that engages all our senses, enhancing our capacity for understanding and learning," says Judy Major-Girardin, who won the MSU Lifetime Achievement Award. "I am grateful for the students, colleagues and opportunities that McMaster has afforded me and am honoured to be receiving this award."