"Every day we remember them:" McMaster Engineering community says goodbye to former classmates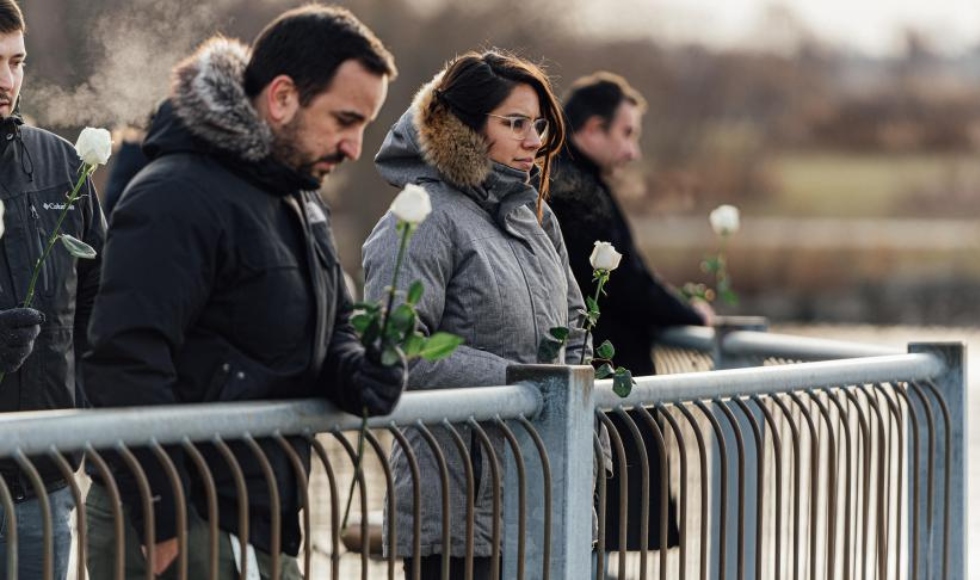 Photos by Daniel Kim
---
A tight-knit group of friends, classmates, faculty and staff members gathered at Hamilton Waterfront's Pier 4 on Friday, Jan. 17 to honour McMaster PhD students Iman Aghabali and Mehdi Eshaghian with a flower offering ceremony.
It was an afternoon for Iman Aghabali and Mehdi Eshaghian's closest circle at the McMaster Automotive Resource Centre (MARC) to come together to mourn and remember. The two students were among the 176 victims in the tragic Tehran plane crash.  
Former McMaster postdoctoral researcher Siavash Maghsoudlou Estarabadi, who had worked in McMaster's Faculty of Health Sciences until 2018, also died in the crash.
"On January 8, the world changed for our research group and for a lot of us at McMaster and beyond," said Ali Emadi, who supervised Aghabali and Eshaghian's PhD studies at MARC along with professors Jennifer Bauman and Mark Lawford, who co-supervised Aghabali and Eshaghian, respectively.
"A lot of students don't know how much we care about them – they are like our academic children. We have lost a piece of ourselves," said Emadi. 
One by one, the group gently tossed a rose into the water, a symbolic gesture of offering flowers to the souls of those who have passed on. 
Earlier in the afternoon at MARC, before the flower ceremony, the crowd was emotional as Emadi recounted laying out Aghabali and Eshaghian's research folders on his desk at the beginning of January.
He was preparing for meetings he planned on having with each of them when they returned to campus from the holiday break. 
"I can't bring myself to put the folders back in their place," he said. "I'm going to keep them there for as long as I can... I will remember them forever." 
"A lot of our students are suffering, suffering a lot, and we are trying to do our very best to help them. I'm really thankful for the support we have received from all of you, from the university, our industry partners, collaborators, and many other individuals around the country and around the world," said Emadi, a professor in both mechanical engineering and electrical and computer engineering. 
Friends shared treasured memories of Aghabali and Eshaghian in their own words. Some also shared their stories at a larger vigil on Friday, Jan. 10 at CIBC Hall.

"Today, we gather here in memory of our friends who were caring and kind towards everybody. I remember in the first meeting that I had with Dr. Emadi here at MARC, he asked me which members of the group I knew before coming to MARC. Mehdi was one of the two names I named at the time. Today, Mehdi's gone. He left behind nothing but good memories." – Sobhan Kashfi, Master's student, Faculty of Engineering

"I had the honour to say some words last week about our friends, but I don't think there is enough time and there are not enough pages in the books we have signed to show how much they gave to us. Every time I talk about Iman, I used to say, 'He's just the best guy I have ever met. He's extremely kind. You really need to meet him, and he will probably talk to you in Spanish.' [Iman is remembered as always trying to learn others' native languages].
I often went to Mehdi for advice. He was just too smart. Always smiling. That's the single word that I want to keep in my mind for both of them: 'Smile.' Because it's what I have in my memories. I want to say thank you for all these nice memories, and although it hurts a lot and I have cried and I will keep crying I'm sure, every time I remember this, a huge smile comes to me. Thanks for this smile." – Diego Fernando Valencia Garcia, PhD student, Faculty of Engineering

"We are a team. But now we have less players. Everybody knows how I was close to Iman and how he was learning Portuguese and everything. I would literally call my father and put him on the phone and he would talk to my father the whole conversation. My father would hang up and not even talk to me. Everybody in my family went to Brazil for the holidays. Everybody asked, "Hey, how is your Iranian friend? How is your Iranian friend?" Everybody knew him. So, this is how far those guys go. Everybody's together in this." – Lucas Bruck, PhD student, Faculty of Engineering

"When I came here, Mehdi was the first one I met. He helped me a lot… and when I had a problem, I came to him. He helped me very gently. I had a very warm welcome in my office because of him." – Negar Noroozi, Post-Doctoral Research Fellow, Faculty of Engineering
More about Iman 

Aghabali

 and Mehdi 

Eshaghian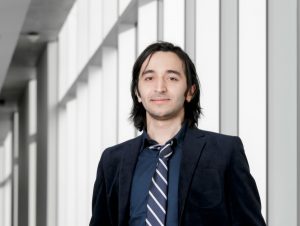 Iman Aghabali received his B.Sc. in electrical engineering, electronics from Sharif University of Technology in Tehran, Iran in July 2015. He continued his graduate studies in the field of power electronics in University of Tehran, Tehran, Iran and accomplished his M.Sc. degree in July 2017. In summer 2017, he joined McMaster University as a PhD student to pursue his research interests under supervision of Prof. Ali Emadi in McMaster Automotive Resource Centre (MARC), Hamilton, Ontario. His research interests included design and control of power electronics converters in hybrid electric vehicles applications. 
Among friends and colleagues, Iman is remembered for his unrelenting cheerfulness and determination in learning new languages so he can speak with his classmates from other parts of the world.
Mehdi Eshaghian graduated with B.Sc. degree in Mechanical Engineering from Sharif University of Technology, Tehran, Iran. In September 2018, he joined the McMaster Automotive Resource Centre (MARC) to pursue his M.Sc. at McMaster University in Mechanical Engineering under the supervision of Prof. Ali Emadi. He had since decided to pursue his PhD under Prof. Emadi. His research interests included autonomous vehicles, robotics, and control systems in general. 
Those who were close to Mehdi will remember his remarkable intellect and initial shyness which turned into warm friendship over time. 
Resources for support
The Student Wellness Centre (ext. 27700) in the Peter George Living and Learning Centre is open to all students who may need assistance. Faculty and staff can find support through the Employee and Family Assistance Program (1-800-663-1142). The McMaster Chaplaincy Centre (ext. 24207) and International Student Services (ext. 24254) are also available to help.
All of the support services are available to anyone at the university who may need additional support during this difficult time.