Events and resources ahead of the National Day for Truth and Reconciliation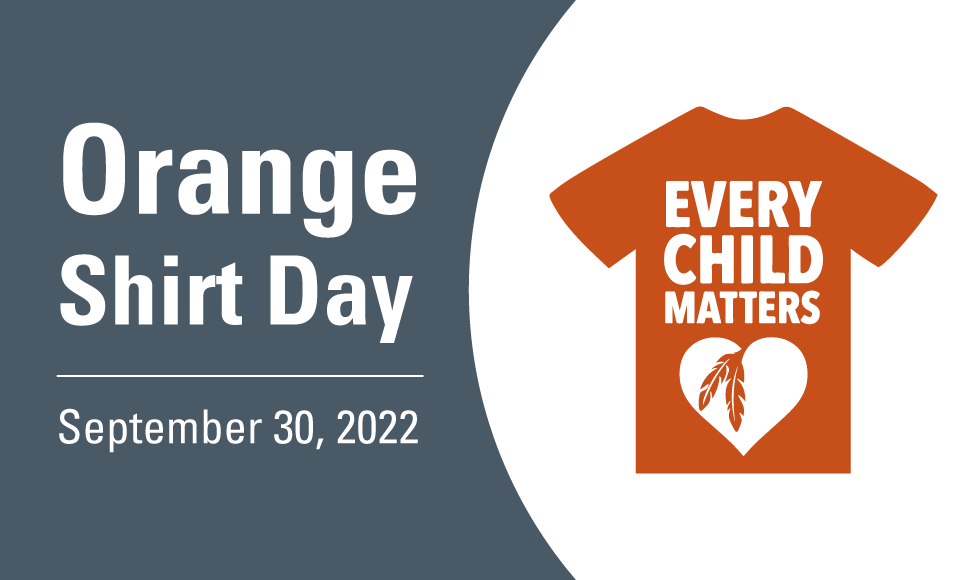 While the university is open on Sept. 30, there will be no classes, offering an opportunity to learn about the history and ongoing legacy of residential schools, and to reflect on truth and reconciliation, as well as on the potential of universities to drive meaningful change.
---
On Friday, Sept. 30, McMaster's campus community will join others across the country in commemorating the National Day for Truth and Reconciliation in Canada. This is a significant date for our students, staff and faculty. While the university will be open, no classes are scheduled on this day, which is also referred to as Orange Shirt Day to raise awareness of the legacy of residential schools and to honour survivors.
Orange Shirt Day is named for Phyllis Webstad. When she was six years old, her grandmother gave her an orange shirt to wear to school. Once she arrived at St. Joseph's Mission for her first day, her clothes were taken away.
"The colour orange has always reminded me of that and how my feelings didn't matter, how no one cared and how I felt like I was worth nothing," Webstad has said. "All of us little children were crying and no one cared."
The cancellation of classes presents an opportunity to reflect on the broader issues related to truth and reconciliation and to be inspired by the potential universities have to make positive contributions toward reconciliation through education and inclusion.
A number of educational resources, as well as events on campus and in the community, are listed below.
Events
Virtual Tour of the Mohawk Institute Residential School
Sept. 21, 28 and 29 | Online
Offered by the Woodland Cultural Centre, the guided tour of the former Mohawk Institute Indian Residential School spans its 140-year history. The tour includes the girls' and boys' dormitories, cafeteria, laundry room and other rooms throughout the building, as well as interviews with five survivors of the Mohawk Institute.
Cost: $10 – directly applied into supporting educational work.
---
Indigenous Health Learning Lodge Welcome Gathering
Sept. 23 | 6 p.m. | On campus
The Indigenous Health Learning Lodge (IHLL) at McMaster University invites you to join them for a Welcome Gathering event at the Concert Hall in L.R. Wilson Hall.
The gathering will be attended by McMaster Chancellor Santee Smith and will feature an interpretive dance performance directed by JP Longboat of Circadia Indigena.
---
Truth and Reconciliation Day Panel Discussion
Sept. 29 | 6-7:30 p.m. | On campus
Members of our campus community are invited to attend the National Truth and Reconciliation Day Panel Discussion hosted by Indigenous Studies faculty at the Michael G. DeGroote Centre for Learning and Discovery, Room 1110.
A recording of the panel discussion will be made available starting on the afternoon of Sept. 30. The link to the recording will be posted to this page.
Click here to learn more. Click here to register to attend the live event.
---
Lifting Up Our Children: 3-Day Event
Sept. 29 to Oct. 1 | Off campus
The Hamilton Regional Indian Centre invites you to attend various events at the bandshell in Hamilton's Gage Park.
Social: Thursday, Sept. 29 | 3 p.m. to 7 p.m.
Community event featuring speakers, drummers, singers, vendors and more: Friday, Sept. 30 | 11 a.m. to 7 p.m.
Family Fun Day: Saturday, Oct. 1 | 10 a.m. to 5 p.m.
---
Fire And Lunch
Sept. 30 | Starts at noon | On campus
Indigenous students, staff and faculty are invited to have lunch at L.R. Wilson Hall, Ceremonial Room (1811) and to drop by a fire in the courtyard.
---
Indian Horse Film Screening
Sept. 30 | 11 a.m. | On campus
Indigenous Student Services and the Indigenous Studies department will host a screening of Indian Horse at the McMaster Concert Hall located in the L.R. Wilson Hall. The film tells the story of an Indigenous boy who survives the residential school system and becomes a talented hockey player, only for his past traumas to resurface.
Seating will be on a first-come, first-served basis.
A post-screening reception with coffee, tea and cookies will be held between 12:30 and 1:30 p.m. in the Waller Lobby.
---
Orange Shirts For Sale At Campus Store
McMaster's Campus Store is selling Orange Shirt Day T-shirts for $19.99. Profits from the sale will benefit Indigenous students.
Orange Lights on Campus
The Indigenous Circle and the exterior of two of McMaster's historic buildings, Hamilton Hall and University Hall, will light up orange on the nights of Sept. 29-30 to honour the children who did not come home from residential schools, survivors and their families. They can be located using this interactive campus map.
---
Resources