National Truth and Reconciliation Day Panel Discussion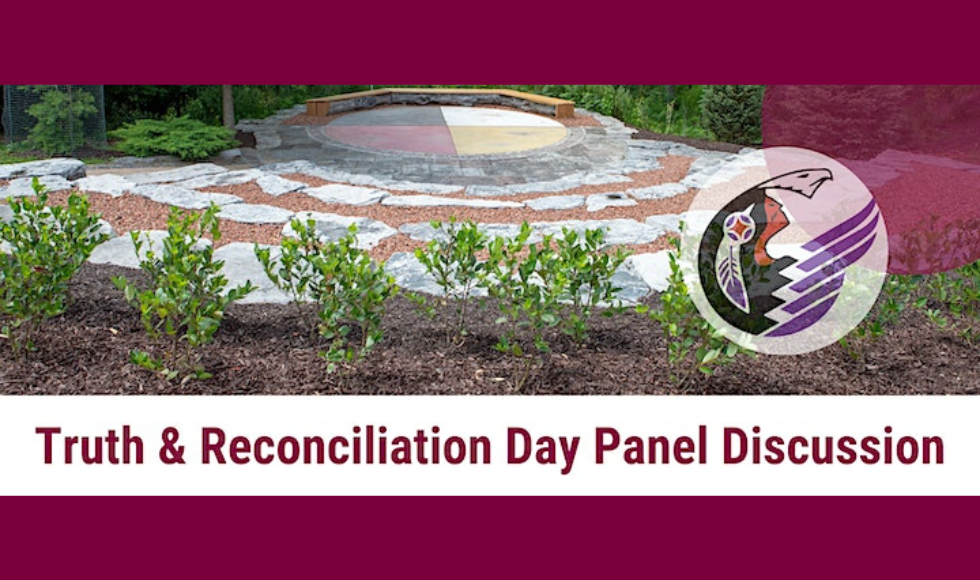 Members of our campus community are invited to attend the National Truth and Reconciliation Day Panel Discussion hosted by Indigenous Studies faculty.
---
Members of our campus community are invited to attend the National Truth and Reconciliation Day Panel Discussion hosted by Indigenous Studies faculty.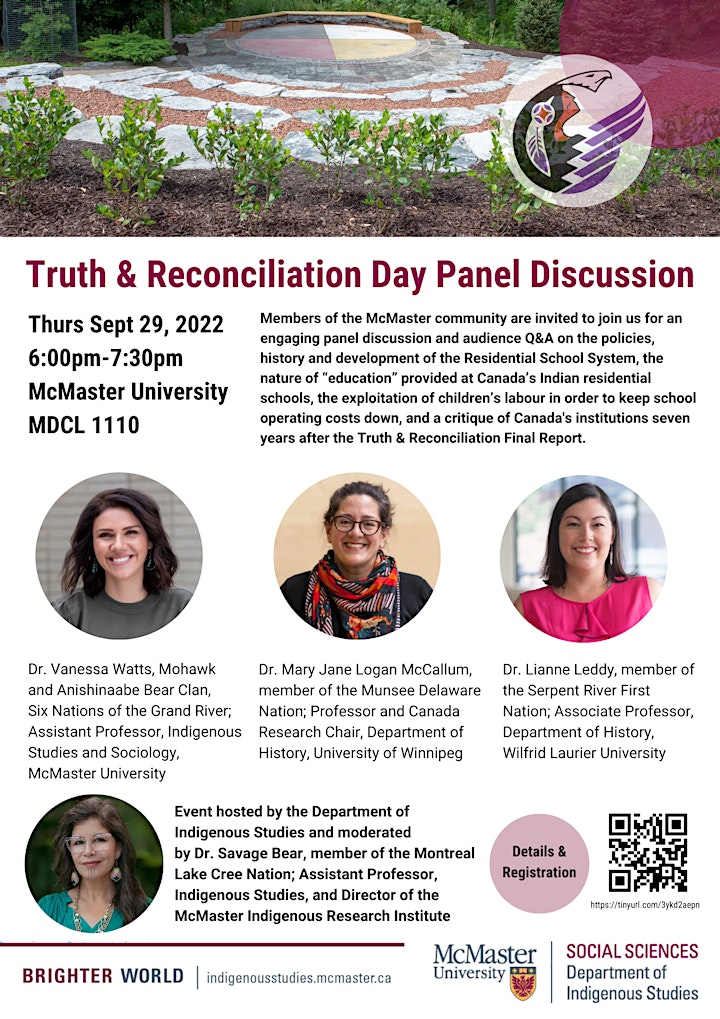 Register here to attend the live event
Hosted by the department of Indigenous studies, Savage Bear will moderate a Truth and Reconciliation Day panel discussion with Vanessa Watts, Mary Jane McCallum and Lianne Leddy. The panel will cover the following topics, with discussion between the panelists and a Q&A with the audience.
History, policy, and development of the Indian residential school system
Nii Ndahlohke Boys' and Girls' Work at Mount Elgin Industrial School and the work of the Munsee Delaware Nation History and Language Group
Reconciliation seven years after the Truth and Reconciliation Report; a critique of Canada and its institutions and work that still needs to be done.
Date: Thursday, Sept. 29
Time: 6 p.m. to 7:30 p.m.
Place: The Michael G. DeGroote Centre for Learning and Discovery (MDCL), Room 1110
A recording of the panel discussion will be made available starting on the afternoon of Sept. 30.
Moderator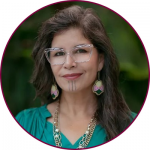 Savage Bear is a rabble-rouser, Nehiyaw'iskwew (Cree woman) and member of the Montreal Lake Cree Nation in Northern Saskatchewan. Bear is the newly appointed director of the McMaster Indigenous Research Institute (MIRI) and is an assistant professor in the department of Indigenous Studies. Before coming to McMaster, Bear worked at the University of Alberta, where she was the director of the Indigenous Women and Youth Resilience Project and the academic lead on "Indigenous Canada," a highly successful online course boasting over 430,000 learners; she was also an assistant professor of Native Studies and Women's and Gender Studies.
An accomplished academic, Bear has made significant contributions to Indigenous scholarship and the national Indigenous education landscape since earning her PhD from the University of Alberta in 2016. Her research includes social justice, prison abolition, body and land sovereignty, sexuality, gender and reproductive justice, contemporary Indigenous art, and Indigenous literature. Bear also co-produces Tipi Confessions, a live storytelling show on sex, sexuality, and gender, featuring performance and anonymous audience confessions. Tipi Confessions highlights Indigenous, decolonial, political, humourous, creative, feminist, queer, and/or educational perspectives. The shows include spoken word, personal narrative, erotica fiction, burlesque, live musicians, and short theatre performances. When she isn't marking, teaching or enjoying her new role as Kookum (grandmother) you will find her biking around Hamilton's amazing trails
Panelists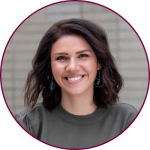 Vanessa Watts is Mohawk and Anishinaabe Bear Clan, Six Nations of the Grand River. She is an assistant professor of Indigenous studies and sociology at McMaster University, and holds the Paul R. MacPherson Chair in Indigenous Studies. Her research examines Indigenist epistemological and ontological interventions on place-based, material knowledge production. Vanessa is particularly interested in Indigenous feminisms, sociology of knowledge, Indigenous governance, and other-than-human relations as forms of Indigenous ways of knowing.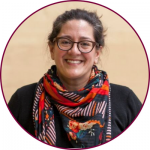 Mary Jane Logan McCallum is of the Munsee Delaware Nation and a full professor and Canada Research Chair in Indigenous People, History and Archives in the department of history at the University of Winnipeg. McCallum is the author of Nii Ndahlohke: Boys' and Girls' Work at Mount Elgin Industrial School, 1890-1915 (Friesen Press, 2022), Structures of Indifference: An Indigenous Life and Death in a Canadian City with Adele Perry (University of Manitoba Press, 2018), and Indigenous Women, Work, and History, 1940–1980.(University of Manitoba Press, 2014).  She is principal investigator/project lead for the Manitoba Indigenous Tuberculosis History Project.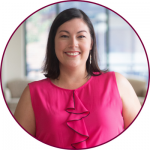 Lianne C. Leddy is an associate professor of history at Wilfrid Laurier University and a member of Serpent River First Nation. Leddy is the author of Serpent River Resurgence: Confronting Uranium at Elliot Lake, which was recently published by University of Toronto Press. Her work has appeared in Oral History Forum, Canadian Historical Review, Herizons, and several edited collections.