Meet the first scholars in McMaster's new diversity-in-STEM program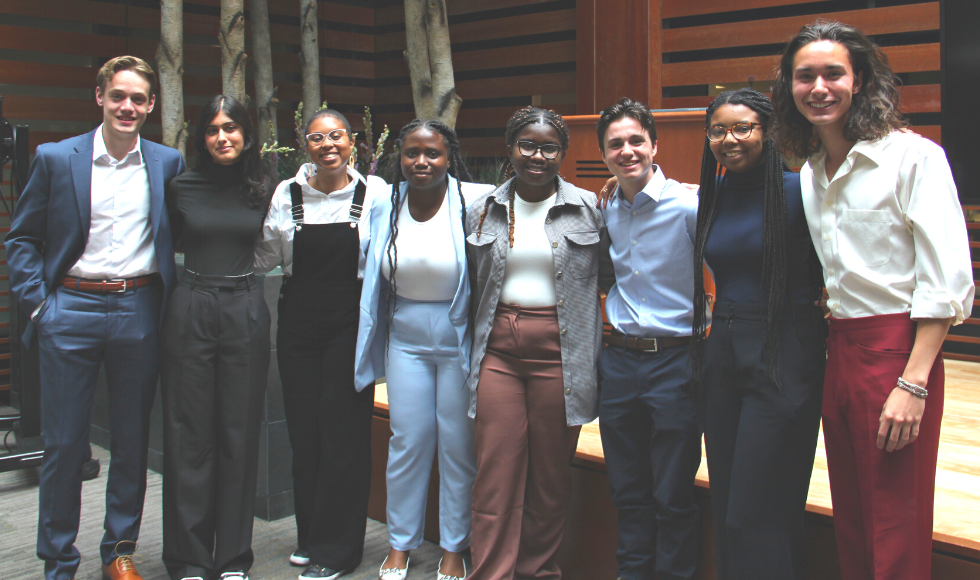 The inaugural cohort of the Biochemistry & Biomedical Sciences Summer Scholars Program (SSP) included Ontario-based scholars (from left to right) Ethan Michalenko, Shreya Sharma, Gabrielle Jean-Pierre, Breanne McAlpin, Jola Adeoye, Joshua Russell, Andrea Maxwell and Tovan Lew. (Photo by Blake Dillon/McMaster University).
---
McMaster's Biochemistry & Biomedical Sciences Summer Scholars Program (SSP) is "changing lives," according to its inaugural cohort of students.
The new program, which seeks to correct underrepresentation in STEM research settings, has brought a diverse group of Ontario-based scholars who self-identify as Black, Indigenous, and/or 2SLGBTQIA+ to McMaster on fully funded research scholarships.
Run in partnership with the Michael G. DeGroote Institute for Infectious Disease Research (IIDR) and the Global Nexus for Pandemics and Biological Threats, the SSP provided the cohort with intensive research skills training, close mentorship and guidance, and experiential learning opportunities in an array of McMaster laboratories.
"It was truly a pleasure to work with this inaugural cohort of scholars," said Caitlin Mullarkey, an assistant professor in the Department of Biochemistry and Biomedical Sciences and chair of the SSP. "These incredible students have left an indelible mark on the program that will shape the experience for future scholars, and I know that their own futures are likewise very bright."
Having recently celebrated the program's inaugural year at a capstone research symposium, each of the SSP's first eight students say that the program fundamentally cemented their interest in research.
Here, the students reflect on their own personal experiences as an SSP scholar.
---
Tovan Lew
For Tovan Lew, an SSP graduate currently studying biomedical sciences at Trent University, the intensive, informative research experience was merely the second-best part of the new program. Indeed, Lew argues that what makes the SSP so special is that it is purpose-built to facilitate knowledge and cultural exchange between students from marginalized groups.
"The SSP positions students to learn from each other's experiences, form communities, and amplify representation in STEM settings," said Lew, who studied T-cells under the supervision of Jonathan Bramson, vice dean of research in the Faculty of Health Sciences.
Lew notes that this experience not only provided him with the fundamentals for a strong future in research, but also allowed him to form "long-term relationships with likeminded people."
---
Breanne McAlpin
Breanne McAlpin, whose SSP project examined the effects of dihydrotestosterone (DHT) on macrophages, says the program not only expedited her academic and professional development, but also emboldened her with a newfound confidence.
"The opportunity to thrive in an environment that can be foreign to people of my skin colour was beyond remarkable," said McAlpin, who studied under the supervision of Jonathan Schertzer, an associate professor in McMaster's Department of Biochemistry and Biomedical Sciences. "Through this, I have learned the power of believing in myself."
McAlpin, a student at Ontario Tech University, notes the experience has furthered her interest in research, and she credits the SSP and the Schertzer Lab for inspiring her throughout the summer.
Today, McAlpin remains in the Schertzer Lab as a co-op student.
---
Ethan Michalenko
Ethan Michalenko, an undergraduate student in McMaster's Bachelor of Health Sciences Program, will always reflect on his time in the SSP as "an amazing experience."
Studying invasive Salmonella typhimurium in the laboratory of Brian Coombes, chair of the Department of Biochemistry and Biomedical Sciences and a member of the IIDR, Michalenko says the SSP helped him develop lab skills, glean insight into different career paths and forge important relationships.
"This program has presented me with new opportunities and has given me exposure to the research field," said Michalenko. "I am very grateful to have been part of the program's inaugural cohort." 
---
Jola Adeoye
Jola Adeoye's experience within the SSP reinforced her desire to pursue a career in science.
The second-year Honours Biochemistry student, who spent her time in the SSP working on a library for natural product drug discovery in Global Nexus lead Gerry Wright's lab, notes enrolling in the program gave her new opportunities that have led to the development of new skills.
"Through this program, I feel that I have enjoyed all of the resources, training, and support that McMaster's Department of Biochemistry and Biochemical Sciences has to offer," she said.
Adeoye has parlayed this experience into an ongoing co-op placement in the Wright Lab.
---
Joshua Russell
The opportunity to spend the summer studying antiviral drugs in the lab of IIDR Director Matthew Miller is not something that Joshua Russell will soon forget.
Russell, who studies at Trent University, says the mentorship he received as an SSP student afforded him encouragement, confidence and new connections.
"Working with such a diverse group of dedicated scholars made me feel confident that I belong in science," he said.
Exposure to cutting-edge technologies and lab techniques has left Russell eager to begin his own career in science.
---
Gabrielle Jean-Pierre
With an engineering background from her studies at the University of Toronto, Gabrielle Jean-Pierre was skeptical that the biomedical sciences were for her; however, she says any doubt was quickly erased once the SSP got underway.
Studying bacteriophages for Pseudomonas aeruginosa under the supervision of Lori Burrows, a professor of Biochemistry and Biomedical Sciences and a member of the IIDR, Jean-Pierre learned new concepts and explored a variety of scientific practices over the summer.
Despite this, Jean-Pierre says she actually learned as much about herself as she did about science during the 12-week program, noting that the SSP granted her a new sense of independence, self-reflection and self-understanding.
"I'm so grateful for this opportunity and so proud of myself for getting here," said Jean-Pierre. "This program is changing the lives of students."
---
Shreya Sharma
Shreya Sharma is a second-year Integrated Science student at McMaster. Reflecting on her 12 weeks in the SSP, she says the new program is a great way for students interested in research and other lab-based work to gain important knowledge and understanding.
 "The program provides amazing experience, guidance, and mentorship, and I am grateful for all of the learning that I was able to do over the summer," Sharma says.
Sharma, who studied fetal and maternal respiratory health in the lab of Deborah Sloboda, a professor in the Department of Biochemistry and Biomedical Sciences, says she "highly recommends" the SSP to all eligible students. 
---
Andrea Maxwell
Prior to Andrea Maxwell's participation in the SSP, the second-year Health Sciences student had a strong interest in research, but no lab experience — which made her tenure studying antibiotic adjuvants in Biochemistry and Biomedical Sciences professor Eric Brown's lab all the more rewarding.
"It was a privilege to be able to witness and participate in the ground-breaking antibiotic research being done here at McMaster," said Maxwell.
In addition to hands-on lab work, Maxwell's experience in the SSP also included attending a variety of seminars that explored a range of fields and subspecialties within biochemistry and the biomedical sciences, sparking new interests and strengthening existing ones.
"Being able to participate in this program has broadened my academic horizons and given me the tools to shape my own scientific career," she said.