Summer lab program brings in diverse students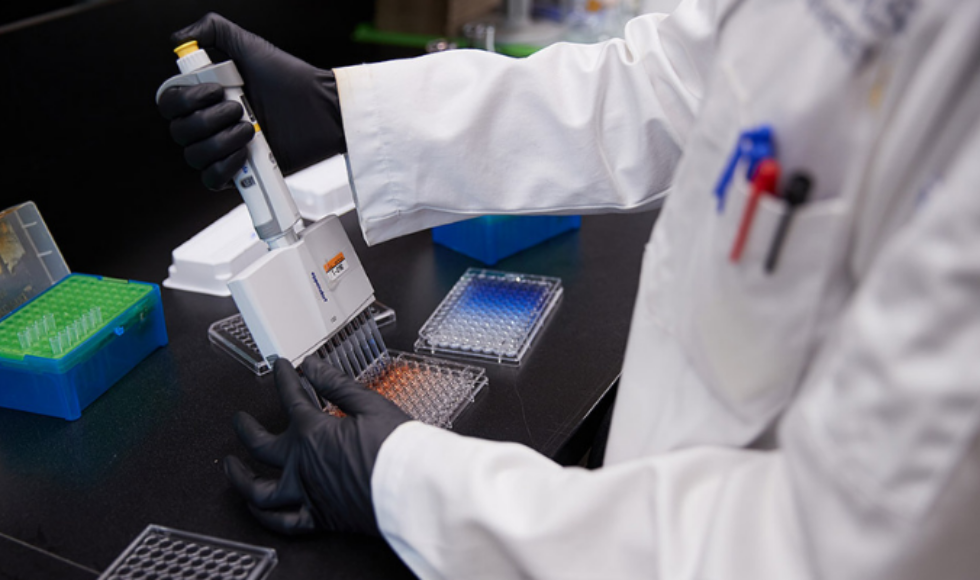 ---
With a keen focus on skills training, mentorship, and career development, the new Biochemistry and Biomedical Sciences Summer Scholars Program (SSP) is providing a cohort of students who self-identify as Black, Indigenous, and/or 2SLGBTQIA+ with an experiential research opportunity.
The fully-funded summer research program will offer about four to six students an intensive two-week skills training boot camp and a 10-week in-lab placement during the spring/summer practicum.
"We were very intentional in designing a program and application process that, from start to finish, addresses access barriers to biomedical research," says Caitlin Mullarkey, who chairs the new program. "This is what makes the SSP unique."
One such barrier, Mullarkey explains, is the financial aspect associated with conducting STEM research; however, the SSP is helping ensure that finances don't prevent students from applying. There is no cost to participate, and each student receives a $7,000 stipend, a $900 meal card, $3,200 in housing, and funds for transportation, parking and childcare support.
Another way the SSP is broadening access is through its applicant assessment process. Unlike many similar research scholarships, this program does not require students to submit transcripts, to have certain GPAs, to arrange mentorship or to develop a proposal or abstract. In fact, the program doesn't require students to have any past research experience at all.
"We're looking for students who are passionate and enthusiastic about science — period," says assistant professor Mullarkey, who also serves as the Department of Biochemistry and Biomedical Sciences' associate chair of undergraduate education.
In these ways, the SSP complements McMaster's Indigenous Undergraduate Summer Research Scholars (IUSRS) program, a long-standing graduate school preparatory opportunity for Indigenous students.
Throughout the development of the SSP, Mullarkey consulted closely with the McMaster Indigenous Research Institute and used the IUSRS framework as a foundation to build upon. She also recruited Adrianne Xavier, Acting Director of the Indigenous Studies Program, to serve on the SSP steering committee.
In addition to Mullarkey and Xavier, the SSP is led by a diverse group of academics, students, and industry representatives that, collectively, bring a range of social and professional perspectives to the table. Mullarkey notes that the SSP "could not exist without this team."
Maya George, a member of the six-person committee and an M.Sc. candidate conducting research at the Michael G. DeGroote Institute for Infectious Disease Research (IIDR), believes the program will help narrow the considerable equity gaps that exist in STEM today.
"It is well known that there are significant racial, ethnic and gender gaps in science-related programs and workplaces," George explains.
"Not only does the SSP aim to increase representation in the field, but it does so in a way that ensures its students are not put at a disadvantage and enables them to cultivate their skills in an environment that prioritizes community, support, mentorship, and career development."
As a collaboration between the Department of Biochemistry and Biomedical Sciences, the IIDR, and Canada's Global Nexus for Pandemics and Biological Threats, the SSP will foster research opportunities in fields ranging from microbiology, antimicrobial resistance, and immunology to drug discovery, metabolism, and genomics.
"Improving diversity in infectious disease and broader STEM scholarship is important for a myriad of reasons," said Lori Burrows, associate director of the IIDR.
"This program not only opens doors for students to benefit from hands-on lab experience, but also for science to benefit from different perspectives and lived experiences."
"The COVID-19 pandemic has revealed the importance of having a diverse team to address major societal challenges," adds Gerry Wright, lead of Canada's Global Nexus.
"This program is poised to become an incubator for scientific excellence from across the social spectrum, and we're all excited to welcome the inaugural SSP cohort into our labs this summer."
The SSP's application period closes February 14, 2022. More information is available here.