Come in, we're open: Welcome back to the Museum of Art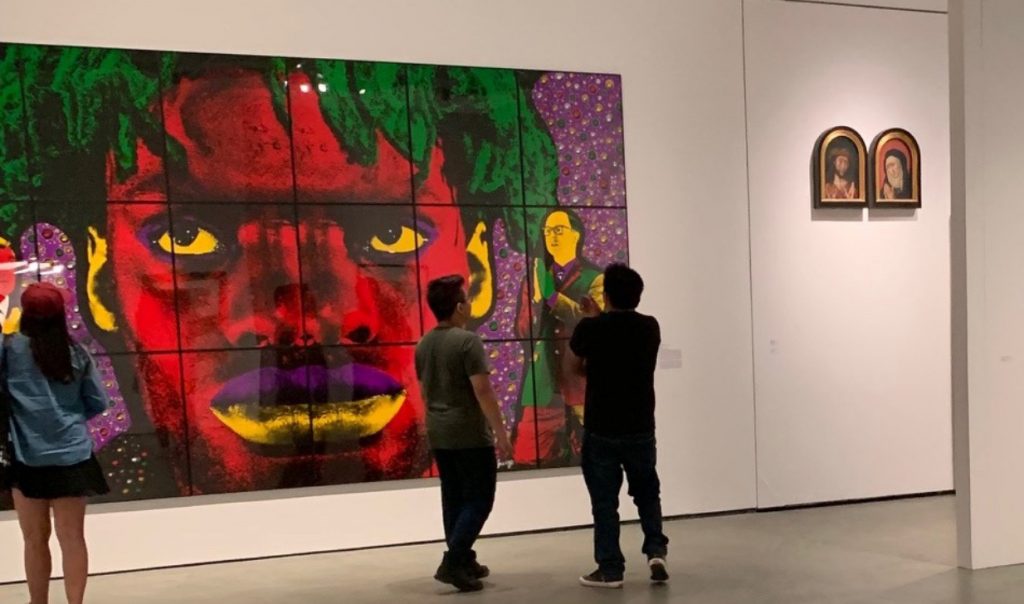 Gallery visitors consider Heady, by Gilbert & George, 1991, part of the Levy Bequest Purchase in 1995.
---
Good news for art enthusiasts: The McMaster Museum of Art is open again, with a new senior curator and new exhibitions.
New senior curator Pamela Edmonds is putting a fresh spin on McMaster's celebrated Levy collection in it is from here that the world unfolds, an exhibition that reconsiders how a collection predominantly committed to the European canon might be positioned in order to broaden its scope — within a globalized present, but with an eye on the future.
Instead of constructing a linear historical survey, with individual works arranged chronologically, the works are grouped thematically, reflecting transcultural exchange, or re-orientations.
The selected works span more than five centuries of historical, modern and contemporary art by notable artists such as Gustave Caillebotte, Gustave Courbet, Marcel Duchamp, Paul Gauguin, Wassily Kandinsky, Tadashi Kawamata, Anish Kapoor, Paul Klee, Henri Matisse, Paula Modersohn-Becker, Claude Monet, Gerard Richter, J.M.W. Turner, Victor Vasarely and many of whom led significant artistic movements.
"This project has allowed me to explore ideas that I have been thinking about, around the place and relevance of museum collections in our contemporary moment and propose an alternative premise for bringing works together that question the ideological constructs around universalism and humanity as it has been understood within the Western art," Edmonds explains.
The new exhibition calls to attention the kinds of difference ― based on race, religion, gender and class ― that are important to decipher when reconfiguring established ideas around space, modernity and the politics of display in art.
it is from here that the world unfolds is presented in recognition of the Levy's Collection's celebrated return to McMaster following its cross-Canada tour in the exhibition, A Cultivating Journey.
The Museum, which is responsible for the care and preservation of more than 6,000 precious pieces of art, must maintain specific temperature and relative humidity in all areas where the art is housed. It was closed from March through August this year for a major overhaul of its environmental systems.
During that time, museum staff created a number of free programs on and off campus, including in-school art programs in elementary and high schools, campus art and architecture walking tours, outdoor sketching, online art lessons and more.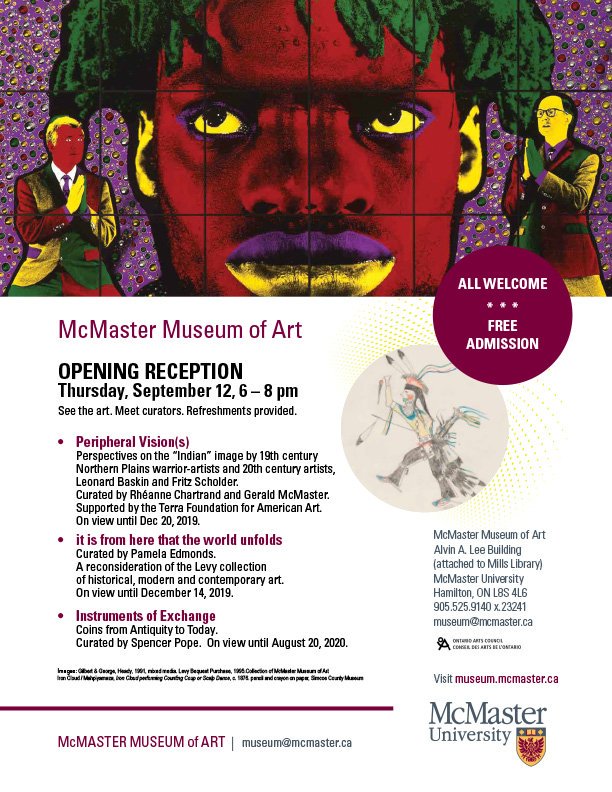 About the Levy Collection
The philanthropy of Hamilton businessman Herman H. Levy (1902 – 1990), his donations and his bequest to McMaster University and the Museum of Art radically changed the depth and scope of the museum's collection. His $15 million bequest — in which he specified the money be used for acquisitions that are non-North American in origin — ranks among the most important gifts to a university gallery in Canada for its quality and significance. Levy's personal collecting interests covered a broad range of areas―from antiquities and historical maps, to European historical works and paintings by some of the world's most renowned artists.
Learn more, enjoy the art, meet the curator and celebrate the museum's reopening at a reception Sept. 12