BDC student's smartphone ER app wins Lion's Lair pitch competition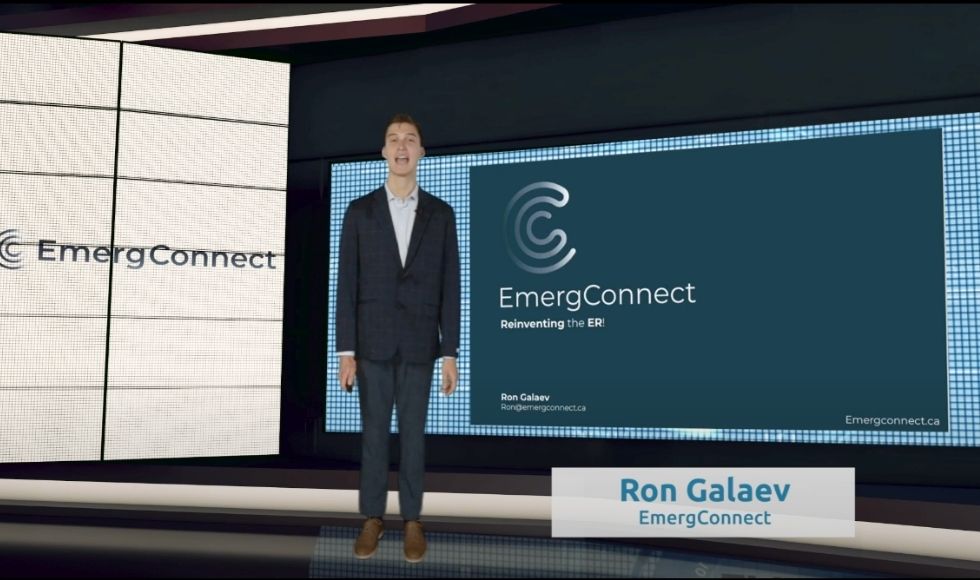 Student Ron Galaev, pictured here making his pitch, won the $30,000 first prize in the Innovation Factory's Lion's Lair competition for his app that connects patients with hospital emergency rooms.
---
A McMaster Biomedical Discovery and Commercialization program (BDC) student's  smartphone app to cut emergency room waiting times won the top prize in the Innovation Factory's Lion's Lair pitch competition.
Ron Galaev, the founder of EmergConnect, recently won $30,000 for EmergConnect's new app connecting patients to hospital emergency rooms. The Innovation Factory is a Hamilton-based business accelerator.
EmergConnect aims to improve the patient experience while enhancing patient care and saving hospitals money by letting patients triage, register and get their individualized wait time while still at home before heading to the emergency department.
---
Read more: BDC grad Christopher Juman's venture Dahlia wins The Forge Startup Survivor Pitch Competition
---
EmergConnect is approved for a pilot at Sunnybrook Health Sciences Centre in Toronto and William Osler Health System in Peel Region.
St. Joseph's Healthcare Hamilton is also in the final stages of approvals with an EmergConnect pilot. The startup has also attracted $350,000 in pre-seed funds.
"Everybody has a horror story with the ER, where they're injured or in pain, told they're going to wait 30 minutes but then they're stuck in the waiting room for eight hours,"Galaev said in his Lion's Lair pitch.
"At EmergConnect, we've created the first ever digital front door for same-day care that lets you register, triage and in future even wait at home before arriving at a hospital that's ready to treat you, all while directing you to the care that best suits your needs."
Galaev said his company had worked with hospitals from Day 1, to reduce risks, cut costs, improve patient experience and decrease physician workloads.
There is a huge potential market for the new app, including 1,200 Canadian and another 7,000 American ERs, Galaev said.
"Our system aligns perfectly with Ontario Health's current goals and commitment to digital health and virtual care."
The BDC program offers a two-year bachelor plus a one-year master's degree that combines advanced training in biomedical discovery with the core business skills.
The program, offered by the department of Biochemistry and Biomedical Sciences, along with the DeGroote School of Business, includes a four- to eight-month internship in the health sciences sector.
The Lions Lair competition is presented by the Innovation Factory in collaboration with the City of Hamilton's Economic Development Office.
Galaev's company is also a client of the Forge, a McMaster-funded incubator that supports Hamilton-based startups. Two more Forge clients were also Lion's Lair finalists:
Admass is an influencer marketing platform that connects businesses to content creator's friends & family networks.
Axcessiom is a driver assistance system that uses facial gestures to activate vehicle functions, such as windshield wipers and turn signals.