McMaster student startups claim top prizes in The Forge Startup Survivor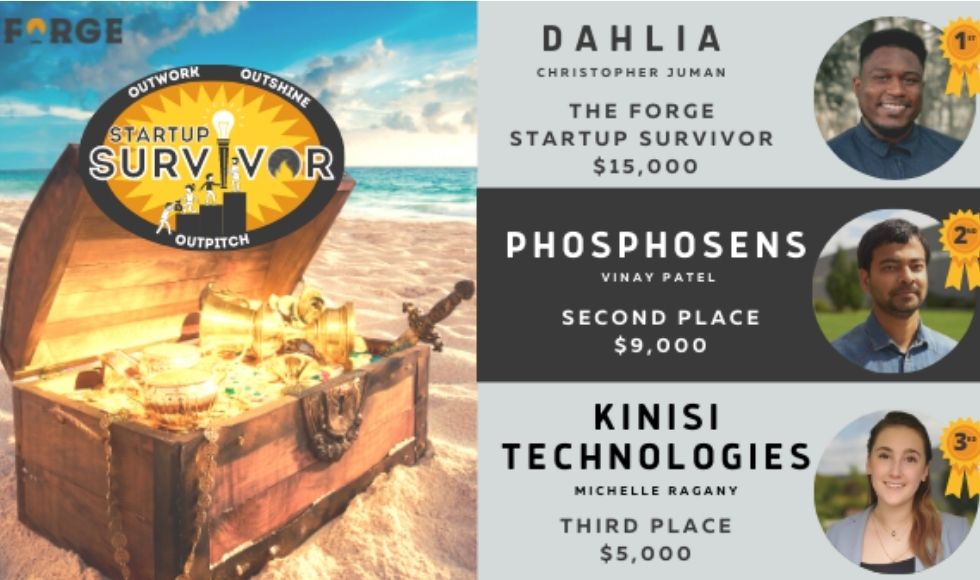 Four student-founded startups working with McMaster's Forge Business Incubator have won top prizes and $31,000 in cash awards for their innovative business ventures. 
---
Four student-founded startups working with McMaster's Forge Business Incubator have won top prizes and $31,000 in cash awards for their innovative business ventures.
Five awards were given out Oct. 7 during a Survivor-themed virtual pitch competition before a panel of industry judges.
The $15,000 grand prize went to Dahlia, a business venture co-founded by Christopher Juman and Bindi Mehta. Dahlia is developing a feminine hygiene product that combines the utility of a menstrual cup with the familiarity of a tampon.
The menstrual cup is loaded into a tampon-like applicator that can both insert and remove the cup, providing comfort and convenience to the user.
Juman, a recent graduate of the Biomedical Discovery and Commercialization (BDC) program, says the Forge's summer program was incredibly valuable in launching their business.
"We entered the competition looking to gain guidance on our first steps in launching our business while also hoping to gain some funds along the way," said Juman.
"We never would have imagined how many skills we would develop all the while having the opportunity to build connections with valuable mentors and other co-founders who have helped shape our business."
The Forge works closely with entrepreneurs to develop and grow their business ideas.
Founded in 2015 and funded by McMaster University, the Forge Business Incubator program serves startups in the Hamilton, Greater Toronto and Niagara Regions.
Clients receive expert mentorship, funding, investor introductions and other entrepreneurial support. So far, 233 companies have been through program and have raised over $36 million while selling products in 50 countries.
Dahlia also won the competition's $500 Bonus Challenge Award,  given to a company that does additional work that contributes to supporting Hamilton's startup ecosystem.
PhosphoSens, a business venture founded by Vinay Patel, a PhD student in the Biomedical Engineering program, won the $9,000 second prize. PhosphoSens is developing a handheld device that will allow wastewater treatment plant operators to quickly detect phosphorus.
"As a researcher, I understand technology, but I am new to formulating business strategies and plans," said Patel. "The Forge Startup Survivor program provided me with the opportunity to network with a great peer network and mentors who were always ready to support us when needed. I would recommend the program to anyone who is looking to start their entrepreneurship journey."
The third spot was claimed by Kinisi Technologies, a startup co-founded by three students in the Master of Technology Entrepreneurship and Innovation (MTEI) program.
Michelle Ragany, Nazli Bostandoust and Edelstein Ruben Junior Biack Mbombe are developing a wearable device that provides posture performance analytics for athletes. They are currently focusing their work on rowers.
The Social Buzz Award, given to the startup with the best online and social media presence, went to Grounded Collective. Founded by Gurkeerat Gill, it aims to bridge the gap between consumers and sustainable brands by addressing price, time and fear of "greenwashing."
Gay Yuyitung, acting director of The Forge, says that although the pandemic forced them to shift to a virtual format, the level of engagement and enthusiasm from the student entrepreneurs and mentor network continues to grow.
"We are seeing more depth and quality in the thoughtfulness and interest from students who want to make a difference by addressing problems in healthcare and the environment to create social and economic impact," Yuyitung said.
"I am equally impressed by the diversity of this year's cohort, which included 50 per cent women entrepreneurs and startups with inter-disciplinary teams crossing four different Faculties across the university."