The Trump Talks: Free public lecture series
---
Dates: April 4, 11, 18, 25 at 7 p.m.
McMaster Centre for Continuing Education, 1 James St. North, Hamilton
Amid the threat of trade tariffs on steel and the changing realities of everything from crossing the border to American-style politics in Ontario's upcoming provincial election, there's never been a more pressing time to understand President Donald Trump and his influence on Canada and the world at large.
Join experts from McMaster University as they discuss "The Trump Effect" in national and international politics, racism and resistance, women's rights, and globalization.
All events are free and start at 7:00 p.m. at the McMaster University Centre for Continuing Education, 1 James St. North, Hamilton. Reserve online at www.McMasterCCE.ca/events.
For more information or to request a speaker interview, please contact Dr. Karen Bird, McMaster University, Chair of Political Science at 905-525-9140 ext. 23124, kbird@mcmaster.ca
The Trump Talks are part of McMaster's Socrates Project.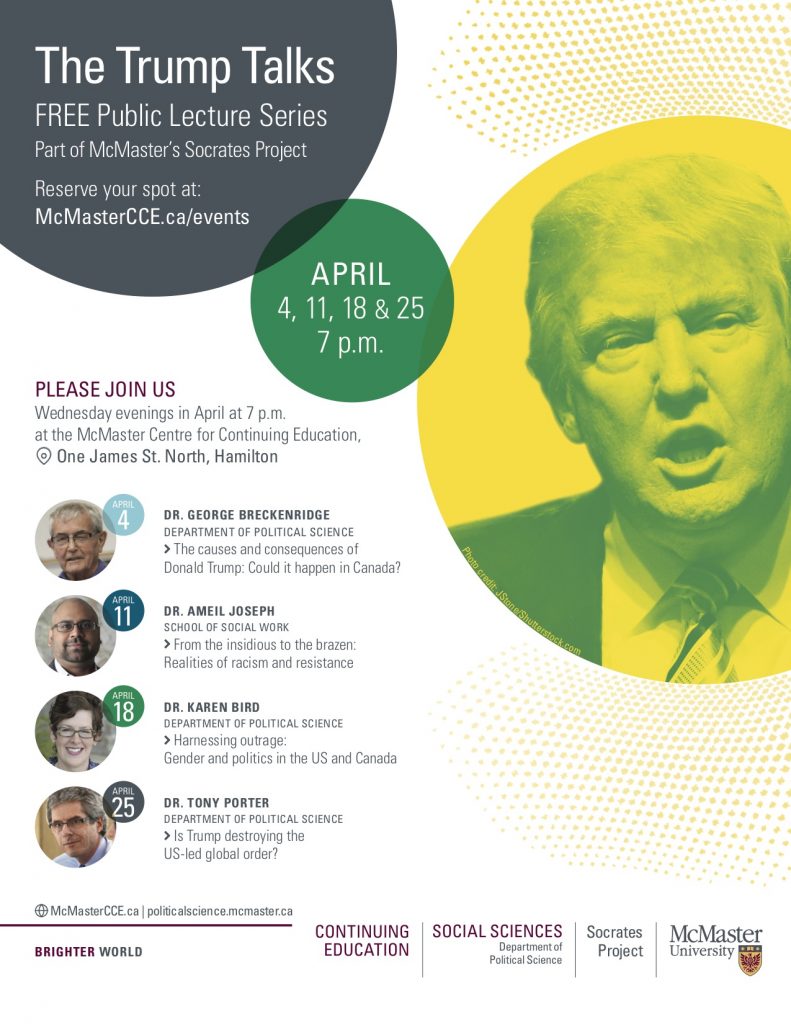 April 4 – Dr. George Breckenridge, Department of Political Science
The causes and consequences of Donald Trump: Could it happen in Canada?
Dr. Breckenridge is a retired McMaster University Associate Professor of Political Science / Sessional Lecturer who specializes in American politics. Dr. Breckenridge is the author of a recently-published textbook called United States Government and Politics.
April 11 – Dr. Ameil Joseph, School of Social Work
From the insidious to the brazen: Realities of racism and resistance
Dr. Joseph studies issues of social justice, violence, ethics, confluence, historiography, and social work using complementary theoretical and methodological frameworks to engage respectfully with the complexities of our human condition. He comes to this work with over a decade of experience in the mental health field, as well as in supportive housing, settlement, crisis respite, forensic assertive community treatment, community-based early intervention, and governance settings. Learn more in 60 seconds with Ameil Joseph.
April 18 – Dr. Karen Bird, Department of Political Science
Harnessing outrage: Gender and politics in the US and Canada
Dr. Bird is a Professor of Political Science, specializing in comparative politics. Her work focuses on ethnic and gender diversity, intersectionality, and the political representation of women, indigenous groups, and immigrant-origin and ethnic minorities in parliaments around the world. Professor Bird's work has been funded by several grants including the Social Sciences and Humanities Research Council (Canada), the National Science Foundation (US), and the Centre National de Recherches Scientifiques (France). She is a member of the Executive Committee of the Representation & Electoral Systems Section, American Political Science Association. Dr. Bird was recently cited in a Maclean's article on gender parity in politics.
April 25 – Dr. Tony Porter, Department of Political Science
Is Trump destroying the US-led global order?
Dr. Porter conducts research on business regulation and global governance, including the following: financial regulation, private and hybrid public/private rulemaking, and the organizational effects in governance of technologies, numbers, and time. His books include The Challenges of Global Business Authority: Democratic Renewal, Stalemate, or Decay? (SUNY Press, 2010), coedited with Karsten Ronit; Transnational Financial Associations and the Governance of Global Finance: Assembling Power and Wealth (RIPE/Routledge, 2013), coauthored with Heather McKeen-Edwards; and Transnational Financial Regulation after the Financial Crisis (RIPE/Routledge, 2014, edited).