Share your feedback on the university's Accessibility Policy
---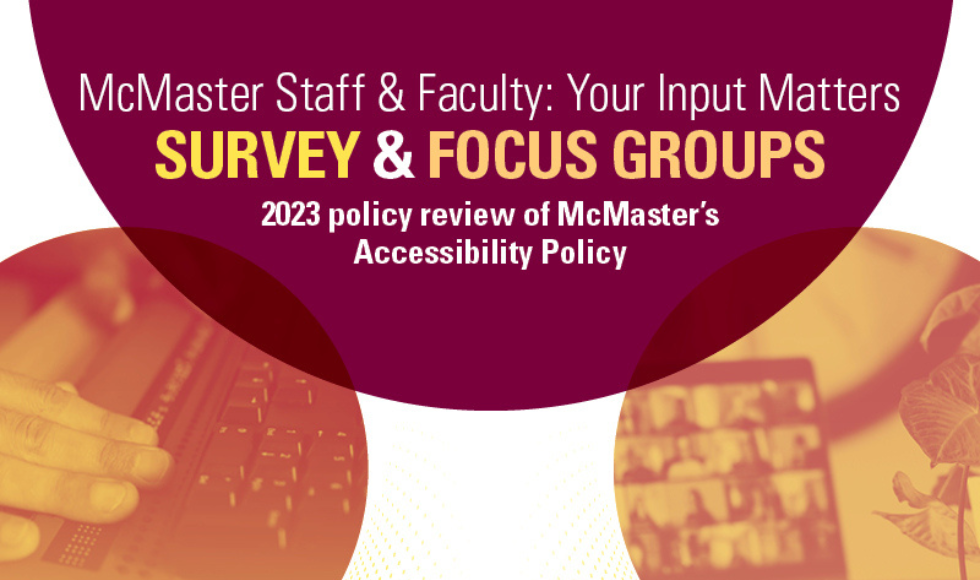 The Equity and Inclusion Office and the McMaster Accessibility Advisory Council are inviting McMaster staff and faculty in summer 2023 to contribute input and feedback to the university's recently redeveloped Accessibility Policy.
McMaster staff and faculty can share their perspectives in two ways:
Complete a brief, confidential survey that will be sent directly to your McMaster email. The survey is open to all staff and faculty from May 23 to June 30, 2023.
Join a Zoom focus group. Navigate below for staff and faculty-specific focus groups.
This campus-wide consultation was informed by the Accessibility Policy Development working group with representatives from offices and services at the university, including the AccessMac Program in the Equity and Inclusion Office and the McMaster Accessibility Advisory Council, who have responsibilities for the development, communication, and oversight of policies, procedures, education, resources, and community development related to accessibility, AODA-compliance, and disability inclusion at McMaster.
"I encourage all McMaster community members to participate in this consultative process and lend their valuable perspectives to review this policy," says Barrington Walker, Vice-Provost, Equity and Inclusion.
"This is more than a routine policy review — it is a policy redevelopment and is essential to ensure that staff and faculty perspectives are directly heard and considered throughout this process."
The results of the survey and focus groups will be synthesized and will inform policy revisions to be presented to the University Senate and Board  of Governors for approval.
Thank you for your continued commitment to Accessibility at McMaster.
For more information on the policies, visit: