Prestigious lecture series welcomes historian Quinn Slobodian
---
In 1979, when Dr. Harry Lyman Hooker left McMaster a $25 million bequest that funds, among other things, an annual visiting professorship and lecture series, Zoom didn't exist. (Neither, for that matter, did the World Wide Web.)
But while Dr. Hooker might not have recognized the format of this year's Hooker Distinguished Lectures, which are being held online from March 23-26, 2021, he likely would be gratified to see the annual series continuing despite ongoing pandemic restrictions.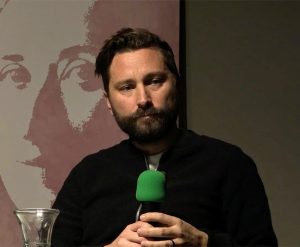 Organized this year by the Department of History, and co-sponsored by the Department of Philosophy, the Globalization graduate program and the L.R. Wilson Institute for Canadian History, the Hooker lectures will feature four sessions with historian Quinn Slobodian from Wellesley College.
Slobodian, whose most recent book is Globalists: The End of Empire and the Birth of Neoliberalism, is a historian of modern German and international history. He will be giving a four-day series of talks and seminars:
Tuesday, March 23 (7-9 p.m.) – Public lecture: "The End of Neoliberal Globalism?"

The talk will explore the fate of neoliberal globalism, which "has lost another of its nine lives" with the outbreak of the pandemic. (Access the talk via Zoom.)

Wednesday, March 24 (12-1:30 p.m.) – Philosophy lunch seminar
Thursday, March 25 (2:30-4 p.m.) – History department talk (open to all who are interested): "Investments for Survival: Goldbugs, Moneydeath and the Rise of Apocalypse Economics"

How have goldbug ideology, scientific racism and predictions of imminent apocalypse come to be intertwined with Far-Right ideology in Western Europe and North America? (Access the talk via Zoom.)

Friday, March 26 (1-3 p.m.) – Public interview with Quinn Slobodian and Ian McKay (chair, L.R. Wilson Institute for Canadian History) (Zoom link to be made available soon)
"Holding the lectures online this year allows us to make them accessible to a wider audience and provides a more intimate experience than a large lecture hall," says Stephen Heathorn, chair of the Department of History. "We are looking forward to Dr. Slobodian's talks prompting debate, discussion and a lively exchange of ideas."
For updates on the 2021 Hooker Distinguished Lectures, go to the Department of History's website.