Nominations open for Graduate Student Recognition Awards
---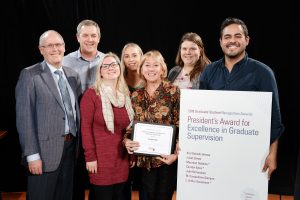 During the past 18 months, McMaster's graduate researchers, TA's, athletes, support staff and supervisors have faced new challenges. But with those challenges have come the discovery of new ways to help our community thrive. 
Grad students have found creative means to connect with their peers, create community, and share their research stories. Supervisors have not only stayed connected with their students, but have found some innovative ways to help and support them on their academic journey. Grad staff have provided students with the resources and information to help them meet their goals. Grad student athletes have excelled as leaders. 
Now it's time to recognize the outstanding contributions to the community over the past year. 
Nominations are open for the Graduate Student Recognition Awards – annual community-based awards highlighting excellence in supervision, teaching, communicating and translating research, student leadership on campus and beyond, and contributions by graduate staff.   
The deadline for nominations is 4 p.m., October 15, 2021. 
Featured awards 
President's Award for Excellence in Graduate Supervision

 

The Dean's Award for Outstanding Leadership and Contributions to the International Graduate Student Community

 

Dean's Award for Excellence in Communicating Graduate Research (awarded to top three finalists of the inaugural 2021 GradFlix video competition)

 
GSA Millennium Award for Community Service

 

GSA Award for Contributions by Non-Academic Staff

 

Therese Quigley Award of Excellence for Graduate Student Leadership in Athletics

 

Mary Keyes Award for Outstanding Leadership and Service to McMaster

 

GSA Keith Leppmann Teaching Assistant Excellence Award

 
For eligibility, adjudication details and links to nomination packages, visit the School of Graduate Studies and the GSA website.