New Mosaic usability features available Dec. 10
---
As of December 10, several updates to Mosaic will be made as part of a larger plan to improve and increase the usability of various features. The improvements include the following:
Brand new look for Travel and Expense
An upgrade to the Travel and Expense module will provide a more modern and user friendly interface that is scalable for use with different screen sizes (e.g. tablets, phones) and provides efficiencies such as accounting chartstring defaults and recalling most commonly used expense types.
All individuals using the Travel and Expense module to submit claims will see new tiles available to complete this task. When users click on the Travel & Expense Tile under Employee Self Service, they will see five tiles available as follows: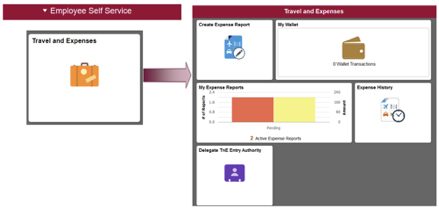 In-progress expense reports will be available through the 'My Expense Reports' tile and will continue to route through workflow as usual with no interruptions. New expense reports can be initiated through the 'Create Expense Report' tile.
New training guides and a step-by-step video tutorial are available within support and documentation or directly on the create expense report page. In-person support will be available in T13-111 each day from December 10th to 14th.
Please contact aphelp@mcmaster.ca should you have any questions about this feature or the support offered.
Easy access to all your administrative tasks
The creation of two new Finance Navigation Collections (one for administrative tasks and one for administrative reporting) will group most commonly used menu items together reducing the amount of navigation and clicks required.
As of December 10th, users will see a new home page called "Administrative Home" where:
The two new finance navigation collection tiles can be found;
Two navigation collections already in place for HR will also be found here (please note that these two tiles' names have changed, as illustrated on the screen shot below); and
For student administration, you will see the tiles for Campus Centre and Faculty Centre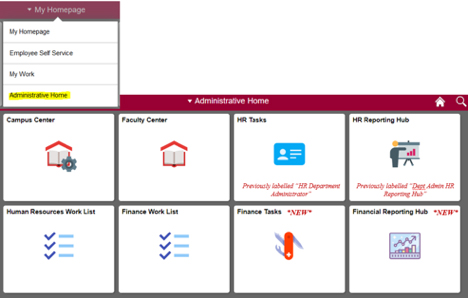 Built in access to help information, quick guides and policies
Related Content user resources such as quick training guides and policies will now be included within a finance task page. This content is also available within the new finance navigation collections themselves.