McMaster's President Award celebrations go digital
---
From Executive Chef to Associate Registrar, this year's President Award recipients were recognized for their extraordinary work in various departments and capacities across campus.
In fact, nine individuals and three teams met the detailed criteria to receive a President's Award for Outstanding Service this past year, but with most campus employees working remotely, the celebrations took place virtually.
McMaster President's Awards for individual employees and teams recognize exceptional service, contributions to the efficiency and effectiveness of university operations, or their impact on the reputation of McMaster.
This year celebrations looked a little different but still honoured the recipients and their outstanding achievements.
All recipients received a personalized package delivered to their home, including their prestigious award and celebratory gifts.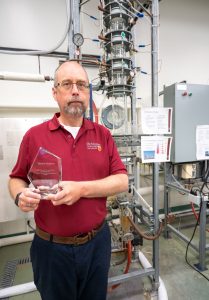 On July 22, by video, President David Farrar and Wanda McKenna, AVP and Chief Human Resources Officer, commended this year's nominees and recipients. "I liked that it was easy for my relatives and co-workers to watch," says award winner Timothy Stephens. "We couldn't celebrate in person, but we were together in spirit."
Colleagues, leaders, family, and friends of each recipient had the opportunity to sign a digital KudoBoard with congratulatory comments. These Kudoboards, unique to each award winner are now posted for the entire McMaster community to offer a personal remark to any of the winners.
Individual Award Recipients
Kathy Greaves, Administrative Assistant, Biology
Paul Hoag, Executive Chef, Hospitality Services
Jared Lenover, Marketing & Communications Strategist (Digital), School of Business
Khadijeh Rakie, Equity and Inclusion Educator, Equity and Inclusion Office
Leanne Ruiz, Associate Registrar, Student Services, Registrar's Office
Elaine Shuhaibar, Clinical Instructor, School of Nursing
Timothy Stephens, Undergraduate Lab/Research Assistant, Chemical Engineering
Adrienne Tearle, Instructional Assistant, Kinesiology
Early Achievement Award Recipient
Celeste Licorish, Access Program Manager, Office of Community Engagement
Team Award Recipients
Reactor Café
Repeat Rules
Special Achievement Award Recipient
Award recipients are nominated by peers, leaders or partners within the campus community, and nominations are evaluated by an advisory committee appointed by the president. Recipients receive a trophy, and a letter of commendation from the President. Nominations open in December and close mid-February.
Full biographies of this year's nominees and recipients and digital KudoBoards are posted on the President's Award website.