McMaster named a Top Employer in the Hamilton-Niagara region
---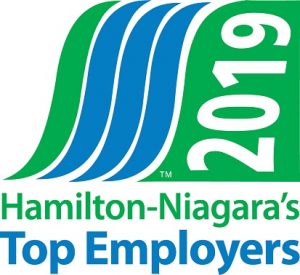 McMaster University has been named one of Hamilton-Niagara's Top Employers for the fourth year in a row.
An annual competition organized by the editors of "Canada's Top 100 Employers," Hamilton-Niagara's Top Employers is a juried designation that recognizes employers who lead their industries in offering exceptional places to work. This is the fourth time McMaster has applied to this rigorous competition – and the fourth time Mac has won.
"I'm grateful to all our employees for your invaluable contributions," said president Patrick Deane. "You help to make McMaster a wonderful place to learn, discover and thrive."
"Our people are our greatest asset," added Wanda McKenna, assistant vice-president and chief human resources officer. "Thank you for making McMaster such a great place to work."
This recognition follows other recent news that showcase McMaster's strengths as a research powerhouse and a global leader in teaching and learning:
To be selected as a Hamilton-Niagara Top Employer, organizations are required to complete a lengthy application which includes: Physical Workplace; Work Atmosphere and Communications; Health Benefits; Financial Benefits and Compensation; Family-Friendly Policies; Training and Development; Vacation Policy and Paid Days Off; and Community Involvement.
The annual competition is open to any employer with its head office in the Hamilton-Niagara area, and employers of any size may apply, whether private or public sector.
Applicants may also submit in special national categories, such as: Canada's Greenest Employers; Canada's Best Diversity Employers; Top Employers for Canadians Over 40; and Canada's Top Employers for Young People. Winners in these categories are announced separately throughout the year.
Read the reasons for McMaster's selection as a top employer in the Hamilton-Niagara region.
Learn more about how McMaster's innovative, collaborative and inclusive community is helping to create a brighter world: Download the PDF titled "Learn More About Our Brighter World Vision" available on the home page of http://www.workingatmcmaster.ca.