Kaha:Wi Dance Theatre presents The Mush Hole
---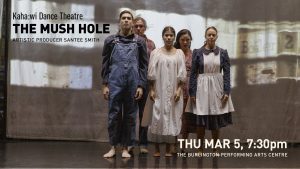 Featuring McMaster chancellor and artistic producer Santee Smith, The Mush Hole, presented at the Burlington Performing Arts Centre, reflects the realities of the Mohawk Institute residential school experience and offers a compelling way to create dialogue and to heal.
Thursday, March 5 @ 7:30 p.m.
Burlington Performing Arts Centre, 440 Locust St, Burlington, ON
$25 tickets are available through the BPAC website using the promo code mushhole25.
There will be a post-show talkback and Q and A with members of the company.