Health Leadership Academy now accepting applications for Emerging Leaders Program
---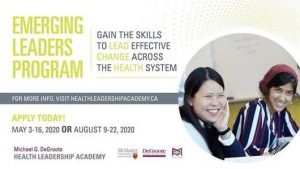 ELP is a two-week intensive, residential, leadership program for students from all disciplines, medical residents and young health professionals seeking to develop their leadership capabilities.
We are now accepting applications for our 2020 Spring (May 3-16) and Summer (August 9-22) programs.
Information sessions will be held on February 5 and 11 from 7-8:30 PM online. Register today via Eventbrite.
Core sessions include topics like Characteristics & Qualities of Leaders, Effective Teams, Decision Making & Problem Solving, Mentorship & Coaching, Foresight & Innovation, Design Thinking, Change Management, Presentation & Persuasion, Management & Finance Essentials, Cultural Impact and Its Dynamic Role in Leadership.
A playlist of student testimonials can be viewed here.