Continuing Education hosts virtual open house this week
---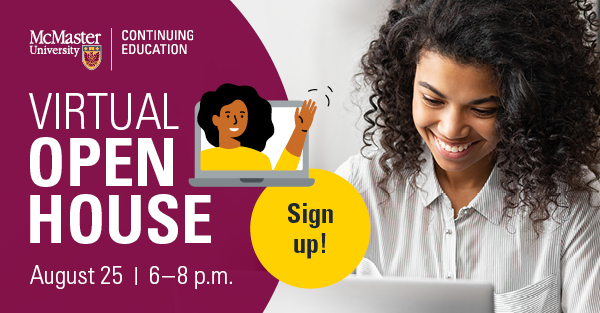 McMaster Continuing Education will host a free virtual open house on Wednesday Aug. 25 for individuals interested in learning about career-focused online education this fall.
Online learning helped many working professionals continue their educational journeys during the COVID-19 pandemic. It is also the option of choice for those pursuing professional development for career advancement.
The virtual open house will include live presentations, Q&A sessions, a student-alumni panel and on-demand resources to help attendees learn about the programs offered by McMaster Continuing Education.
In addition, attendees will get answers to program-specific questions from information specialists and will gain tips and tricks for learning and career success from McMaster alumni.
"The virtual open house is the perfect opportunity for prospective students to explore programs which are good fits with their career and learning goals. McMaster Continuing Education offers a wide range of flexible online program options in business, health, technology and marketing," says Lorraine Carter, director of McMaster Continuing Education.
"The open house is an excellent way to learn about programs which students may be able to complete in less than a year and start as early as this fall."
The virtual event is available for free to anyone interested in taking the next step in their career or looking to start something new.
McMaster Continuing Education Virtual Open House
Wednesday, Aug. 25
6 p.m. to 8 p.m.
Click here for more information and to register for the free virtual open house.
McMaster University Continuing Education has inspired people to discover and achieve through lifelong learning since 1931. As one of Canada's largest and leading providers of continuing education for adult learners, McMaster Continuing Education's purpose is to develop and realize both individuals' and society's potential by providing education to thrive in today's dynamic world.