Connectivity 2021: McMaster's fourth annual IT Forum
---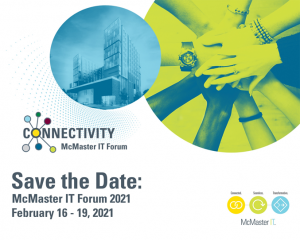 Connectivity 2021 approaches! McMaster's 4th annual IT Forum is set to begin February 16th through the 19th.
This year's virtual forum is hosted by the Office of the AVP and CTO and celebrates the many contributions of the IT community at McMaster.
Connectivity 2021 brings campus IT professionals, tech practitioners and business partners together as one IT community.
Want to share an IT story? As part of this year's McMaster IT Forum, presenters are invited to host a breakout session during the IT Showcase planned for Wednesday, February 17th from 1 p.m.-3 p.m. The objective for this showcase is to share knowledge and highlight stories of your successes in 2020 to ignite curiosity and conversation with our community. Sessions will be 30 minutes in length. If you are interested, please sign up to facilitate a session!