Campus Store gives back
---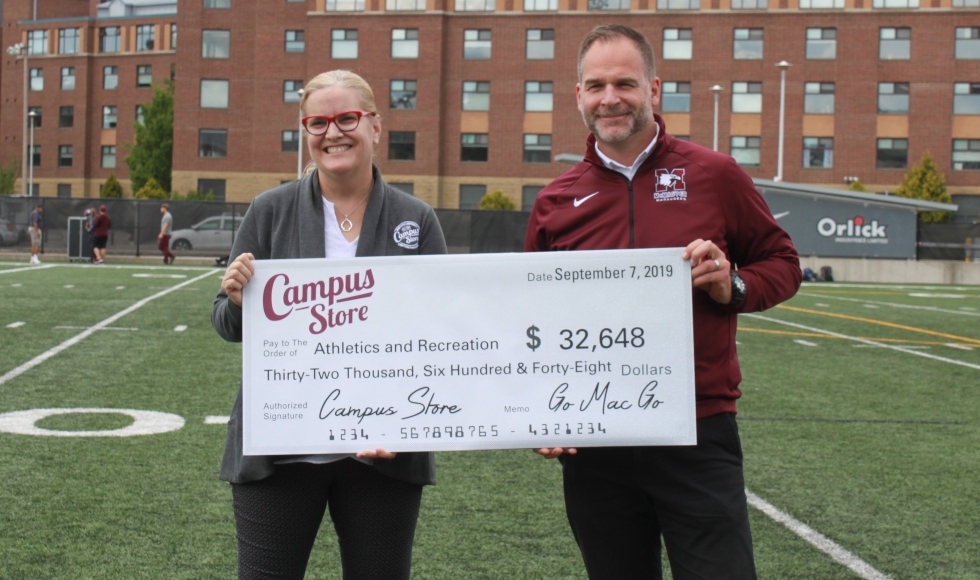 Campus Store Director Donna Shapiro presents a cheque for $32,648 to Shawn Burt, Athletics & Recreation Director from the proceeds of Marauder merchandise.
The Campus Store is a proud supporter of Athletics & Recreation with a percentage of each sale of Marauder-crested merchandise contributed back to the department. Just before kick-off at last Saturday's football game, the Campus Store presented a cheque to the department for $32,648.
The Campus Store has also teamed up with Athletics to launch a selection of Marauder clothing available through the Joan Buddle Service Desk inside the David Braley Athletic Centre.
In addition to making a financial contribution to the university, the Campus Store also supports many student, staff and faculty organizations involved in not-for-profit activities that enhance the aims of the university. In the last fiscal year, the Campus Store made donations to 93 different not-for-profit events organized by members of the McMaster community including Shinerama, MSU Charity Golf Tournament, Engineers Without Borders, and the International Women & Children's Health Conference.
The Campus Store has traditionally partnered with a few Faculties across the campus to develop officially licensed merchandise and clothing lines with a portion of sales going back in support of the Faculty. Last year, the Campus Store rolled out an expanded line of Program Clothing, offering program-specific clothing to many departments, with a portion of the proceeds from each sale returning to the Faculty.