Campus Relationship Management town hall meeting on February 1
---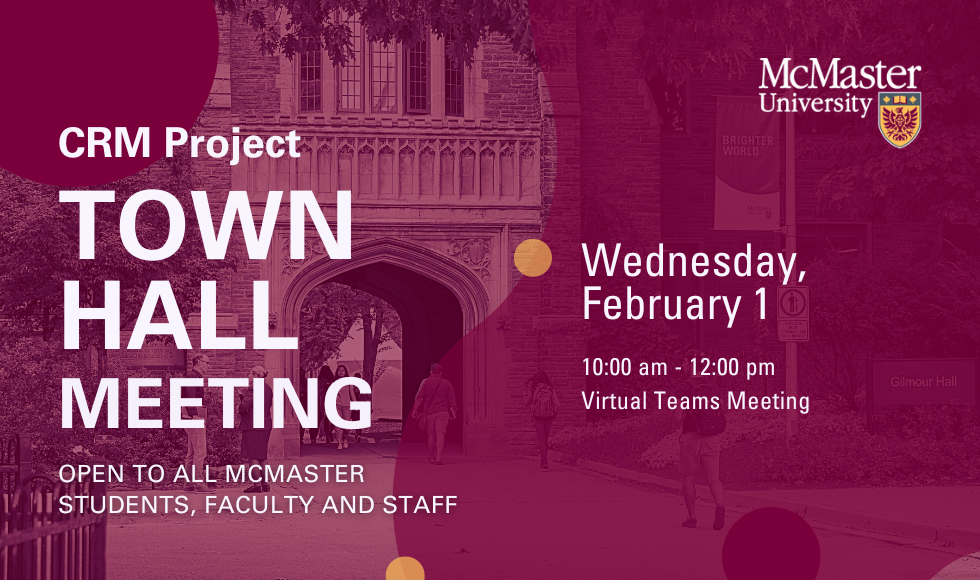 McMaster students, staff, and faculty are invited to the Campus Relationship Management (CRM) town hall on Feb. 1, 10 a.m. to 12 p.m., hosted virtually on Microsoft Teams.
This Town Hall will introduce the Current Student CRM Digital Transformation Project, an initiative that promises to transform the student experience at McMaster.
Attendees will have the opportunity to hear from project team, see a demonstration of the new CRM platform, ask questions, and contribute to the project's success.
You can register for this event on Microsoft Teams. You can also submit your questions in advance of the Town Hall by clicking here.
Agenda:
Welcome and Introductions (10 a.m.-10:05 a.m.)
Overview of the Current Student CRM Transformation Initiative (10:05 a.m. -10:25 a.m.)
Progress to date (10:25 a.m. – 10:30 a.m.)
Demonstration of the CRM (10:30 a.m. – 11:35 a.m.)
Next steps (11:30 a.m. – 11:40 a.m.)
Questions (11:40 a.m. – 12 p.m.)
Stay for the whole session or join for the parts that are of particular interest to you.