Call for submissions: Accessibility and Disability Inclusion Update
---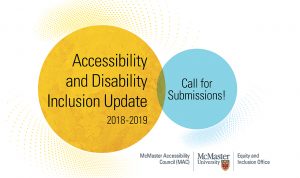 The Equity and Inclusion Office (EIO) and the McMaster Accessibility Council (MAC) invite you to submit a 100-150 word description of an accessibility-related initiative that you have been involved in this year. Your submission will be published in the 2nd Annual Accessibility and Disability Inclusion Update.
Submissions are required no later than August 15, 2019 and can be sent to access@mcmaster.ca.
The inaugural Accessibility and Disability Inclusion Update 2017-2018 received over 40 submissions from McMaster community members involved in a variety of exciting initiatives. We would love to receive a submission from you for this year's version!
The goal of the Update continues to be raising awareness, fostering excitement and celebrating the accessibility work that McMaster students, staff and faculty members are engaged in.
To this end, this year's call-out for the Update will invite accessibility and disability inclusion submissions focused on activities at McMaster and in partnership with the wider Hamilton community, rather than only those pertaining to legislative compliance.
For further information and/or to receive a template to create a submission, please contact Kate Brown, Accessibility Projects Coordinator, Equity and Inclusion Office, at access@mcmaster.ca.