"You do belong at McMaster, and we are here to help you on that journey"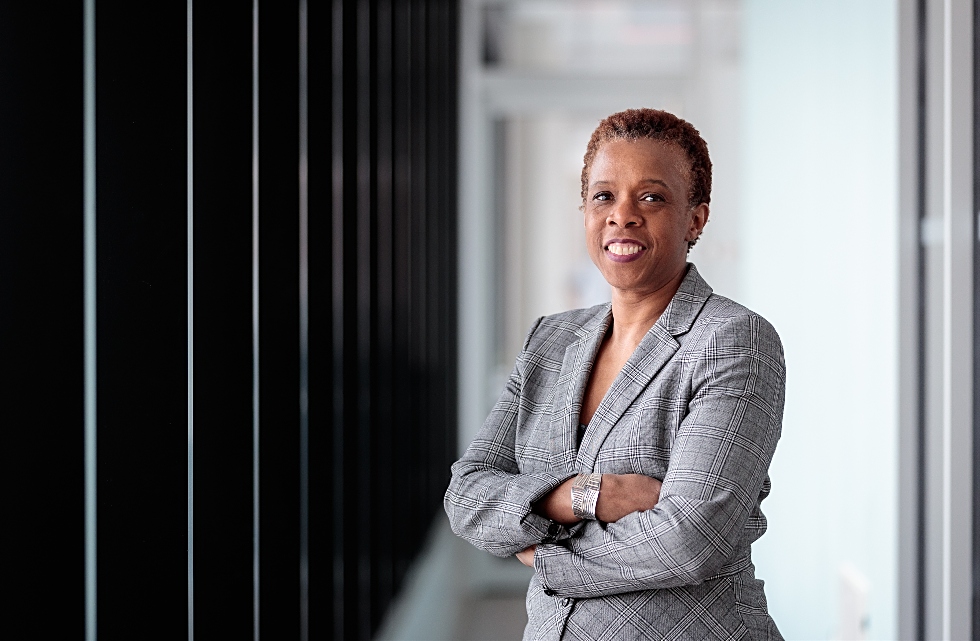 Celeste Licorish is bringing her unique personal experiences and insight to McMaster as the university's new Access Program Manager, using what she knows about the Hamilton community to help students from under-represented groups in Hamilton and the surrounding area find pathways to post-secondary education. Photo by: Sarah Janes.
---
When it comes to accessing postsecondary education, Celeste Licorish understands better than most the barriers faced by under-represented groups in Hamilton.
A McMaster alumna, she was herself a first-generation student who, later as a single parent, struggled to makes ends meet. Passionate about her community, she also spent years volunteering and working for community organizations to support and advocate for marginalized people in Hamilton, providing her with a deep understanding of the complex challenges facing many in the Hamilton community.
Now, she's bringing her unique experiences and insight back to McMaster as the university's new Access Program Manager, helping students from under-represented groups in Hamilton and the surrounding area find pathways to postsecondary education.
A staff member in the Office of Community Engagement, Licorish is currently working with partners across McMaster to develop a campus-wide Access Strategy that will include programs and supports aimed at making it easier for under-represented students to access undergraduate education at McMaster.
She recently shared her thoughts on what she brings to the role of Access Program Manager, how she hopes to help change outcomes for under-represented students, and why an access strategy is so important to supporting under-represented students in Hamilton and beyond:
On what drew her to the role of Access Program Manager
Education has always been a big part of what I'm concerned about – raising three daughters on my own, understanding that there are systemic barriers that make it much more difficult for some kids to have access to education, but understanding that education is also the great equalizer. If people can get access to postsecondary education, the trajectory of what they'll be able to earn over a lifetime substantially changes.
So, how do you help families that are struggling to understand how access to postsecondary education can make a difference 10, 20 years from now in terms of how their lives develop, when right now, it might be the last thing on their list?
That's a big challenge and I'm just beyond thrilled to be here at Mac to bring  what I know about community and what I know about McMaster together to help change outcomes for people.
On her own postsecondary experience as an under-represented student
I graduated from McMaster in 1993, but I started in 1984 – it took me nine years to get a three-year degree, but I was a first-generation student – I didn't have anyone in my family who had gone to university. My family had high expectations– they wanted me to go on to postsecondary, but I found it extremely challenging and isolating.
I think I might have had two female professors the whole time I was here. None of my professors looked like me and that hasn't really changed a lot.
So, how do you make it an inclusive and inviting environment when you're not necessarily seeing yourself reflected? How do you build that sense of community amongst people for whom university really is a huge stretch?
Now, as the Access Program Manager I think, 'Is there a way I can help make this an easier process for people? Even just to be a sympathetic ear, an empathetic ear, to say, 'you're not alone in this and I've been through it.'
On her deep roots in the Hamilton community
My first experiences with community came out of work the Hamilton Community Foundation was doing. I was living with my daughters and not feeling particularly connected to anything, but they were developing a Neighbourhood Action Strategy and people were invited to come out. It was asset-based community development, so you had to think about the talents that you have that make this community great.
It really gave me an opportunity to learn about myself, what my role was in the community, about my family's role, and about what we could do to contribute. That was when I first made the connection that despite my circumstances, I had the power to make a difference for people. So, that was the beginning for me.
From there, I went on to do a lot of different things, but one of the most meaningful was working with the Hamilton Round table for Poverty Reduction to develop a speaker's bureau for people to shift attitudes about living in poverty.  It was about helping people who didn't believe they had a voice and didn't believe their stories mattered – it was beautiful to see the personal empowerment that people got through learning to share their stories and the social capital they gained by realizing their value is beyond just what's in their bank account.
On the difference the Access Strategy can make to under-represented groups
When you've been marginalized, one of the things that tends to happen is there isn't a lot of trust in institutions because they're not for you, they're not built for you, you don't see yourself there, so you're not going to get on the bus and come to McMaster and wander about, you're just not going to do it.
My role in extending invitations and building  trusting relationships, with community organizations, with school boards, with parents, it will go a long way to have them understand that 'Yes, you do belong, and we are here to help you on that journey.'
Also, a big part of this is not to bring people on campus and say your lived experience doesn't matter, that you need to fit in to preconceived notions of what a university education is. No, we want them to feel that they can bring the richness of their experiences, the breadth of what they've gone through and that can help enrich our campus.
On the work of the Access Program Manager…on campus and in the community
There are some primary elements to my work  – outreach, recruitment and access through admissions, so encouraging students to apply, to say "university is for you." And helping them to apply. So sometimes that will be overcoming the barriers of what does applying look like. Also working with admissions and the faculties to consider people whose lived experience and other factors might make them great candidates for McMaster and help negotiate pathways for them.
One they're here, my job is to help them stay here and make sure they have a really good university experience. So, we have a lot of retention services here through the Student Success Centre, Student Accessibility Services, the MELD program and others, and figuring out what all those look like and also having my eyes open for gaps.
The last part is to help people make meaningful connections with their professors for if they want to go on to look for internships or if they want to go onto graduate work, or work in the community. So, help link them up with career pathways here, faculties, intern letters, everything that they'll need so that they're not just getting a degree then not knowing what to do – leveraging that to move onto whatever comes after.
On what she is most looking forward to as Access Program Manager
The parents and the kids, the people in general who might have imagined a postsecondary education was possible but didn't quite see how it could ever be made possible. To be helping them get to the point where they're actually here, that's what I'm most excited about.
Having people who do not see their full possibilities or see them very vaguely, to be able to help make things clearer for them, that's huge, I get goosebumps just thinking about it.
To have that acceptance, that admission letter and be able to say to them, now we're going to figure out residence, and we're going to figure it out together. And knowing that we're going to be walking alongside them in a journey that they've only imagined, but we're helping to make  real, that's what I'm most looking forward to.