Workshop lays groundwork for future collaboration with French research community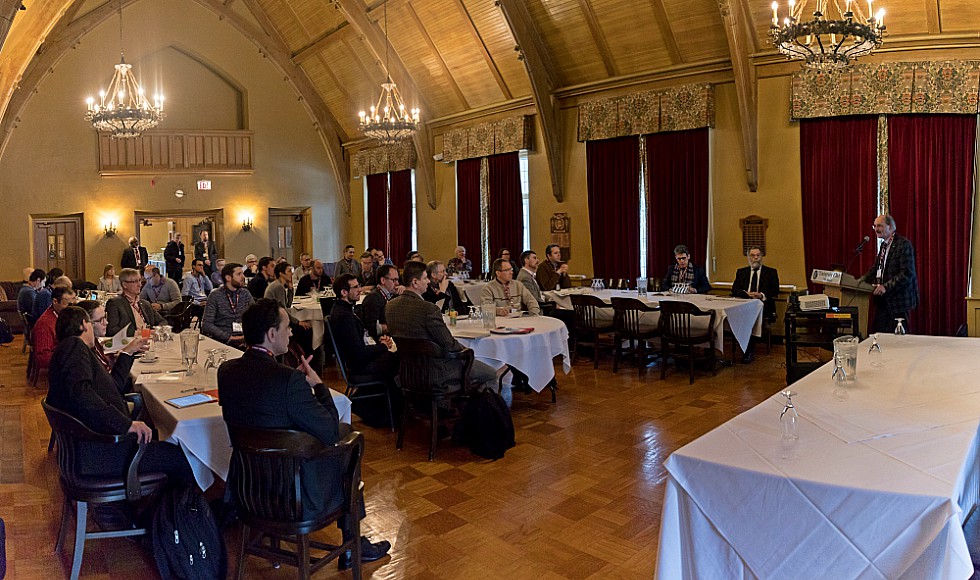 A joint workshop hosted by McMaster and France's CNRS- the European Union's largest fundamental science agency -brought together McMaster and French researchers to discuss the development of new and expanded research and academic partnerships.
---
A joint workshop hosted by McMaster and Le Centre National de la Recherche Scientifique (CNRS) – the European Union's largest fundamental science agency – has laid the groundwork for future partnerships that could lead to new research collaborations, and expanded opportunities for graduate students.
The three-day event, held recently on campus, brought McMaster researchers together with more than 30 researchers from some of France's top universities, as well as from the CNRS, to exchange scientific knowledge, strengthen existing partnerships, and develop new research and academic collaborations in the areas of materials science, theoretical chemistry, and pure and applied mathematics.
"This was not just a scientific workshop," said McMaster's Vice-Provost, International Affairs, Peter Mascher, a key organizer of the event. "The ultimate goal that we set for ourselves on both sides was to develop a concept of how to move forward after this workshop and find ways to build, resilient, strong relationships between McMaster and the CNRS in many areas."
The workshops included scientific breakout sessions, as well as discussions that focused on ways to develop long-term collaborations. Participants heard from a number of speakers, including Antoine Rauzy, Science and Higher Education Attaché from the Embassy of France in Ottawa and Xavier Morise, Director of the CNRS Bureau in Washington, both key organizers of the event who also took part in workshop discussions.
"These workshops should be thought of as incubators," says Morise. "You bring researchers together to exchange what they are doing, but also to reflect on how they can engage in collaborations. Engaging in person, having the opportunity to sit together around a table was very valuable."
As a result of the workshop discussions, McMaster and the CNRS have agreed to establish a joint steering committee aimed at facilitating and coordinating research and academic collaborations between McMaster and French research organizations and universities.
There will also be a joint call for proposals which will provide seed funding for new interdisciplinary research partnerships, the expansion of existing partnerships, and for projects that include the joint supervision of graduate students.
In addition, McMaster and the CNRS will hold a follow-up workshop in Grenoble, France in 2019.
McMaster researchers have a long history of working in collaboration with the French research community. Over the past 10 years, research groups at McMaster and the CNRS have authored 500 joint publications which have appeared in a number of top international journals.
There are also a number of joint research collaborations currently underway in a range of areas, including materials science and metallurgy, pure and applied mathematics, theoretical physics, theoretical chemistry, ecology and geosciences, anthropology and archeo-science, astronomy and astrophysics, biology and neurosciences.
The McMaster-CNRS joint workshop was organized by McMaster's Office of International Affairs, the CNRS, and by Jean-Pierre Landesman, a professor at both Université Rennes-1 and McMaster University, with the support of the French Embassy in Ottawa, and the Consulate General of France in Toronto.