Womens' Talking Circle creates space for important conversations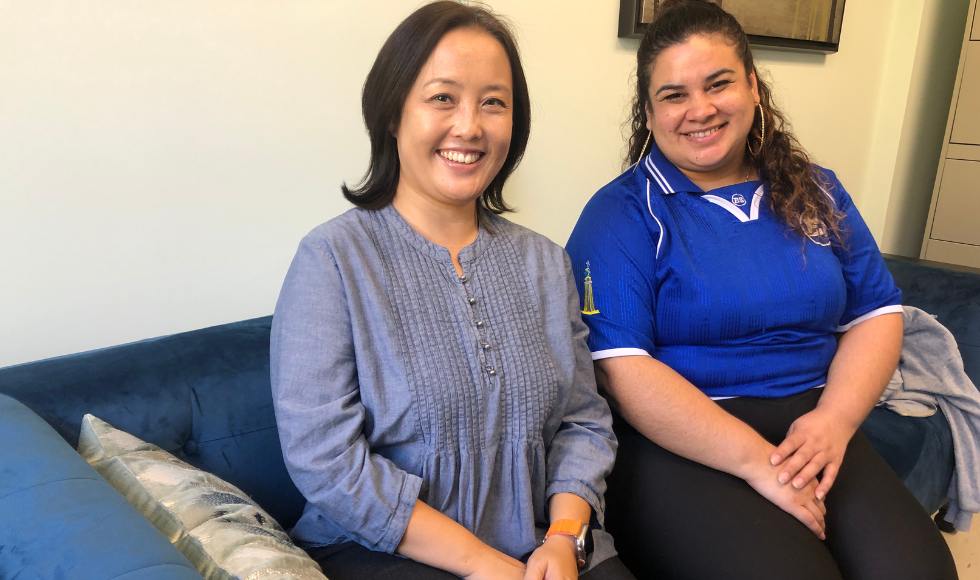 Professor Mayu Nishimura and PhD student Katy Celina Sandoval coordinate the Psychology, Neuroscience and Behaviour Women's Talking Circle. The group covers issues that don't typically come up in lab meetings, including mental health supports, gender bias in reference writing, mansplaining in meetings and conflicting expectations for men and women.
---
Katy Celina Sandoval was at a conference poster session when a scientist walked up to a graduate student, disregarded her research and months of work, guessed at her ethnicity and asked about Indian restaurants in town.
Word quickly spread. Sandoval joined a long queue of attendees who made a point of talking with the student about her research for the rest of the conference.
The experience stayed with her.
"I want to help make positive changes for future graduate students and all the women in our department," says Sandoval, a PhD candidate in neuroscience.
Sandoval coordinates the Women's Talking Circle in the department of Psychology, Neuroscience & Behaviour in the Faculty of Science.
She's also the founder and coordinator of the Latinx WomXn Poderosas Circle at McMaster.
Topics at the PNB Women's Talking Circle have included feminine health, mental health supports for graduate students, gender bias in reference writing, mansplaining in meetings and conflicting expectations for men and women attending conferences: Women are told how to dress — dress up but not too much, with just the right amount of makeup — but there are men who show up in T-shirts, shorts and flip-flops.
"These day-to-day challenges aren't issues that typically come up during lab meetings," says Sandoval who puts out a newsletter that builds on discussions from the Women's Talking Circle. "While these are difficult conversations, they're overdue conversations that need to happen."
An early version of the Women's Talking Circle started during the pandemic. Assistant professor Mayu Nishimura and a handful of other faculty members would informally meet on Zoom and talk over cups of tea.
"It began as a space for women faculty to stay connected and support each other," says Nishimura. "We'd talk through issues, share struggles and celebrate the wins.
"Women have been underestimated and overlooked historically. I think things are better now but there are still subtle biases that lead women to be treated unfairly. It's important to have a space to talk about what we're experiencing."
With the return to in-person work on campus, these connections and conversations expanded to include graduate students, postdoctoral fellows and staff.
"The Women's Talking Circle is all about amplifying our voices, validating our perspectives and experiences and celebrating our big and small victories," says Sandoval.
The conversations also take pressure off senior female faculty members, who are often asked to mentor newer faculty and students beyond their own research groups.
There's no set agenda or PowerPoint presentations for the Women's Talking Circle. Attendance isn't tracked. Women can drop in and out any time during the two-hour conversations. And there's no post-meeting survey.
"We're not evaluating the Women's Talking Circle by traditional metrics," says Nishimura.
"The fact that women are coming together and having these conversations sends a message to the entire department. It's important that the Women's Talking Circle exists."
Sandoval agrees. "We come out of these conversations feeling better and lighter."