Wilson Leadership Scholar Award recipients reflect on program's lasting impact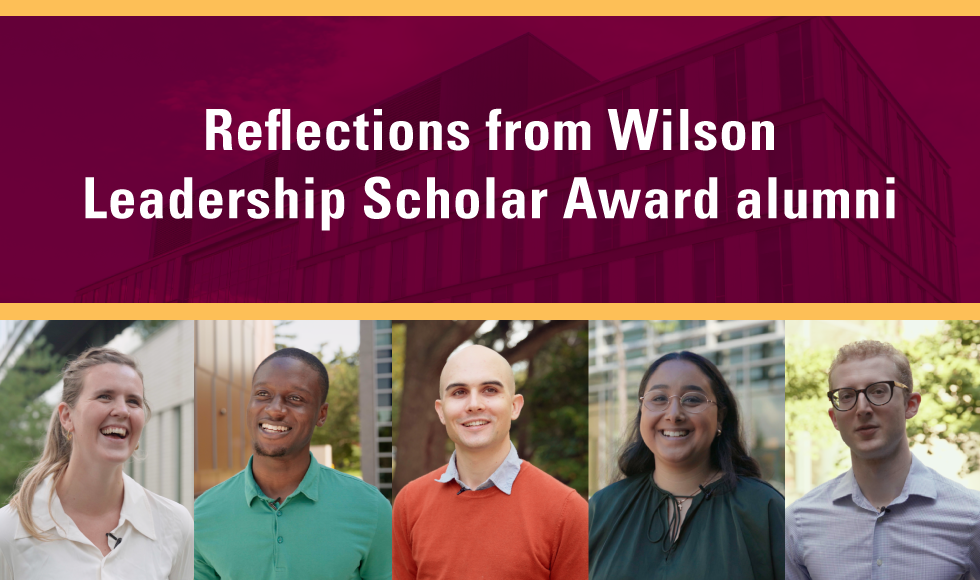 (From left to right) Hanna Chidwick, Kwasi Adu-Poku, Luke Yaeger, Carol Markos and Josh Young are Wilson Leader Award alumni. The program recognizes and nurtures leadership potential in undergraduate and graduate students at McMaster University.
---
Carol Markos will tell you the Wilson Leadership Scholar Award (WLSA) isn't like other awards.
"It's not about your resumé, it's about why you do what you do. It's about something deeper," says the McMaster graduate who was named a Wilson Leader Award recipient in 2018.
What the application judges saw in Markos was someone who had the power to be a leader within her community.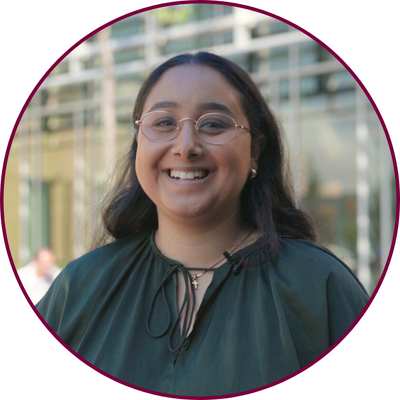 "I know that I certainly wasn't the shiniest candidate on paper, but they saw something in me and I'm really, really thankful for that," says Markos.
Launched in 2016 by Lynton "Red" Wilson, Chair of the Wilson Foundation and Chancellor Emeritus of McMaster University, the award recognizes and nurtures leadership potential in undergraduate and graduate students at McMaster University, which hosts the award.
Through mentorship, guidance, problem-based learning sessions, participation in community projects and financial support, Wilson Leaders learn the foundational skills to help them become leaders in solving complex problems within Canadian communities.
---
Read here: McMaster launches Canada's most comprehensive leadership college with $50-million gift from Chancellor Emeritus Lynton "Red" Wilson and the Wilson Foundation
---
Markos says the Wilson Leader Award set her on a journey of self-discovery that led her to undertake her master's in migration and diaspora studies at Carleton University.
"Before the program, leadership to me was very much defined by who I am, what I do, what I can do. After the program, it became much clearer to me that leadership is about the people that you're leading, what they are capable of, what they can do, how you can harness that, how you can notice that and really cultivate it," says Markos, who says this lesson has been invaluable in her work with immigrant communities.
Kwasi Adu-Poku echoes that sentiment.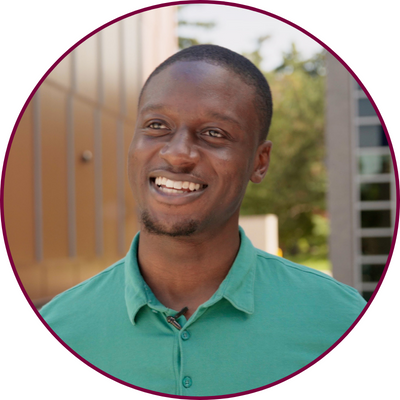 "The more I dove into the program, the more I started to see that leadership isn't necessarily an image of what society expects of you, it's more so standing in what you want to bring to society," says the 2020–2021 Wilson Leader and McMaster graduate.
Adu-Poku, who now works on some of Ontario's most challenging homelessness issues for the provincial government, credits the Wilson Leader Award with giving him the confidence to launch several community initiatives and to initiate public conversations around mental health.
"It's one of the most validating spaces to grow as a leader," says Adu-Poku. "I was someone who constantly struggled to find my voice, but these people came and saw something in me that over the years has helped me to stand stronger in who I am."
Leaders of tomorrow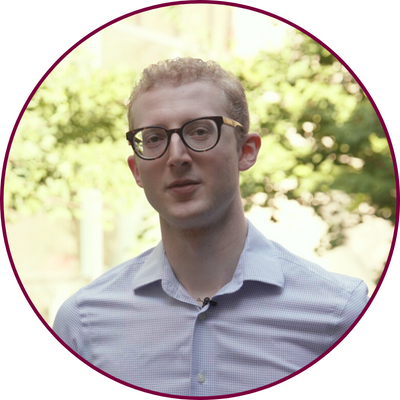 The connection to a cross-disciplinary group of Wilson Leaders, but also to mentors, coaches and scholars from across Canada was instrumental in helping Josh Young get ready for the professional world, says the McMaster Bachelor of Commerce graduate.
"We would have meetings with Peter Mansbridge, David Adames — the list effectively went on of just prolific individuals that have had Canadian impact," says Young. "It was something that helped me grasp the different types of leadership and how we can all work together."
"I think the Wilson program and McMaster at large, is really sowing the seed for great leaders in the future," says Young, who now works as a senior associate of strategy and planning for the Ontario Municipal Employees' Retirement System (OMERS). "I think it really helped to develop me as the person that I am today."
Luke Yaeger hopes to be a leader in the field of antibiotic discovery. The McMaster biology PhD candidate says being a Wilson Leader gave him the opportunity to work with others outside his field, pushing him to think of new ways to approach his work.
"I think there's not a lot of big societal problems that people can solve on their own, but I think the Wilson program will put you in the right places and connect you with the right people to tackle those problems," says Yaeger.
"They encouraged us to talk to other people in the field of whatever we're interested in for our policy project," says the biochemist. "So, I got to have a lot of phone calls with some really big legends in the field of antibiotic work, which was really cool."
Hope for the future 
The innovative, interdisciplinary and future-focused nature of the program is what pushed Hanna Chidwick to apply for the award.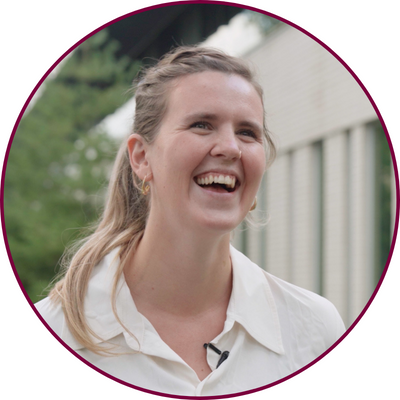 "Leadership to me is about identifying and reflecting on who I am, and my power, and my privilege in the world, and what I can do to disrupt the systems that aren't equitable," says the McMaster Global Health PhD candidate. "The Wilson Award provided an opportunity to think about what that looks like practically."
Chidwick, whose work focuses on the future of global health with a focus on adolescent sexual and reproductive health, says engaging with interdisciplinary scholars through the program widened her viewpoints and reinforced the importance of relationship building as a tool in making positive change.
"I remember coming out of workshops and either having an exponential amount of hope in the future or just a new way of thinking about an issue that we were talking about," says Chidwick.
All five former Wilson Leaders say the program has had a lasting effect on them, and the lessons learned will serve as a foundation for the impact they hope to make in their communities.
"Obviously it's changed my life. I really don't think that I would be able to be where I am today without the support of [the Wilson Leader Award]," says Markos. "My whole mindset has changed because of that program."
---
McMaster Chancellor Emeritus Red Wilson and the Wilson Foundation are investing $50 million to create a comprehensive leadership college. The programming builds on the philosophy and approaches used in the Wilson Leaders initiative and will allow for more emerging leaders, like Markos, to become engaged civic leaders at McMaster and beyond. Read more here.