Wilson Foundation establishes prestigious leadership awards at McMaster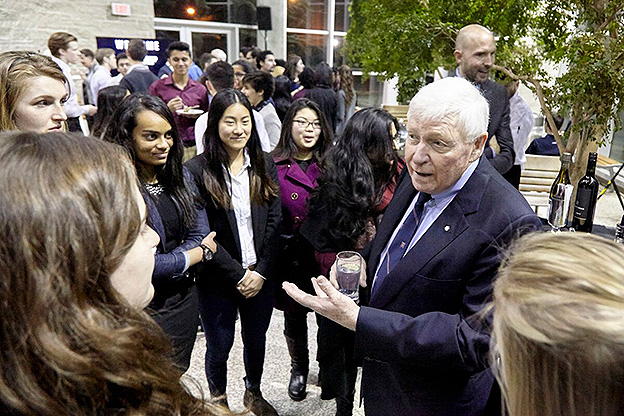 Chancellor Emeritus Lynton 'Red' Wilson speaks to students Tuesday at an event marking the establishment of a new awards program for students who demonstrate exceptional promise and potential.
---
The Wilson Foundation is establishing a new awards program hosted at McMaster which will nurture and cultivate the country's next generation of leaders, an elite group of students who are expected to tackle some of society's most perplexing issues.
The awards will be open to students from across all Faculties of the University. Candidates heading into their final two years of undergraduate study are eligible for a $50,000 award that will cover education costs over the two-year period. The award's terms immediately place the program amongst the highest value undergraduate scholarships in the country.
The Wilson Leadership Awards will recognize students who demonstrate exceptional promise and potential, says Lynton "Red" Wilson, chairman of The Wilson Foundation and a graduate and former chancellor of McMaster. Wilson has also been a generous supporter of the liberal arts and the study of Canadian history.
"Our hope is that an award of this kind will arm young students with the skills they need to address national and international issues that effect the prosperity and well-being of Canadian citizens and of those beyond our borders," he says.
"We are very grateful for the support of the Wilson Foundation," says McMaster president and vice-chancellor Patrick Deane. "McMaster aims to cultivate leadership and public service amongst our students and this awards program, unique in Canada, is a significant step forward. Red Wilson's advocacy and support for young scholars continues to make a remarkable impact on campus."
In addition to the financial award, Wilson Leaders will receive one-on-one mentoring and meetings with leaders from across Canada. They will also connect with visiting scholars and senior faculty. Experiential learning and engagement with the larger community will be cornerstones of the program.
"The students who win these awards will be exposed to outstanding mentoring and coaching over the course of their studies," Sean Van Koughnett, associate vice-president (Students & Learning) and dean of students.
"The combination of experiential learning, community engagement and mentoring presents a terrific opportunity to recruit and develop high calibre leaders," he says.
For more information on the Wilson Leadership Scholar Awards, please visit: www.wilsonleader.ca