Why McMaster donors give: Lynda Davey-Longstreet pays it forward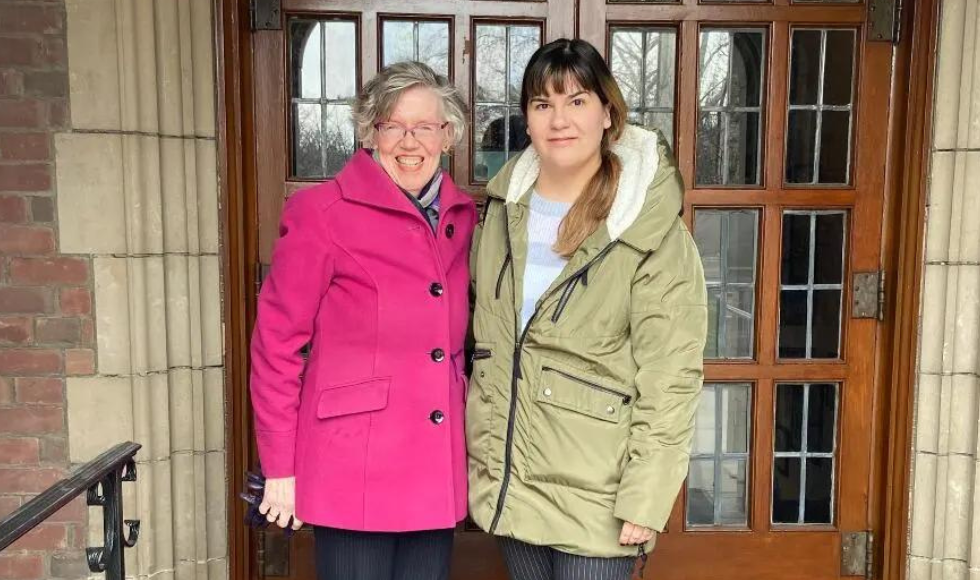 Lynda Davey-Longstreet, left, and PhD student and Davey Family Scholarship recipient Emily Gula bonded over a shared love of French literature.
---
Mac grad Lynda Davey-Longstreet,'75 understands the impact scholarships can have on a student.
Davey-Longstreet's father died when she was in her third year of a Bachelor of Arts in French at McMaster. She had to pause her studies to help her family, and says she received a great deal of support through scholarships.
After coming back to finish the degree at McMaster, she went on to complete a master's at Université Laval and a PhD at Université de Montréal.
Now, Davey-Longstreet is supporting a new generation of French students with the Davey Family Scholarship, established in 2021 in her father's memory.
It is awarded to an incoming French graduate student who demonstrates academic excellence, to help promote the language.
"I am grateful for the opportunity to pay it forward," Davey-Longstreet says.
"A professor I didn't know nominated me for an award when I was a student that had a huge impact on my life; this support made it possible to be where I am today."
The scholarship's inaugural recipient is Emily Gula, a PhD student whose research focuses on the reception of the anti-hero in Quebec literature.
The Davey Family scholarship has been vital to her success as a student and researcher, Gula says.
"I am so appreciative of the award," she says. "It allowed me to focus on my work, and I was able to publish a few scientific articles that would not have been possible without Lynda's support."
One of Gula's articles, on the seminal author Gabrielle Roy and her novel Bonheur d'occasion [The Tin Flute], was published this year in Revue Fémur, a journal produced by the Université de Montréal.
Gula, who also writes fiction, has several publications to her name. She won first prize in a writing contest held by La Plume, a French magazine run by McMaster students. She is also working on her first French-language novel.
Gula and Davey-Longstreet recently had the opportunity to meet for lunch, where they bonded over their shared love of French literature, and Davey-Longstreet passed down some wisdom from her own time as a PhD student.
Davey-Longstreet's impact will be felt for years to come, as she has included McMaster in her estate planning to continue and grow the scholarship.
She says she feels lucky for the chance to create something in memory of her father that assists graduate students in the same way she was helped in the past.
"Making someone's life easier, even by a little bit, is a privilege to do."
---
Why McMaster Donors Give: At McMaster University, every single donation, no matter the size, has the potential to make a difference in the lives of our students, the quality of our research and our ability to give back to our community and influence the future. We asked some of our donors what motivates them to give. These are their stories.