Who wants a slice? Mac research team partners with Pizza Pizza to fight waste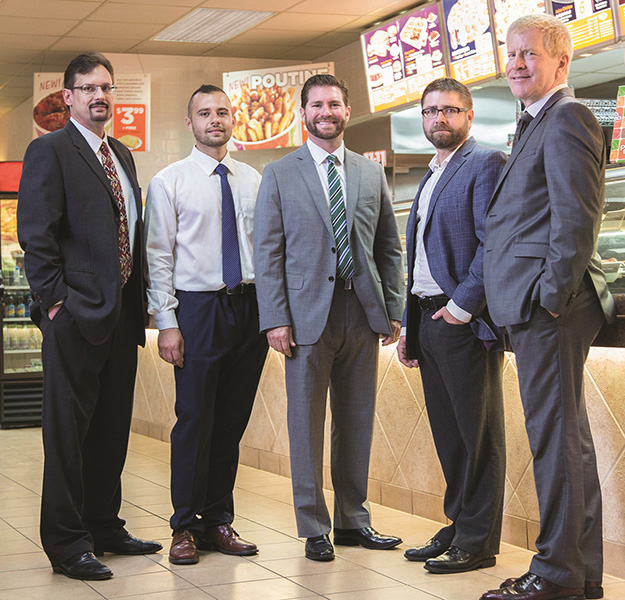 From left to right: Ontario Centres of Excellence business development manager Thomas Gehring; McMaster PhD candidate Rafat Hirmiz; Pizza Pizza president and CEO Paul Goddard; associate director of the McMaster Institute of Energy Studies James Cotton; and OCE regional director John MacRitchie on-site at Pizza Pizza in Dundas, Ont.
---
Pizza has long been a favourite snack among young and old, but it's easier to consume than create.
The massive ovens used to cook large quantities of pizza at major chain restaurants are far from efficient. A considerable portion of the energy used to power the ovens winds up being wasted, and only a small fraction is required to actually cook the pizza.
That's where McMaster comes into play. A team of researchers from the University, led by engineering professor James Cotton, are slicing up traditional commercial ovens to help prevent heat loss and wasted energy during the cooking process. Their efforts were recently profiled on the Ontario Centres of Excellence website:
"Canada's largest pizza chain, Pizza Pizza, has teamed up with McMaster University and heat recovery manufacturers Thermal Electronics Corporation and Acrolab to develop a low-cost system that efficiently recovers waste heat from pizza ovens and converts some of this lost energy to electricity. The energy harvested can then be used in store to meet lighting, point-of-sale terminals and hot water and heating needs. The device sets a new standard in energy conservation and offers resiliency in the event of a power outage."
Click here to read the full story.
Want to learn more? Read about the team of students behind McMaster's first waste heat recovery lab.