When science isn't fiction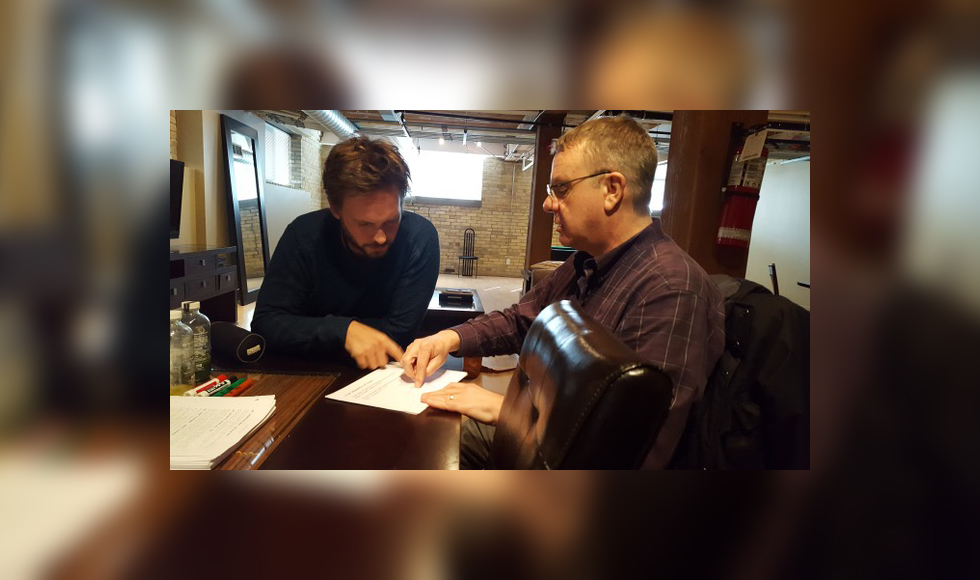 Patrick Adams and Doug Welch during pre-production of Clara.
---
Throughout his career in physics and astronomy, Doug Welch has always made a priority of communicating as clearly as possible, especially when explaining complex science to audiences outside his field.
When he saw a call for astrophysicists who could guide the makers of the science-fiction film Clara in making sure their story was as plausible and scientifically accurate as it could be, he considered it as a chance to advance science communication.
Welch, a professor of Physics and Astronomy at McMaster University (and also its Vice Provost and Dean of Graduate Studies), told the movie makers he'd like to help, as long as they understood he would have to manage his schedule carefully.
He and colleague John E. Moores of York University soon found themselves intersecting with the world of movie-making: reviewing scripts, coaching actors and even checking the equations that characters scribbled on whiteboards.
Welch and Moores co-authored a research note about aspects of their movie work for Research Notes of the American Astronomical Society.
The film, which was shot in Toronto and premiered at the Toronto International Film Festival in September, is set for wide cinematic release Nov. 30. (McMaster's Socrates Program and the Faculty of Science are presenting a campus pre-release screening of the film Nov. 22.)
The story features a post-doctoral researcher obsessed with finding life beyond Earth and his relationship with a research collaborator who is also an artist.
The film features sequences of characters using data from telescopes, analyzing images from space and interacting with other researchers, and it depicts state-of-the-art technology as the scientists gather information from the Terrestrial Exoplanet Survey Satellite, or TESS, the same source real-life scientists are using in the field today.
Welch was pleased to find that the movie's director and writer Akash Sherman was already quite knowledgeable about astronomy and eager to make sure the film was plausible and accurate, especially since it is set in the present.
"I was excited by the script, because it was clear that the people who wrote it already understood a lot of astronomy," Welch says. "It was not like our work was going to be to rewrite the script to get the astronomy right. They had very good perspective on the field."
Welch says other scientists should find Clara refreshing because it depicts the way research really works – that scientists are real people with problems and triumphs, and that the process of discovery is long and sometimes tedious, but necessary.
"It's important to communicate that people don't just have these whacky ideas in the middle of the night and then wait for the call from Stockholm," he says with a chuckle. "There's an entire process. It takes a lot of people's attention and involvement and careful scrutiny. That's why most science that makes it out to the public can actually be trusted. That's something that is very, very important for everyone to understand."