What's that smell?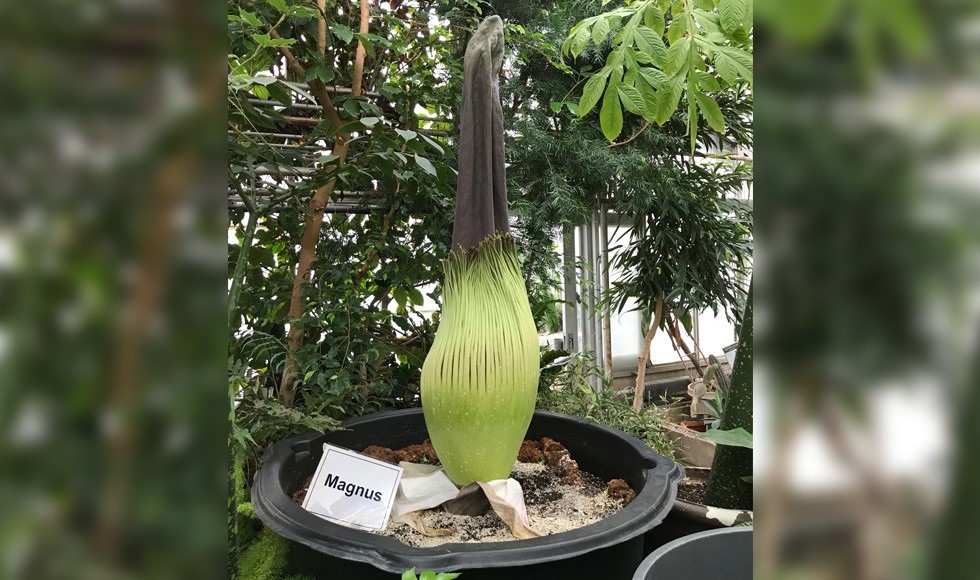 One of McMaster's titan arum plants, Magnus, is about to bloom.
---
It's probably not a great idea to give your beloved a bouquet of corpse flowers.
For one thing, their "blooms" – formally known as an inflorescence, or flowering structure – can grow to more than three metres tall.
For another thing, they smell like rotting meat. And that smell can carry up to three kilometres.
But while humans might not appreciate the stinky romance behind the world's smelliest flower, the smell of a titan arum is irresistible to the carrion beetles and flesh flies that pollinate the flower and allow it to reproduce.
And one is all set to bloom in McMaster's Biology Greenhouse in the next couple of days.
The plant – affectionately named Magnus – first bloomed in 2015, but didn't open all the way. (See below.)
Magnus's blooming is a big deal for a few reasons.
First of all, corpse flowers don't bloom often. Native to the rainforests of Sumatra, the titan arum can take between seven and 10 years to produce its first bloom, and can go years in between blooms after that.
That means that in any given year, there may only be one or two corpse flowers in bloom in the world.
Corpse flowers also are relatively rare, especially in cultivation. There are only about 100 recorded cultivated specimens around the world, and the plant, which is designated "vulnerable," is rare in the wild as well.
McMaster has three mature titan arum plants – Magnus, Phoebe and Arthur – plus several "teenagers" that haven't quite grown up yet. Fun fact: Phoebe, which first bloomed in 2015, shortly before Magnus, was the first cultivated titan arum to bloom at a Canadian university.
Finally, the blooms only last about a day. If you miss it, you'll have to wait years for another one. Mac's most recent bloom was in 2017.
For this bloom, McMaster's greenhouse will extend its hours so the public can come take a look. The greenhouse will be open from 10 a.m. until 11 p.m. starting Wednesday, April 17, and continuing until the plant has finished blooming, which will likely be Friday, April 19 or Saturday, April 20. (The late hours are because the maximal bloom usually happens at night.)
For regular updates, check out the McMaster Biology Greenhouse's Instagram feed. For location info, go to their website.