What is pain, Alex?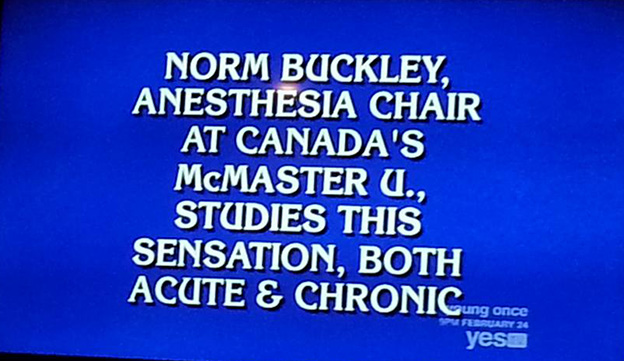 A screencap of one of last night's Jeopardy! clues, which mentioned McMaster and Anesthesia chair Norm Buckley.
---
A McMaster professor and a celebrated robot from the University's communications and multi-media department were answers to questions on the Jeopardy TV game show Thursday night.
Under the category 'Doctors Within Borders', the contestants of College Jeopardy were given the answer: "Norm Buckley, anesthesia chair at Canada's McMaster University, studies this sensation, both acute and chronic."
The correct response was 'What is pain?' Buckley is director of the Michael G. DeGroote Institute for Pain Research and Care, professor and chair of the Department of Anesthesia of the Michael G. DeGroote School of Medicine, and well known for his research and clinical work focus on pain.
It was a surprise, even to Buckley, and he'd love to find out how it happened.
"It has certainly created a storm of interest amongst my surprised colleagues and amazed children and friends. My daughter, a grad student at McGill University, posted a screen capture on Facebook saying, 'With the possible exception of, like, a Nobel prize- MAYBE- there is literally nothing in the world that could make me prouder than this. My dad is a jeopardy clue!"
In addition, a McMaster creation was highlighted on the same show. Under the category 'Mr. Robot', the contestants had the answer, "In 2015 a robot that had travelled 6,000 miles by this method was damaged beyond repair in Philadelphia." The correct response was "What is hitchhiking?" after the Canadian, European and U.S. tour of HitchBOT, a robot co-created by David Harris Smith, an assistant professor of the Department of Communication Studies and Multimedia.