What can we learn from those who have been on campus throughout the pandemic?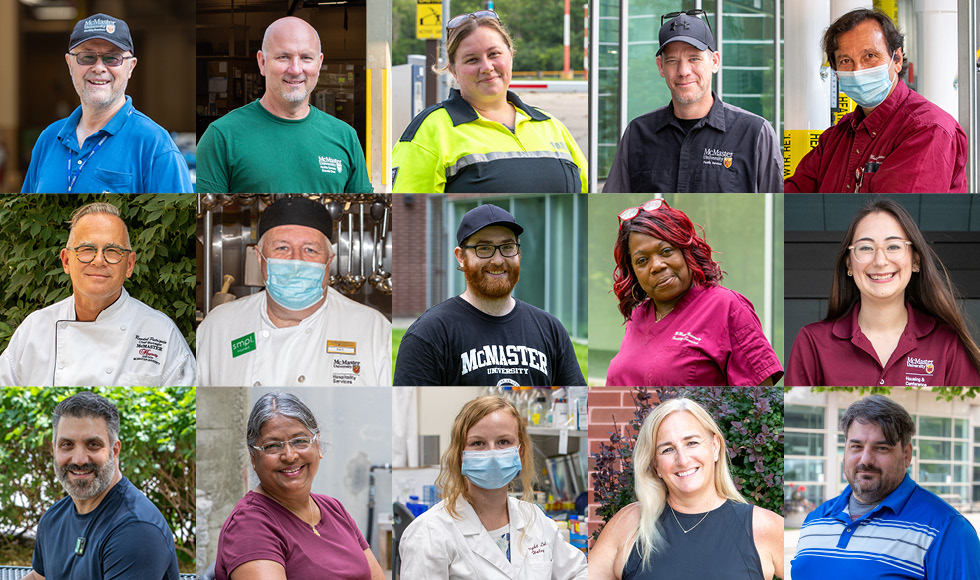 ---
Most of McMaster's community members connected in an exclusively virtual way during the COVID-19 pandemic. However, some members of this community continued to come to campus to fulfill important duties that can only be done in person.
These vital staff, students and researchers have important roles on campus keeping our indoor and outdoor spaces functional and safe, conducting valuable research in highly specialized laboratories, and producing lifesaving materials for cancer treatment.
We asked some of these community members about this exceptional time on campus and what advice they have for those returning in the Fall. Their perspectives reflect how this group of on-campus workers and learners had a vastly different experience than those who remained at home, and they offer some insights into how to approach coming back in the Fall.
Most shared about how the COVID-19 safety measures in place on campus are robust. To date there have been no recorded cases of COVID-19 transmission on campus. Some shared with pride about how their contributions are preparing for the safe return to campus for more people this fall. Others emphasized their gratitude for their team members and collaboration that occurred between teams to help get the job done.
Overwhelmingly, these valuable members of McMaster's community shared that they are most excited about being together again and how much they are looking forward to welcoming you Back to Mac.
---
Luke

Vlatkovic

, Grounds & Landscaping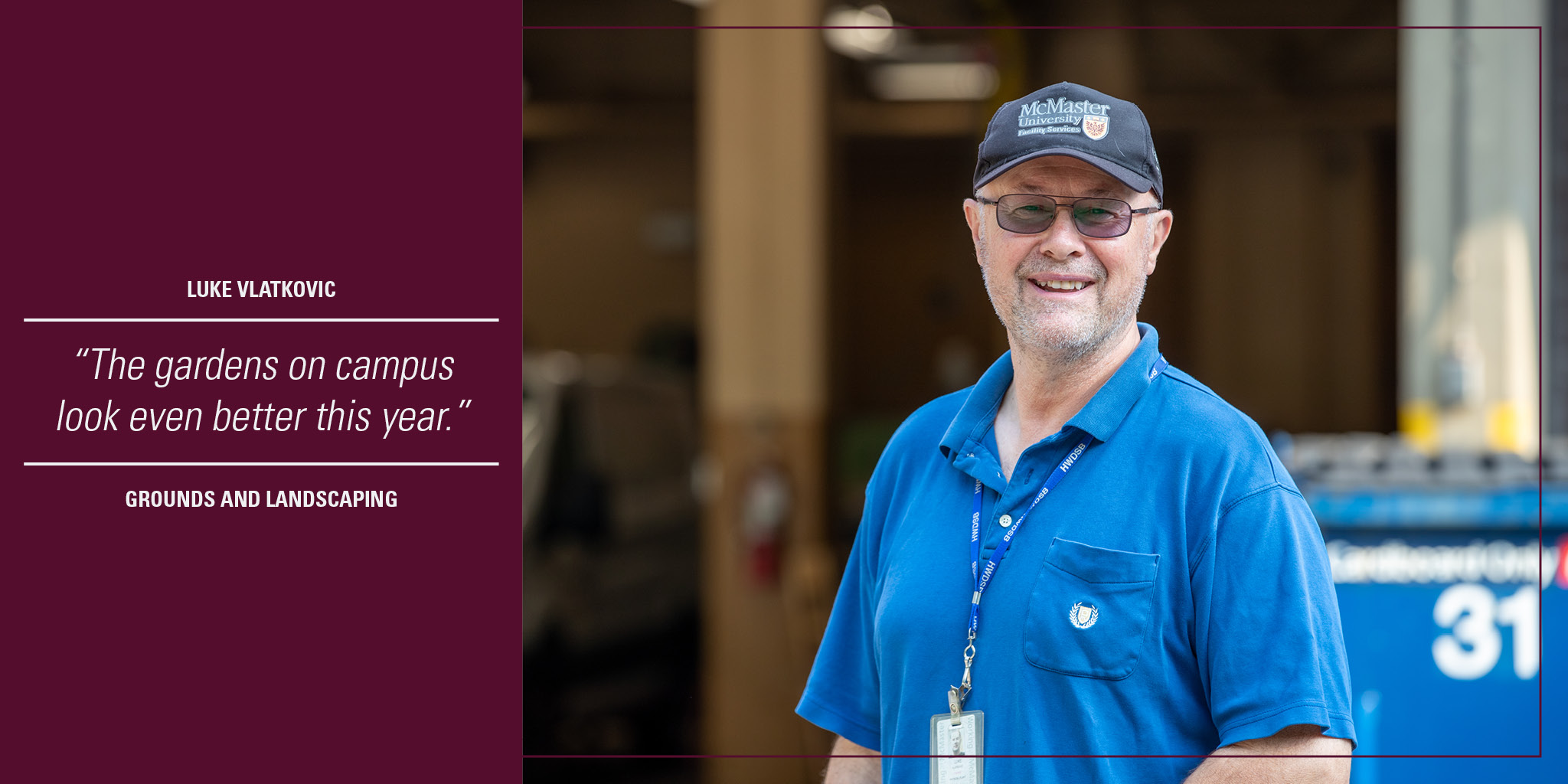 "We have added more native plants and flowers, really concentrating on making the gardens on campus look even better this year. As more people come to campus, I hope they notice and enjoy the outdoor spaces a little more."   
---
Gary Moscardini, Grounds & Landscaping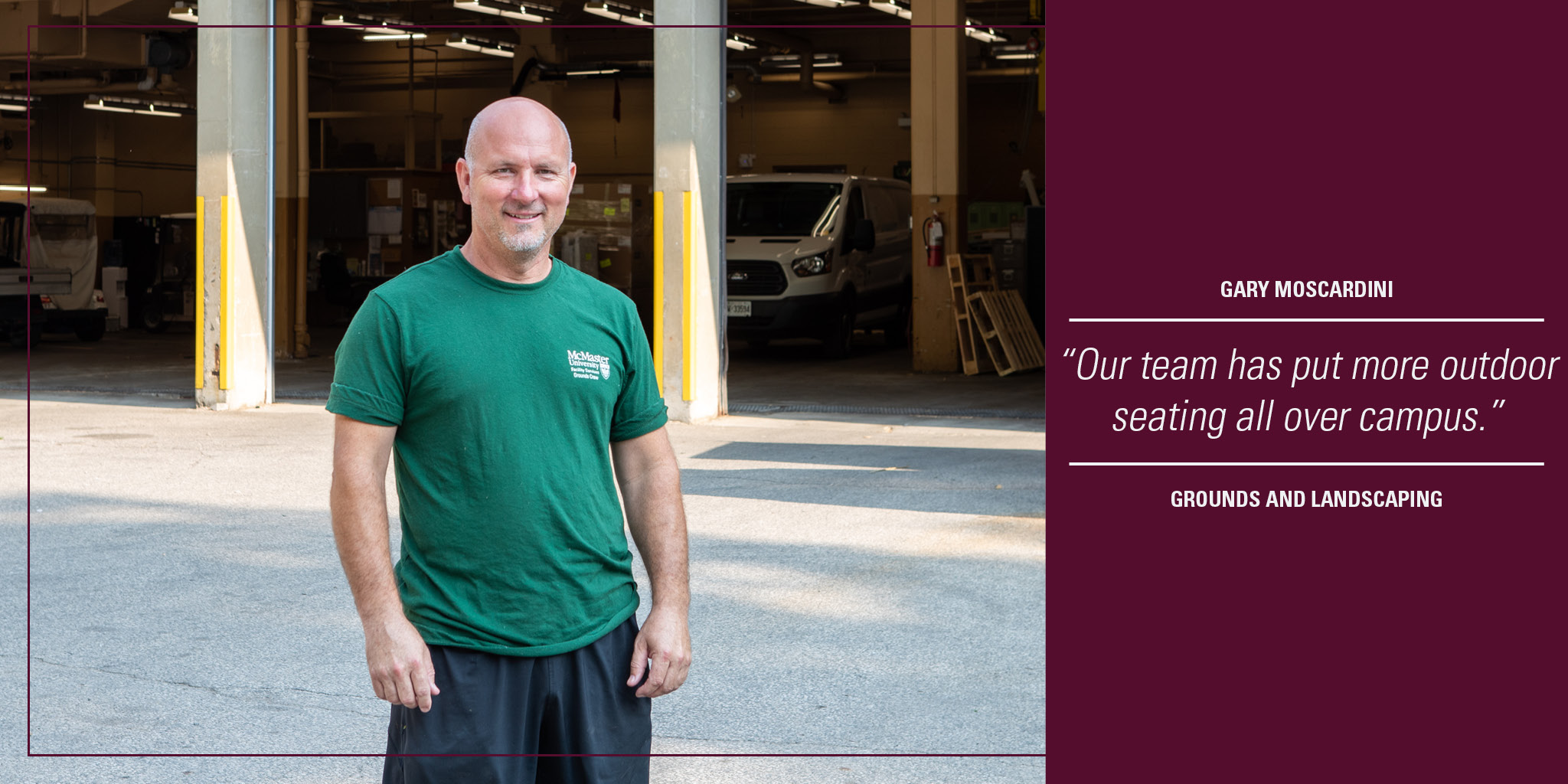 "I'm really looking forward to seeing more people on campus! Our team has put more outdoor seating like picnic tables, benches and Adirondack chairs, all over campus to help welcome staff and students back."  

---
Amanda Gillespie, Parking Services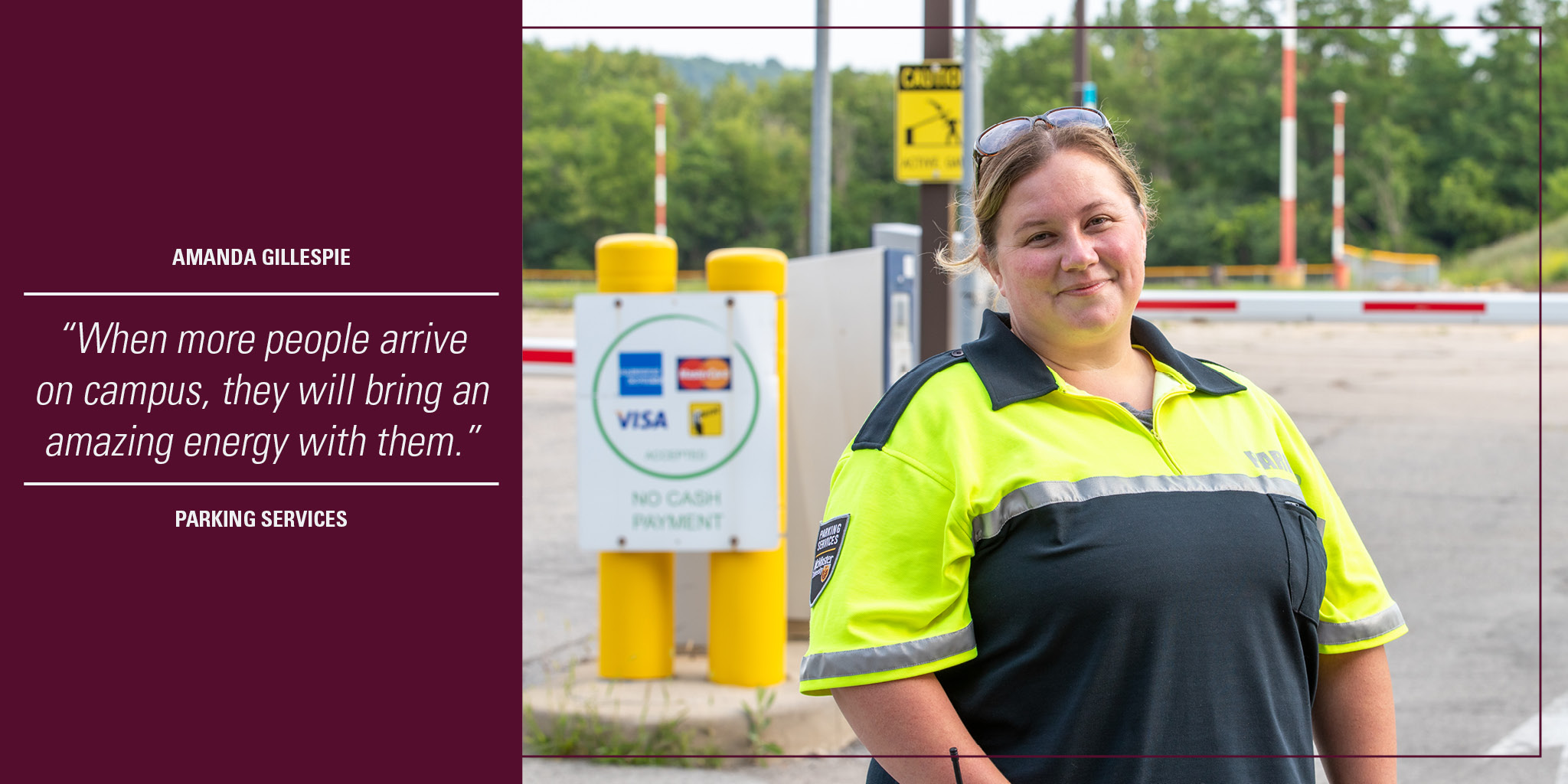 "Welcoming students and staff to campus every day is a big part of why the Parking Services team is here. When more people arrive on campus, they will bring an amazing energy with them that I'm really looking forward to seeing again."  

---
Wil Stuart, Locksmith, Facility Services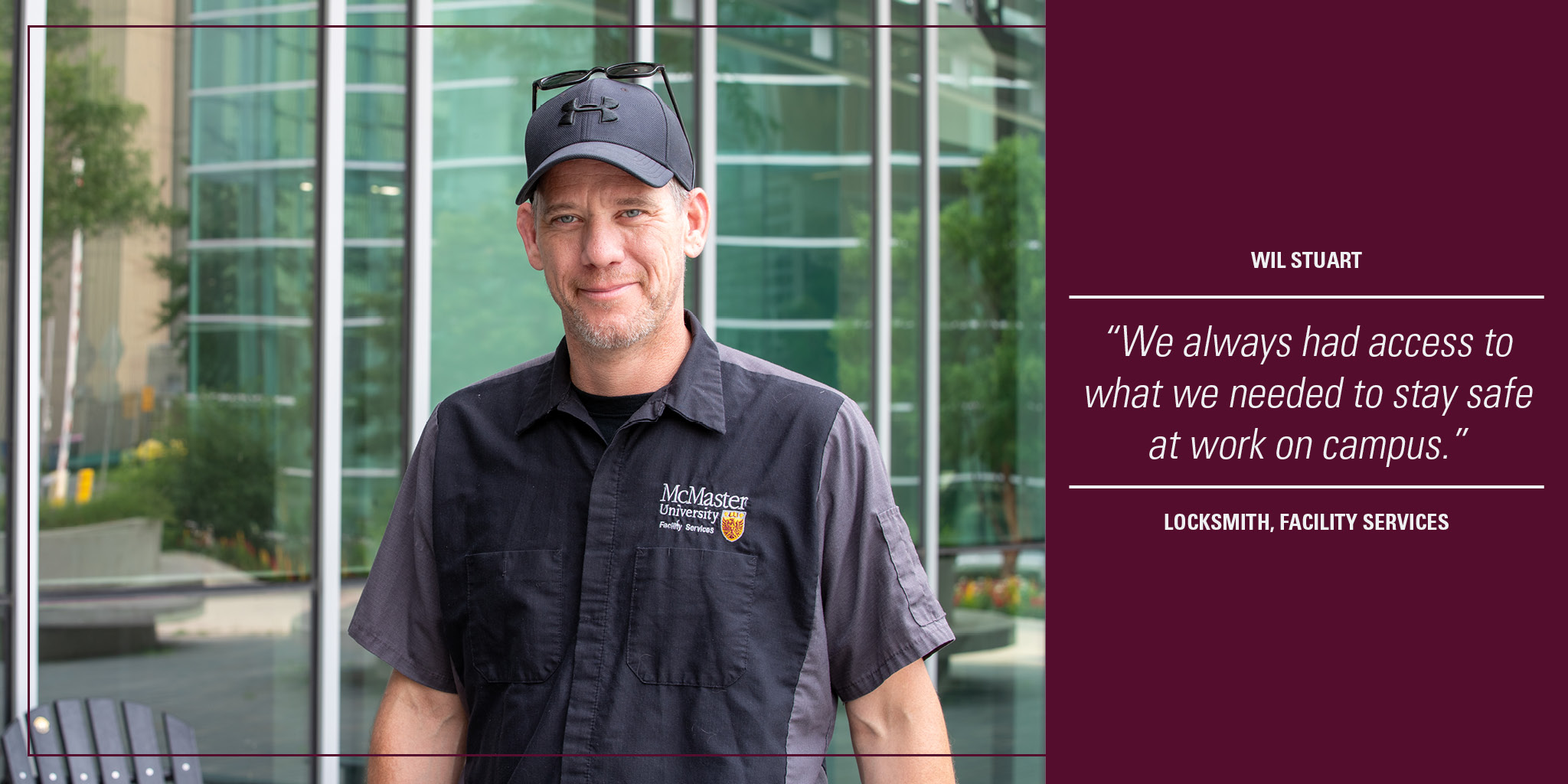 "McMaster's Facility Services has been great with ensuring we always had access to what we needed to stay safe at work on campus during the pandemic. With more people here, the campus will feel alive again, and I'm looking forward to that." 

---
Joe Porco, HVAC Controls Mechanic, Utility Services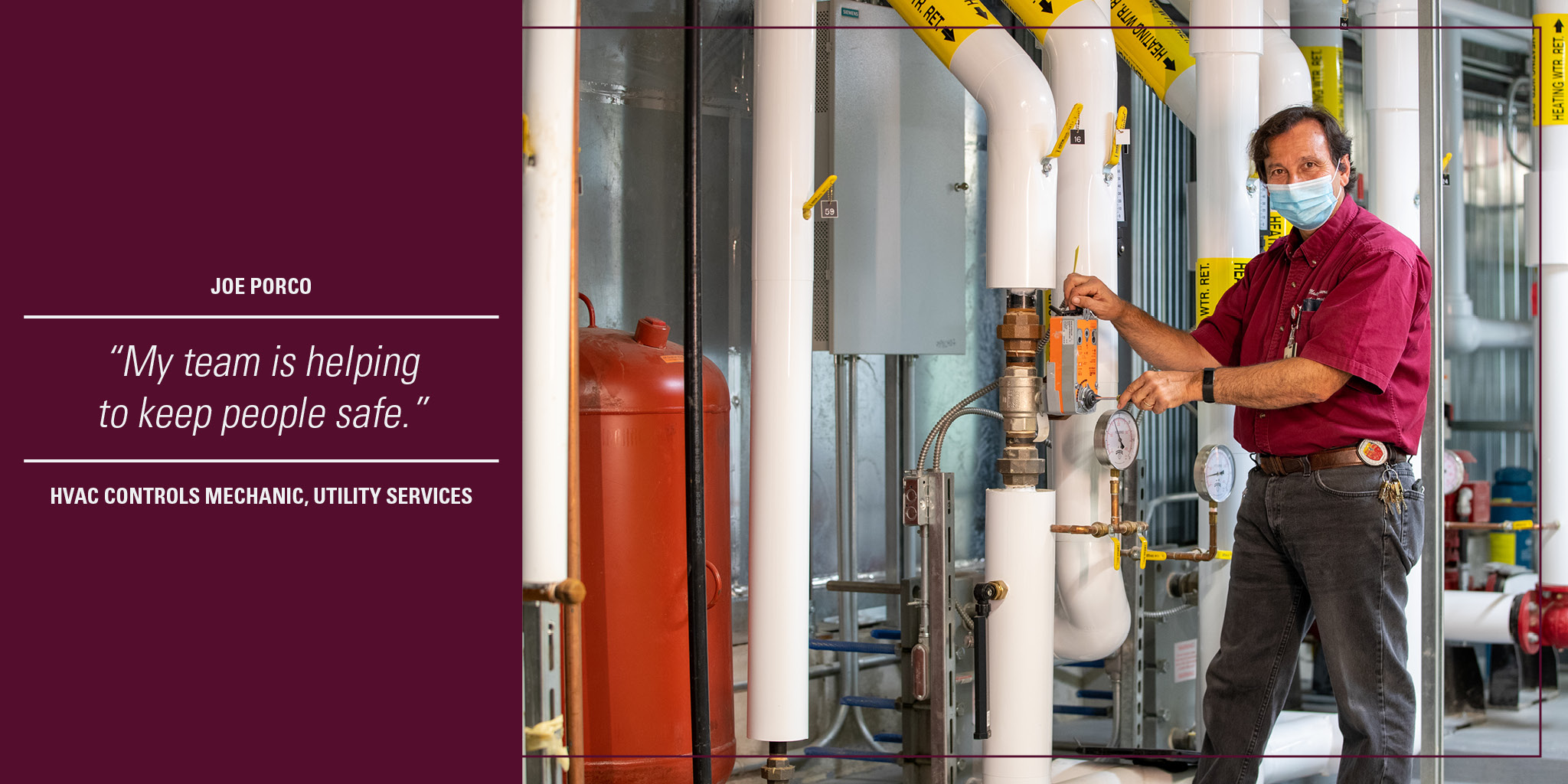 "My team is helping to keep people safe by assessing and making any required updates to the ventilation systems in buildings on campus, maximizing fresh air and installing MERV-13 filters." 

---
Randal Patriquin, Chef Manager, Hospitality Services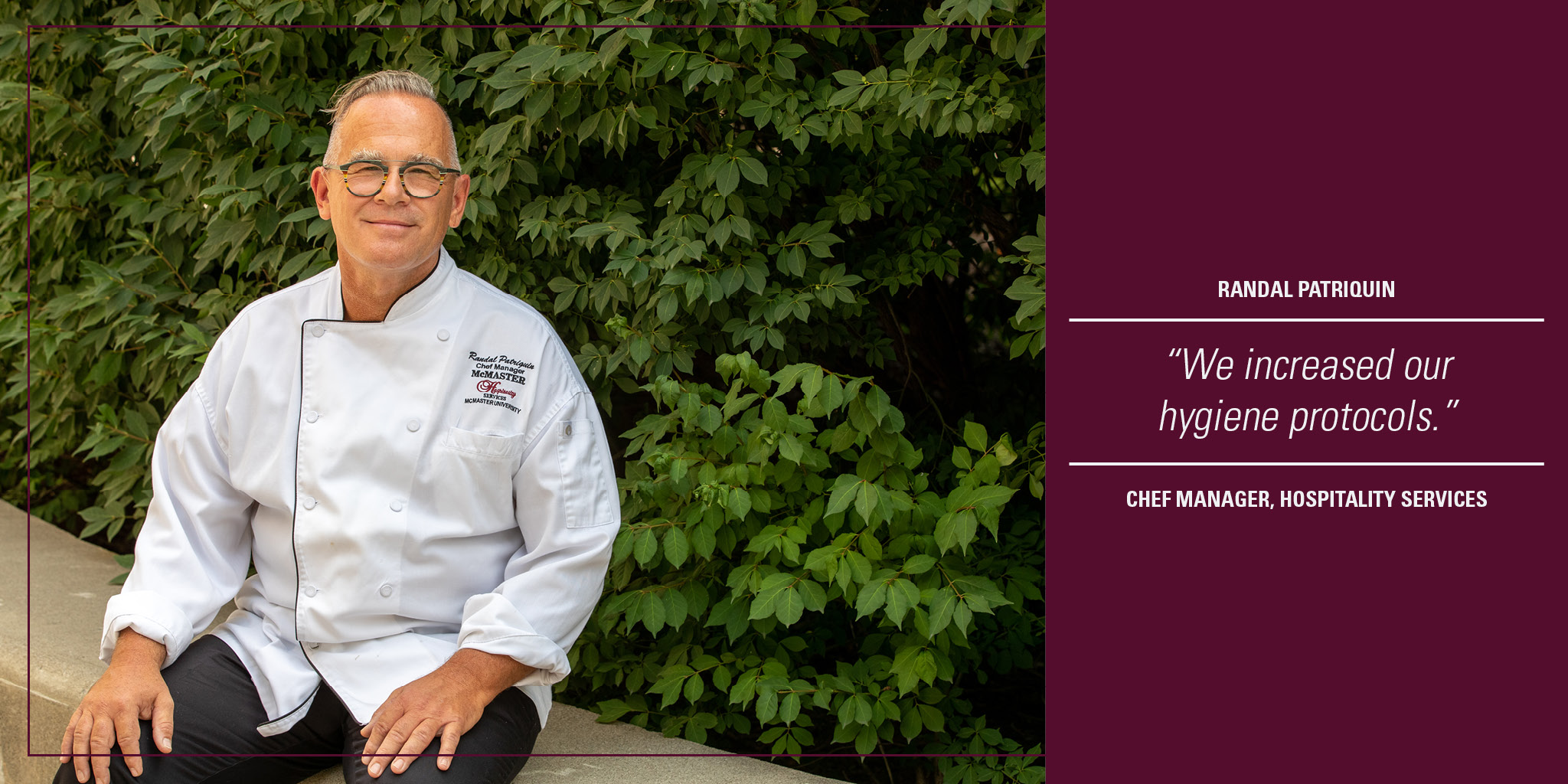 "At our food services, we increased our hygiene protocols, including frequent cleaning of high touch-point surfaces and workstations, and regular hand washing. Our returning staff will also complete safety training. I'm excited to have more teammates back on campus!" 

---
Ray Osborne, Branch Local President for SEIU Local 2 and Chef de

Partie

, Hospitality Services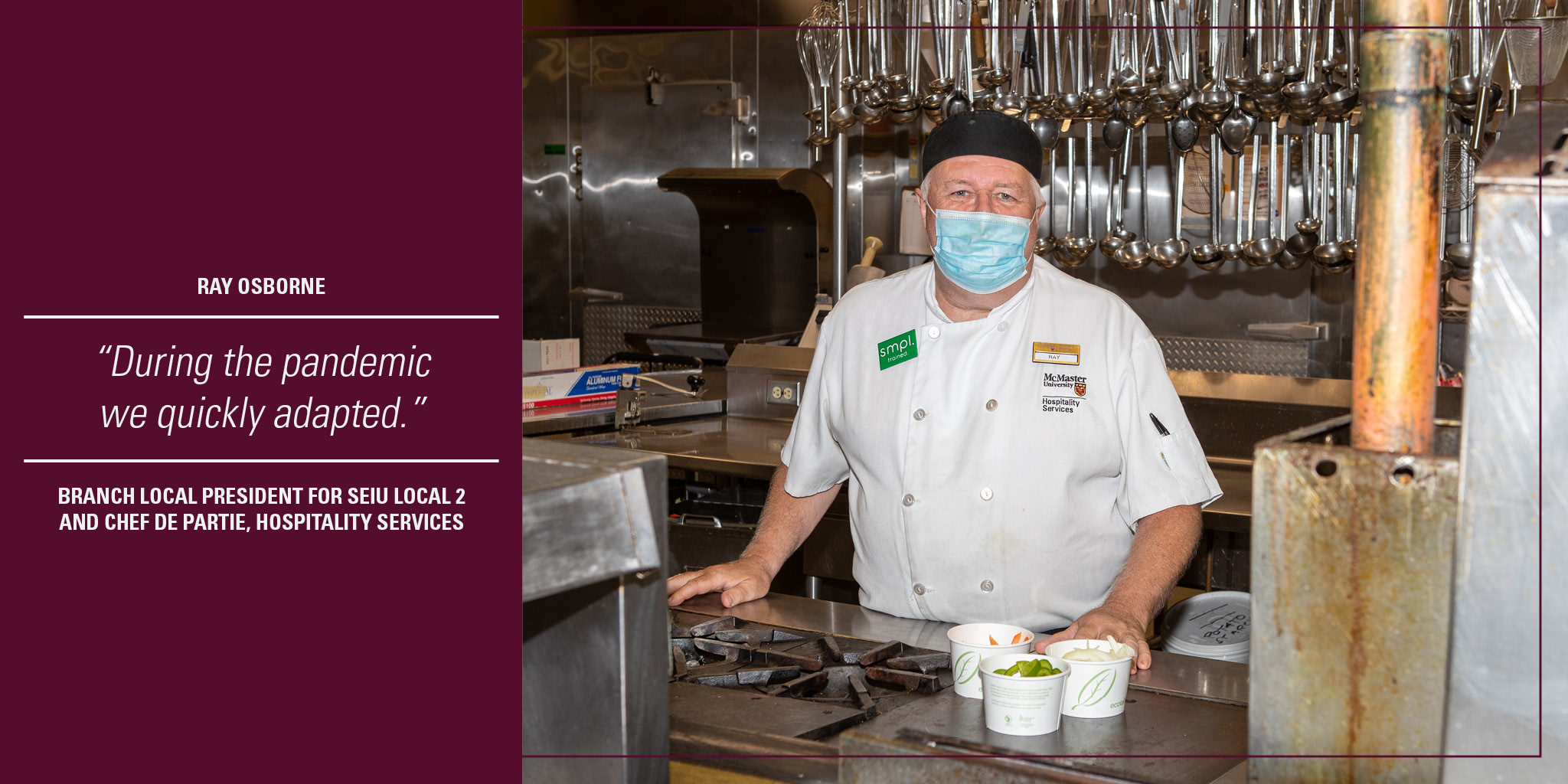 "During the pandemic we quickly adapted, and we continued to provide meals to students who needed to quarantine in residence. We are used to having La Piazza with students and staff. It will be great to see everyone again in September!"  

---
Cody Howe, Custodian, Housing & Conference Services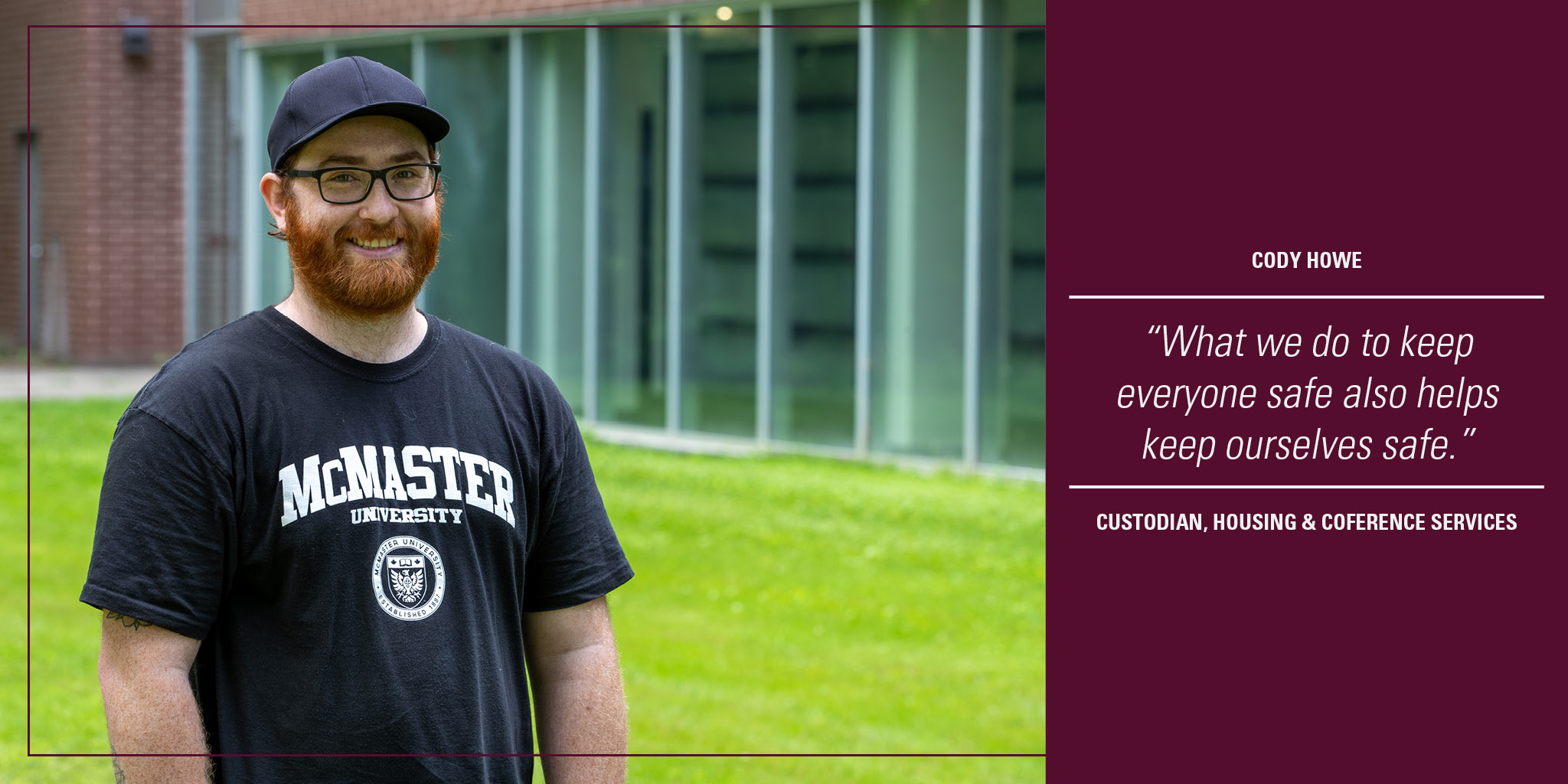 "What we do to keep everyone safe also helps keep ourselves safe. We wear masks indoors and we are preparing residence by cleaning and sanitizing rooms. I feel safe at work and I hope we help others feel safe on campus." 

---
Janet Gray, Custodian, Housing & Conference Services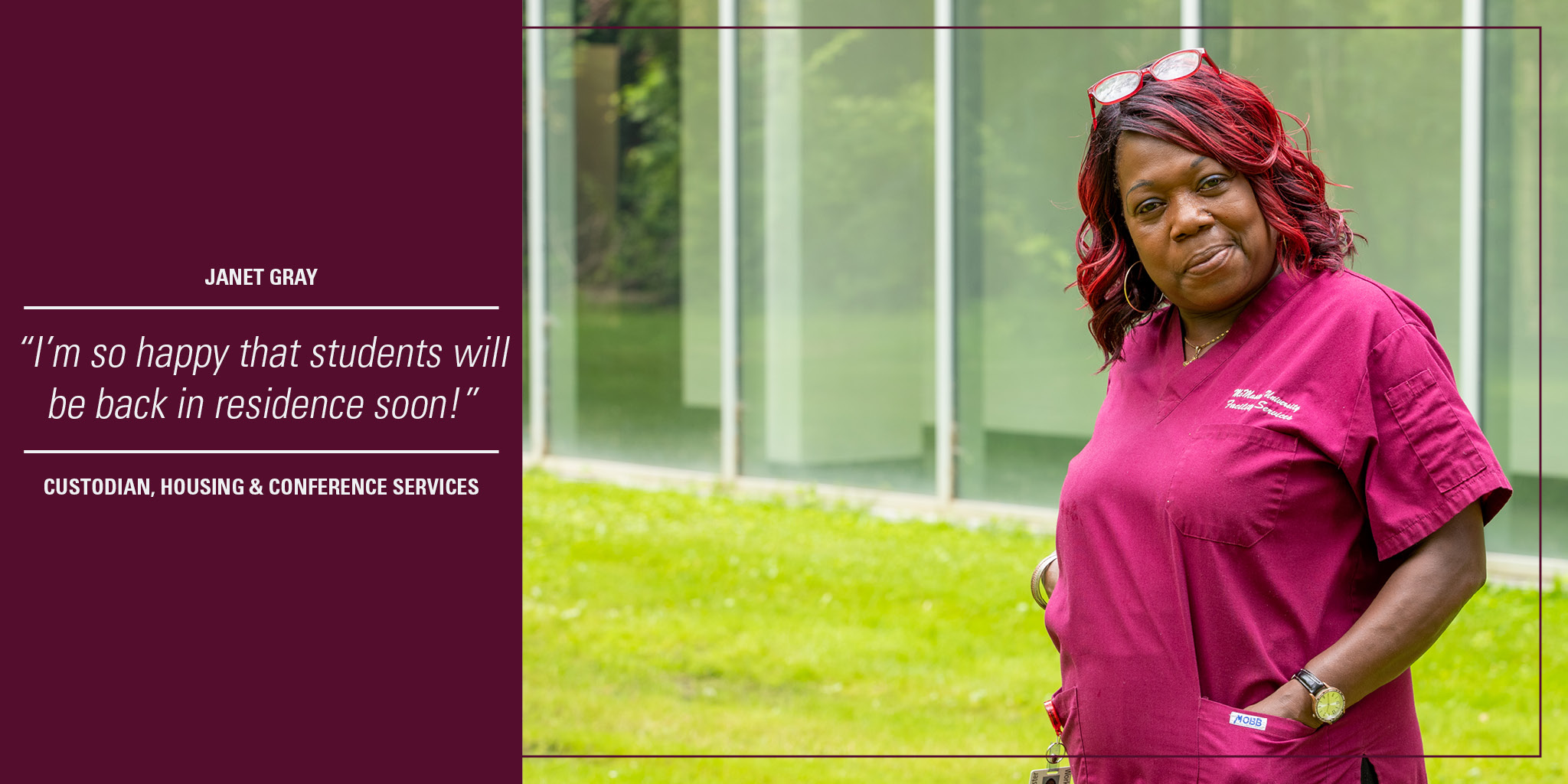 "I'm so happy that students will be back in residence soon! It will be great for everyone's state of mind to be together safely. Students bring a lot of life to campus and sense of purpose to all of our work."
---
Cristina

Cardelus

, Residence Life Area Coordinator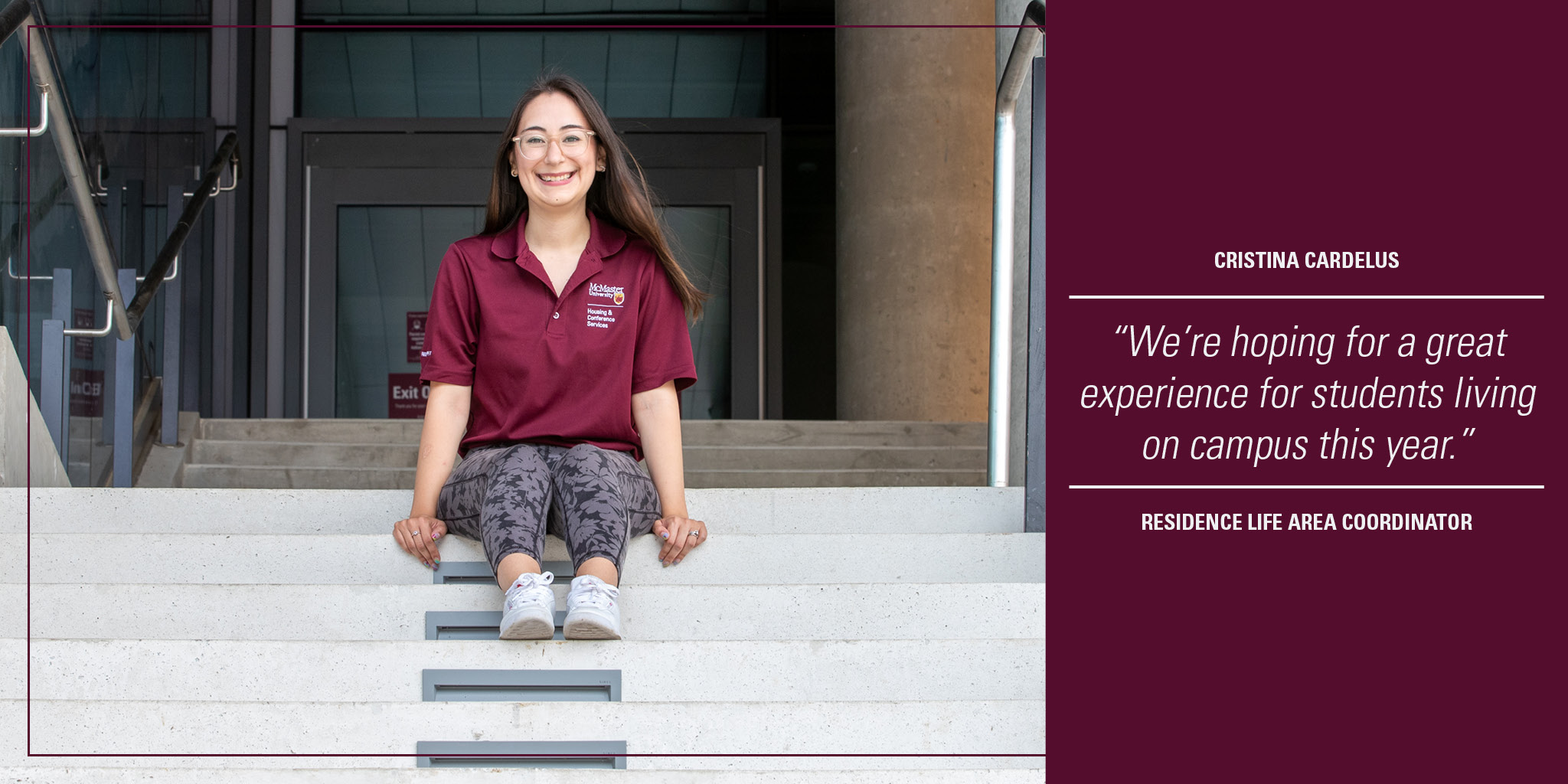 "Residence is such an important part of the McMaster experience. Last year we learned a lot together. While following Public Health guidelines, we're hoping for a great experience for students living on campus this year." 

---
Stan Spina, Isotope Production Technician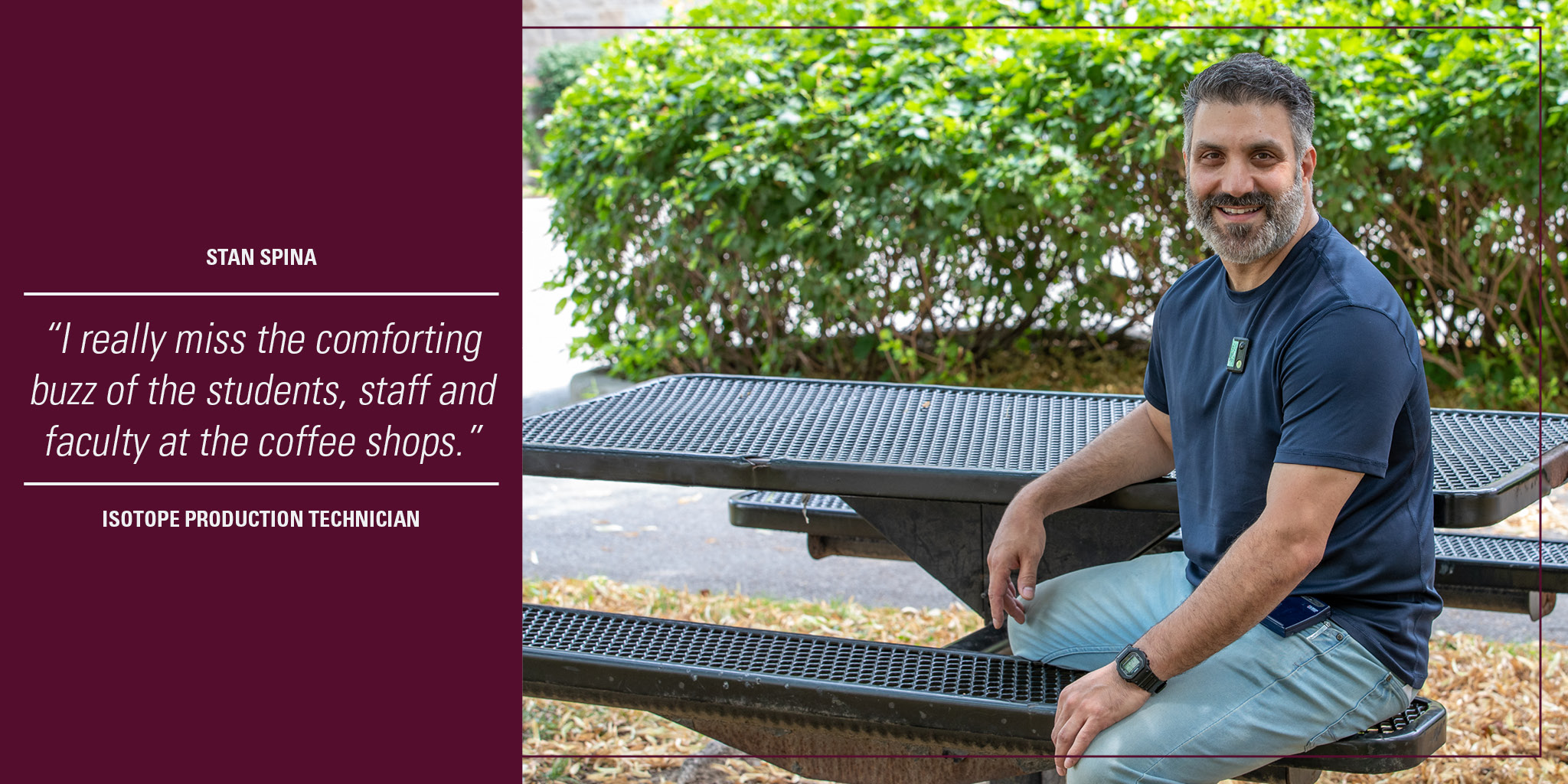 "Our work on campus continued throughout the pandemic so that McMaster's Nuclear Reactor can continue to provide a global supply of necessary medical isotopes used for cancer treatments. During this quiet time on campus, I really miss the comforting buzz of the students, staff and faculty at the coffee shops." 

---
Nidhi Jain, Laboratory Manager, Dr. Ravi Selvaganapathy's Laboratory, Faculty of Engineering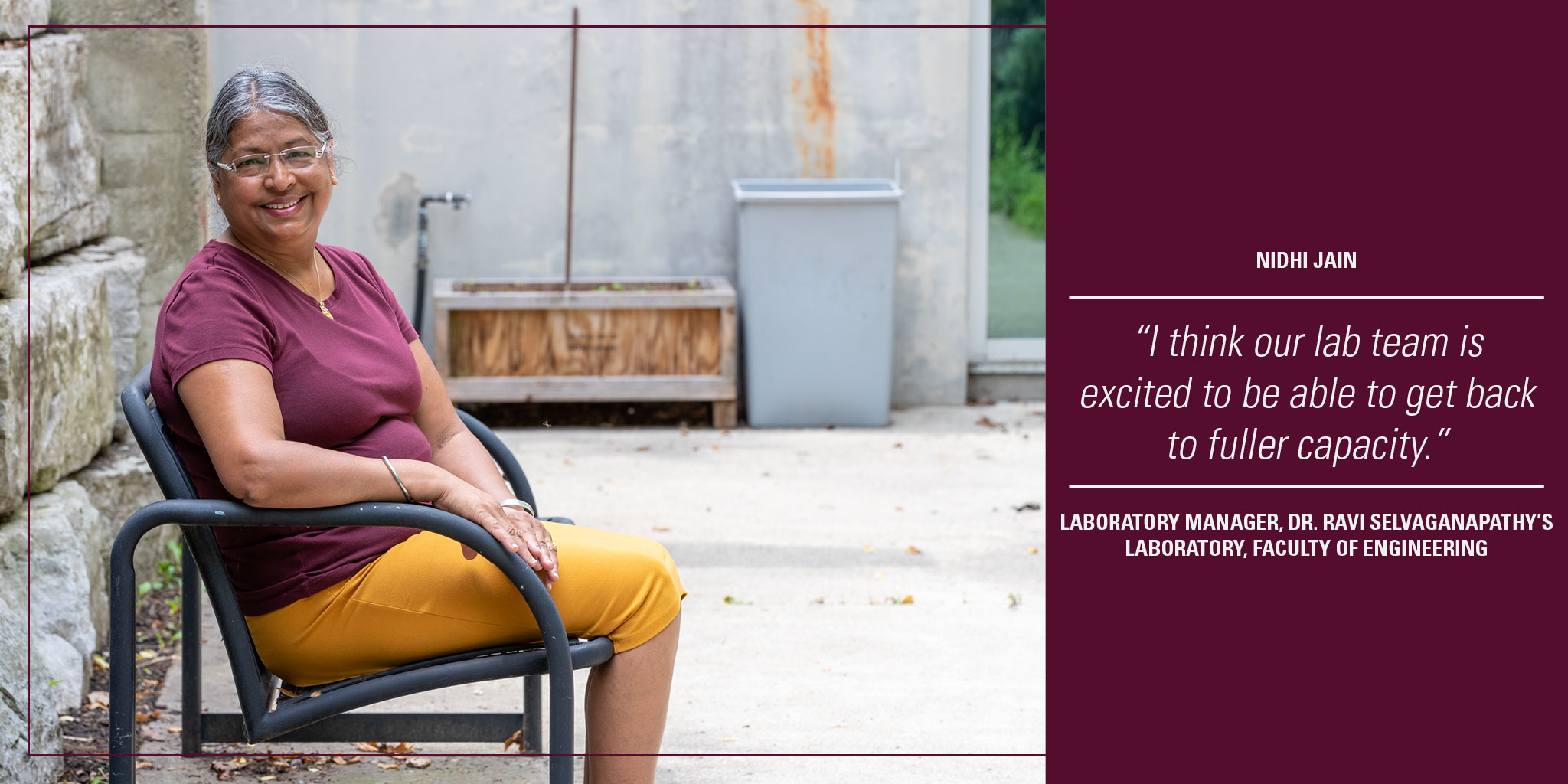 "I really want to thank our procurement and logistics teams for helping our researchers access the materials they needed during the pandemic, which was not always easy. I think our lab team is excited to be able to get back to a fuller capacity, which will help their research move ahead more quickly."    

---
Haley

Zubyk

, PhD Candidate,

 

Wright Lab,

Michael G. DeGroote Institute for Infectious Disease Research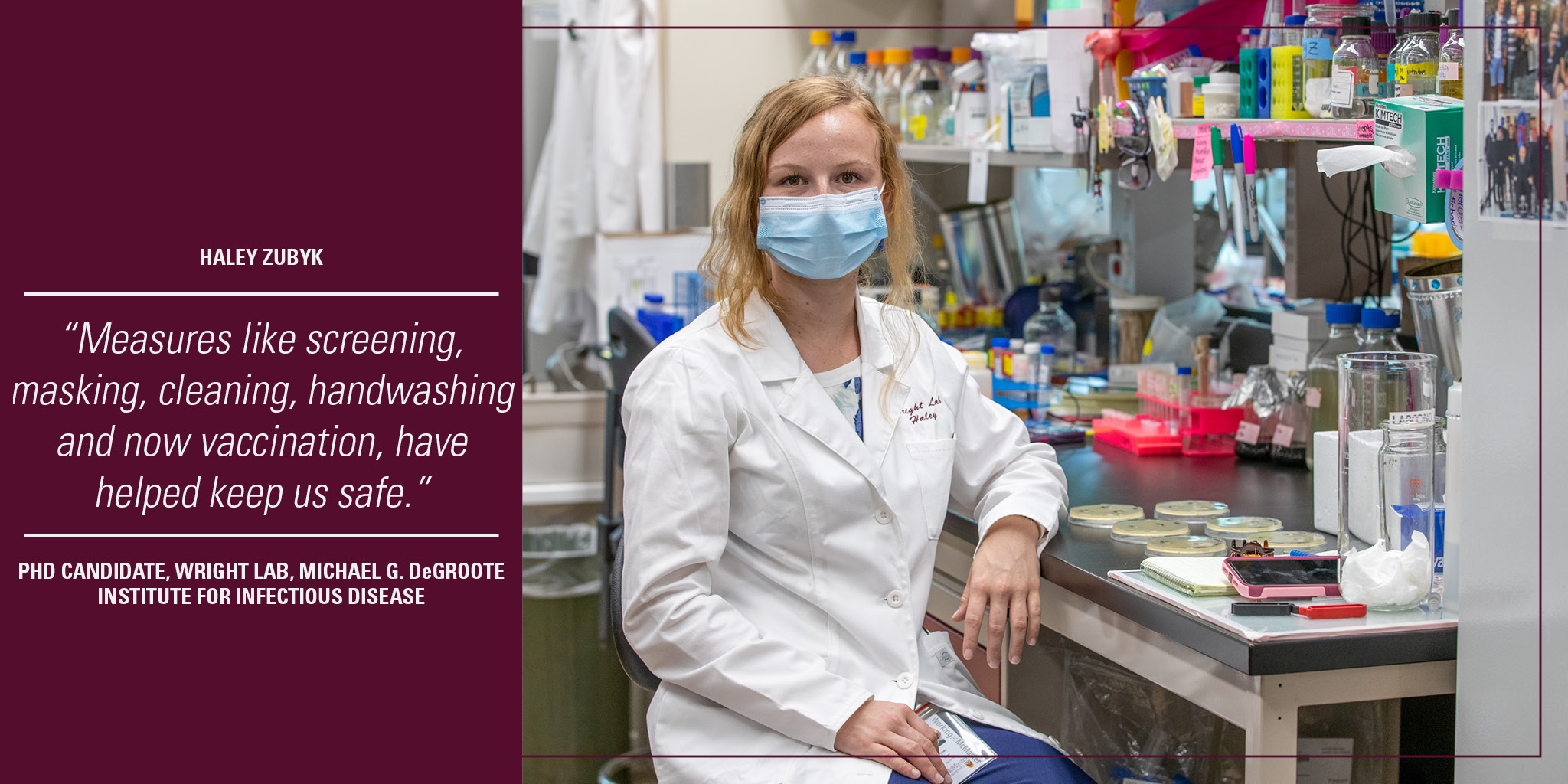 "As a graduate student studying infectious diseases, I know measures like screening, masking, cleaning, handwashing and now vaccination, have helped keep us safe. This Fall these measures will help keep all of us safe by preventing the transmission of COVID-19." 

---
Gloria Kiefer Preston, Manager, David Braley Sport Medicine and Rehabilitation Centre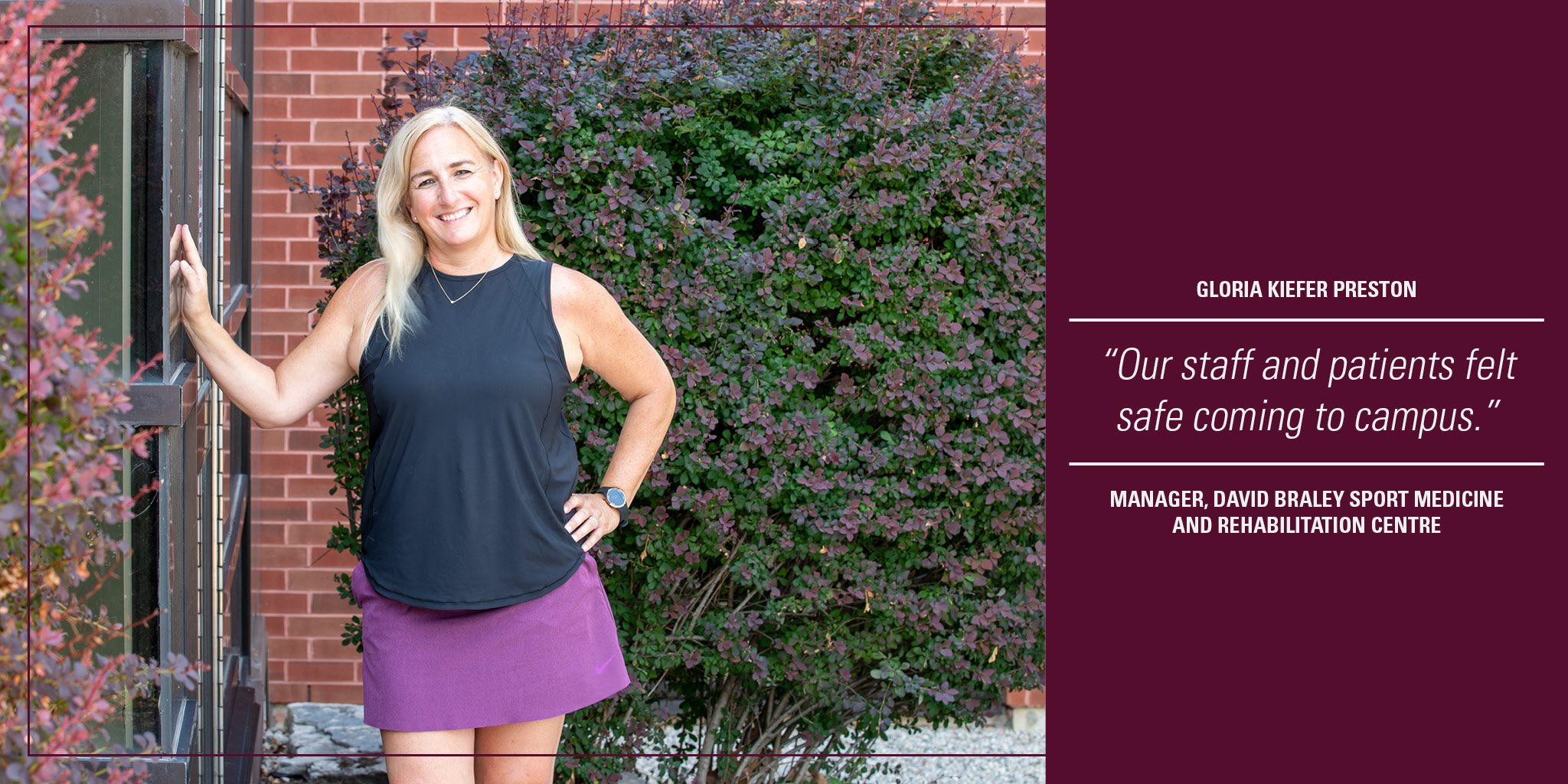 "We continued to provide medical and rehabilitative services to our McMaster and greater Hamilton communities throughout the last year, while following all Public Health and University guidelines. Our staff and patients felt safe coming to campus. My team and I are excited for the return of the vivacious energy that the entire student, staff and faculty will bring back to campus life."   

---
David Fogarty, Athletics Facility Coordinator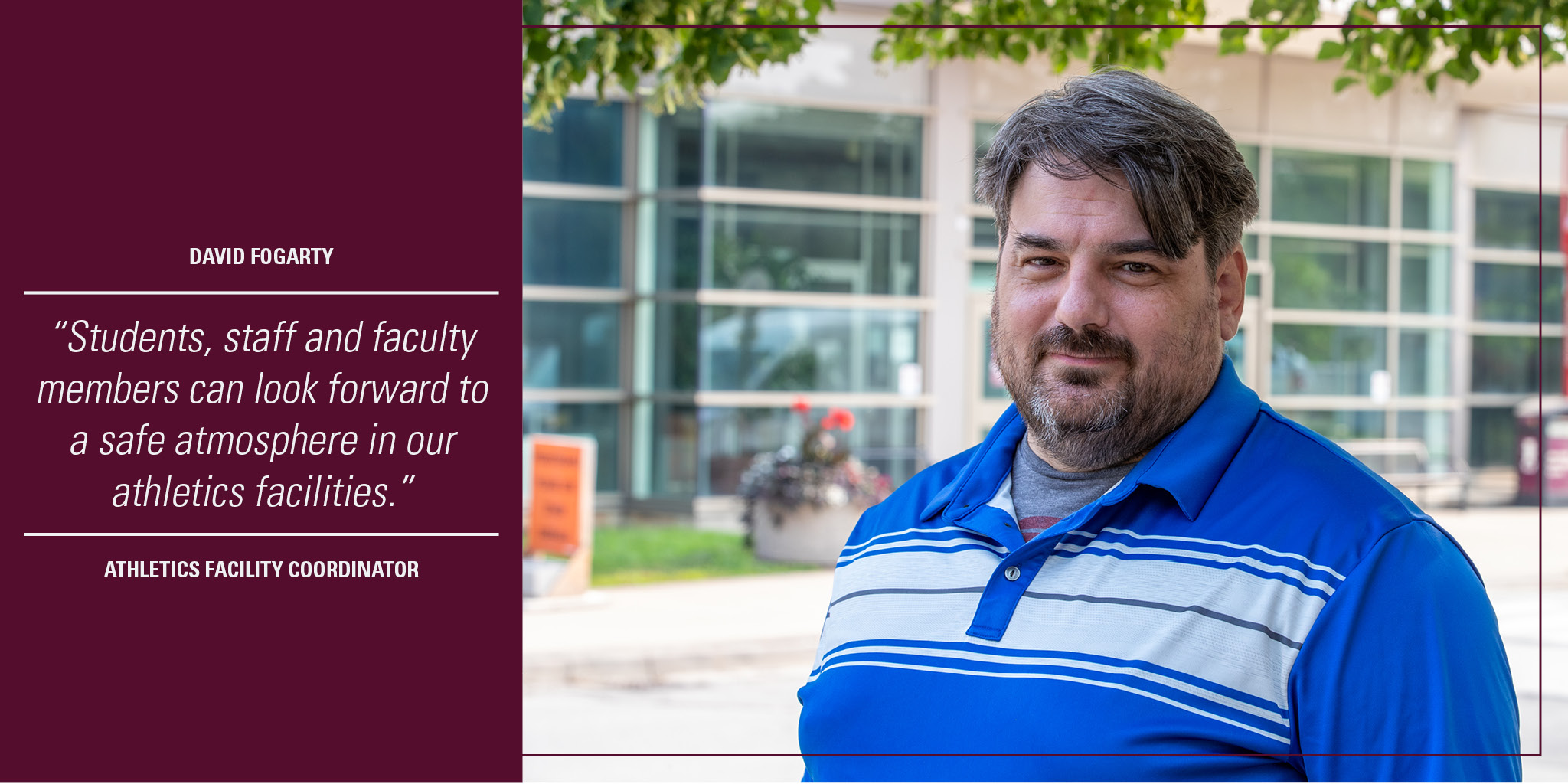 "This Fall, students, staff and faculty members can look forward to a safe atmosphere in our athletics facilities, including the The Pulse, where in addition to wearing masks and hand sanitizer, there will be reservable workout pods that will be cleaned after every use. Yoga classes will be back and as long as it is safe, we hope to bring back even more fitness opportunities on campus."