Welcoming the third cohort of graduate Wilson Leaders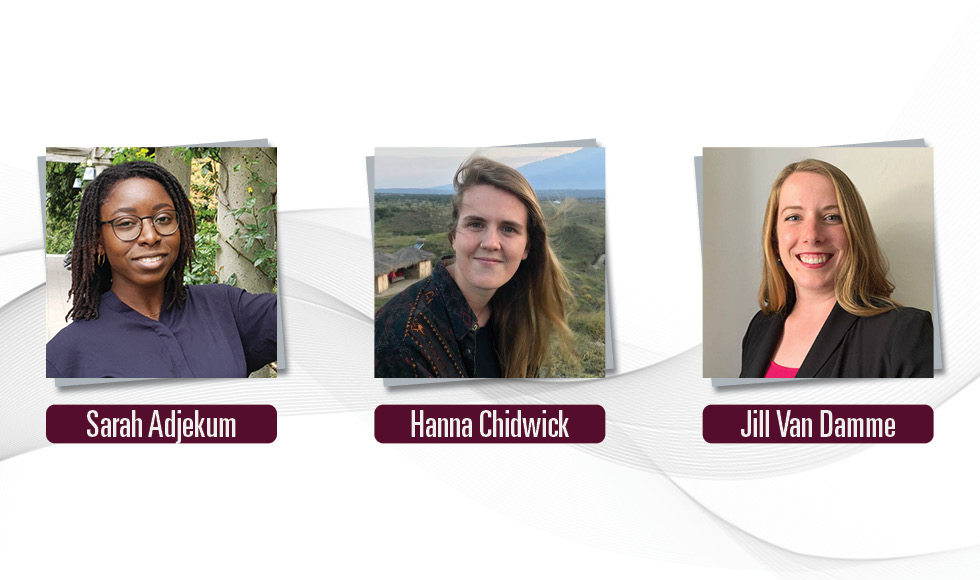 ---
Three graduate Wilson Leaders have been selected and will join their undergraduate colleagues for an intensive leadership development program, starting in September. The program will start virtually and, if safety allows, become a hybrid program.
The pandemic did not slow down applications. This year saw over 100 graduate applicants, including several prospective graduate students from outside McMaster.
Sarah Adjekum, Hanna Chidwick, and Jill Van Damme form the third cohort of graduate Wilson Leaders. Adjekum is a Health, Aging, and Society PhD student and practicing social worker. Her community-based participatory research has focused on equity and anti-racism and has informed the op eds she has authored. Chidwick is a Global Health doctoral student and former Pathy Foundation Fellow, who recently returned to the Coady International Institute to explore how asset-based community driven development approaches can increase access to reproductive health services.  Van Damme is working on a dual Master of Physiotherapy and PhD in Rehabilitation Science. A Canadian Frailty Network Interdisciplinary Fellowship recipient, she focuses her volunteering efforts on wellness, including assisting with community-based rehabilitation programs.
Liz Koblyk, associate director of the award, notes that award's strength comes partly from the program's design and partly from the winners themselves. "Each year, the Wilson Leaders contribute to one another's learning in different ways. Despite their busy schedules and differing interests, the Wilson Leaders provide one another support, critical feedback, encouragement, and room to test out ideas." When Chancellor Emeritus L.R. Wilson founded the award, "he knew it was important to have that sense of community built into the award, and each year, the students prove his instincts right."
More information is available here: www.wilsonleader.ca.