Welcoming students to the Black Student Success Centre's brand-new space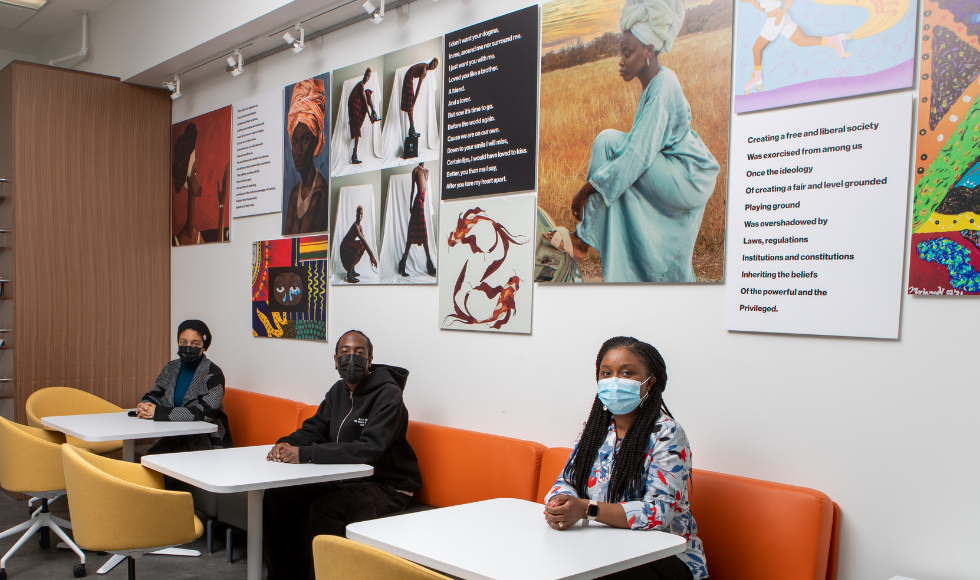 Black Student Success Centre administrative assistant Jordan Lentinello, left, Mac grad Angelo Grant and BSSC manager Faith Ogunkoya sit under artwork created by Black McMaster students and curated by Grant. (Photo by Georgia Kirkos/McMaster University)
---
"When a student sets foot in here, I want them to feel like they have come home." 
Standing in the Black Student Success Centre's brand-new space, in front of a wall covered in stunning art and poetry created by Black students at McMaster, centre manager Faith Ogunkoya can't help smiling.
The BSSC, which she has worked tirelessly to set up along with the help of Mac grad Jordan Lentinello, is the university's first space dedicated to supporting and championing the Black students in every aspect of their lives.
Here, Black students will not only have a safe space to meet, connect, study and work together, but will also have access to specialized programming and services designed in a way that validates their cultural identity.
"It's a whole suite of programs designed to position them for success," Ogunkoya says. Besides social connections, wellness services, mentorship programs, academic support and fireside chats with Black leaders, the BSSC also offers financial literacy workshops, one-on-one counselling on financial aid and support in identifying and applying for scholarships, awards and bursaries.
"It's important for Black students to know that all this programming will be delivered in a way that understands the barriers that they have historically faced," Ogunkoya says, noting that too often, Black students write themselves out of scholarship applications.
"They think, 'People like me don't get these awards.' We want to change that narrative and work with them in a way that empowers them and makes them bold and realize 'I deserve those awards!' "
The centre is also a point of connection with other services and units across campus that students might otherwise not approach.
"Don't shy away from asking us difficult questions because we are here to help remove barriers for you," she says.
"Tell us what you need."
A welcoming space
The centre is part of a five-point action plan that followed the university's review of the Black student-athlete experience in October 2020. Although the review was pivotal in its creation, the centre builds on years of advocacy work of generations of Black faculty, students and staff.
Ogunkoya and others worked with students every step of the way as they designed the BSSC's programming, as well its physical space.
Even the centre's logo was custom designed to reflect its values, history and vision.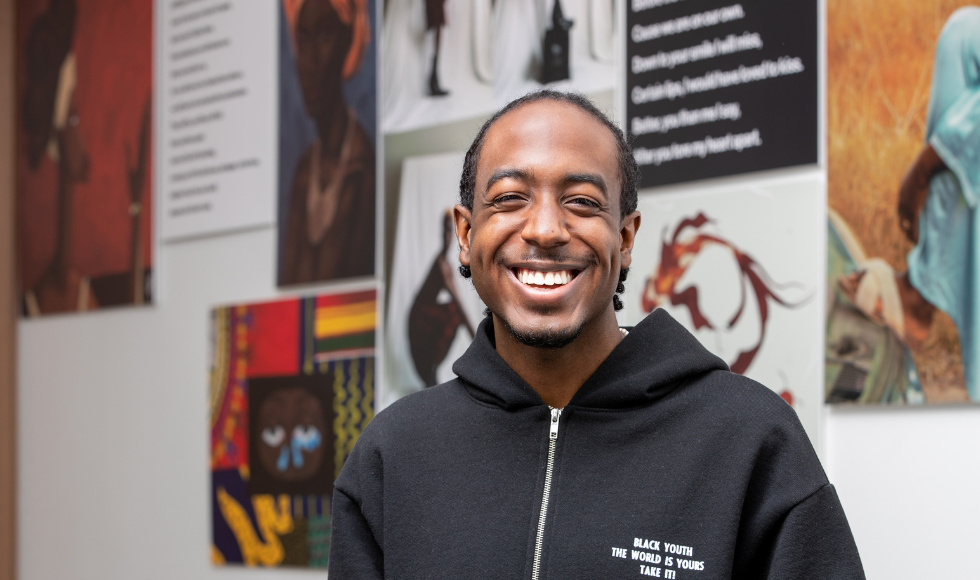 Every piece of art in the BSSC has been curated by Mac grad Angelo Grant, who was an executive member of Black Student Association in his time at Mac.
In his second year, Grant founded PITCH, an arts magazine showcasing the photography, visual art and poetry of Black creators. So, when Clare Warner, senior advisor for equity, inclusion and anti-racism within Student Affairs, wanted artwork submissions for the centre, she didn't have to look far.
Grant put out the call, and the response was immediate, he says.
"It's incredible to see the contributions of members of our community up on the wall here, for everyone to see," says Grant, now in medical school at the University of Toronto. "It's a really special space.
"I think it'll be really valuable for Black students in this generation and future generations to have a dedicated space where they feel supported, where they can see artwork that represents them on a university campus."
It's important for students to see themselves in the space and to see themselves represented on campus, Ogunkoya agrees.
"We want you to know it belongs to you and you have every right to be here."
Click here to learn more about the BSSC, its services and programming, email them or follow them on Instagram.