Welcoming McMaster's 2020 Loran Scholars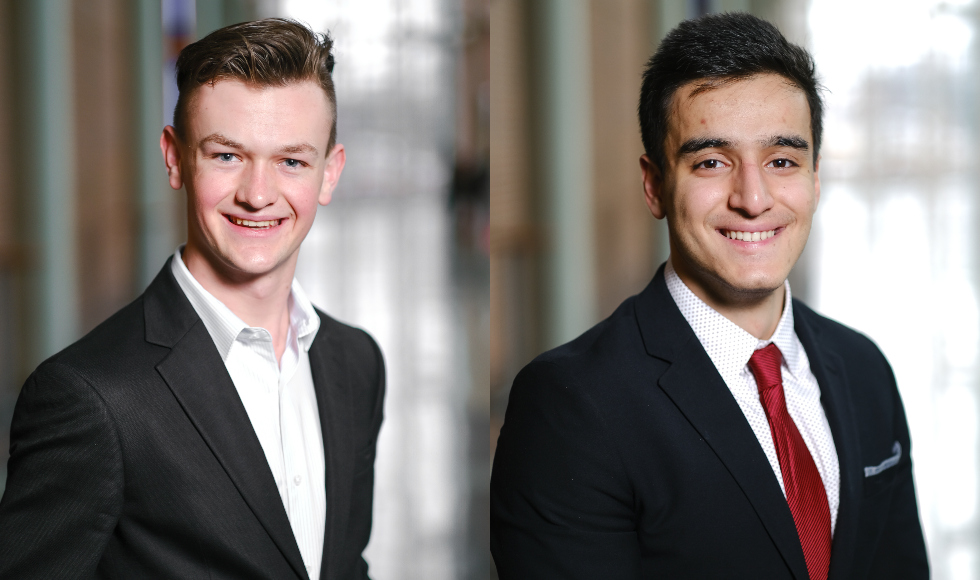 Adam Luoma (left) and Taim Saeed are 2020 Loran Scholars. Photo by Eric Choi -- Edge Imaging
---
Out of more than 5,100 applicants across Canada, 36 students starting their first year of university were chosen as 2020 Loran Scholars – and two of them are now brand-new Marauders.
Adam Luoma of Thunder Bay, Ont., is a first-year Life Sciences gateway student, and Taim Saeed, of Kingston, Ont., is starting in Health Sciences.
"Being recognized as a Loran Scholar is an incredible honour," says Luoma, who was co-president of his high school's students council, and is an accomplished musician and a badminton coach. "Many people have put their faith in me to be a leader within my community and incite change for the better. I am lucky to have the support through the foundation to help me succeed wherever my life may take me."
Valued at $100,000 over four years, Loran scholarships are awarded to students who, through a rigorous selection process, demonstrate strength of character, a deep commitment to service, evidence of courage and compassion, and an entrepreneurial spirit.
"The tight-knit family of Marauders are already proving that I made the right decision" in coming to McMaster, says Saeed, a Syrian refugee who worked with Refugee Resettlement Services Kingston to help set up a translating committee to help with parent-teacher communication at his high school.
Of the 696 past and present Loran Scholars, 34 have attended McMaster over the last 30 years, including Sheiry Dhillon, who became a Rhodes Scholar in 2012.
To learn more about the Loran Scholars Foundation, visit their website.