Welcome Week wisdom: Course offers toolkit and insights for reps, from reps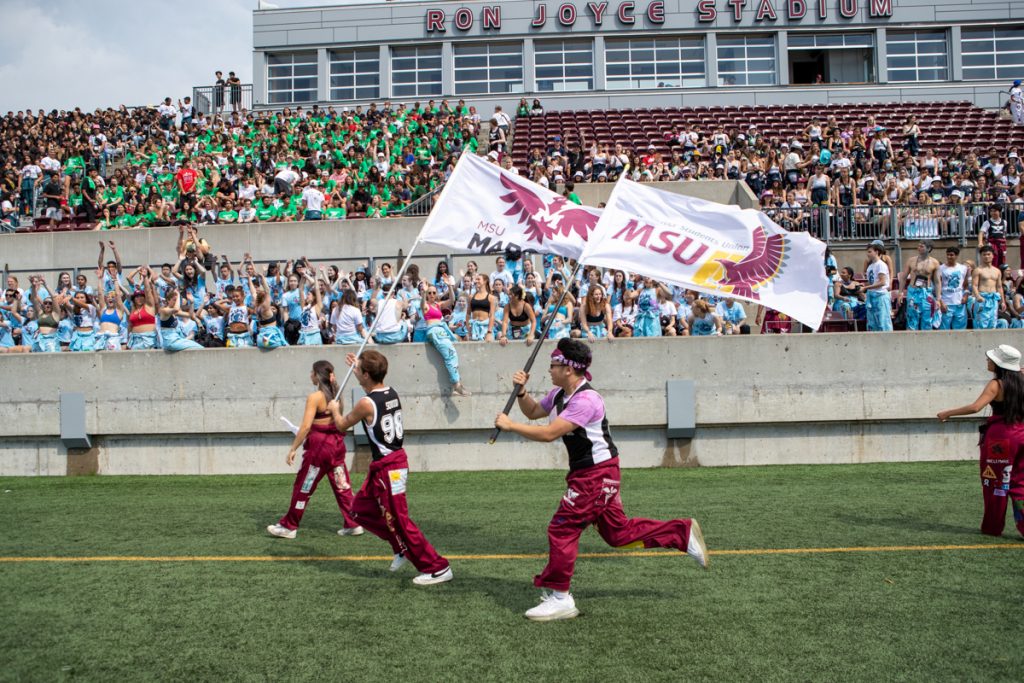 A three-credit intersession course gives Welcome Week reps an opportunity to build on a sense of community, share their experiences with future reps and expand their understanding of equity-centered leadership.
---
Every August, Welcome Week representatives across McMaster don their faculty colours and step into a leadership role — one that is both rewarding and exhausting.
This past fall, Welcome Week reps had the opportunity to build on a sense of community, share their experiences and expand their understanding of equity-centered leadership through a new three-credit course, INSPIRE 3WW3 – Exploring Leadership in University Orientation.
Offered through the INSPIRE Office of Flexible Learning, an initiative led by Kim Dej, vice-provost of teaching and learning, INSPIRE 3WW3 brings together students from all faculties to engage with concepts that include  emotional agility, community building, value-aligned choices, different ways of knowing, and self-care.
Students in the course also take time to reflect on their leadership journeys, creating a resource for future Welcome Week reps — and a strong sense of community.
"INSPIRE 3WW3 [is] a course rooted in collaboration and reflection and it was the first time that I was able to extend my leadership experience in university, particularly in welcome week, into the classroom," says Naviatha Abbas, a Social Sciences rep.
"This class let me work with fellow reps to complete assignments that helped us better understand the strengths and areas of opportunity we had as leaders, an unparalleled learning experience!"
Jordan Derochie, a Student Services representative for Indigenous Studies, emphasizes the role of a supportive community in the course.
"3WW3 allowed me to explore my leadership abilities in a hands-on, reflective, and supportive environment," he says. "Having a course that enables learners to better understand their leadership will create stronger and unique leaders of the future."
It doesn't take long for the class to become an inclusive, trusting community that values the diversity of experiences in student leadership, notes Sheena Jary, the course instructor. Students learned that community building on a small scale can be as simple as "paying it forward", or showing compassion to others and modelling behaviours that are inclusive and kind.
In fact, prioritizing community was one of Jary's goals while developing the course.
"One of my passions is community building; I had so many fabulous leaders in my class that becoming an interconnected community felt organic," she says. "I always felt like we were working together naturally to create a classroom community that felt safe, inclusive, and, well, totally fun!"
Even the course design process for INSPIRE 3WW3 reflected that sense of community, as it came about as a collaboration between Sean Van Koughnett, Associate Vice-President (Students and Learning) and Dean of Students; Sean Beaudette, associate director, Outreach, Transition, and Academic Success; and Liz Koblyk, associate director, Wilson Leader Scholar Award.
Jary, who teaches in the Humanities leadership program, says she was excited to join the team when she was approached to teach the course.
"Course development can feel so isolating," she explains. "Leadership is about collaboration and representation, so why not develop the course as a team?"
Beaudette says he was "thrilled" to see how the course empowered  students to further their leadership acumen while thinking critically about their role in welcoming students into the McMaster community.
Community building extends to future Welcome Week representatives
A central component of the course was the creation of an electronic toolkit for future cohorts of Welcome Week leaders. It included short and entertaining accounts, skits and even a parody of a Katy Perry song.
The students also share resources and personal reflections on what helped them succeed, or what they wish they knew more about as Welcome Week leaders, demonstrating that leadership in university orientation extends beyond the classroom, continuing long after Welcome Week.
"The highlight of this course to me was creating an e-toolkit for future reps to access, where we can transfer our experience-based knowledge to new reps — an assignment that made me feel truly valued as a rep," says Wadana Abbas, a Social Sciences rep.
It's hard to overstate the value of building and maintaining an inclusive campus community, agrees vice-provost Kim Dej.
"Student representatives who participate in INSPIRE 3WW3 deepen the learning that comes from their experience of being an equity-centered campus leader through collaboration and reflection in the classroom," she says.
"They are contributing to a better future campus and developing skills and attitudes that will make them engaged and caring community and professional leaders."
INSPIRE 3WW3 is open to students volunteering as university orientation representatives in the current academic year of study. Eligible students are required to submit an online application to the INSPIRE Office of Flexible Learning for approval to register the course. Examples of eligible orientation roles include Faculty Representatives, Residence Representatives, or Indigenous Student Services Representatives. For more information and student testimonials visit the INSPIRE Office of Flexible Learning's website.